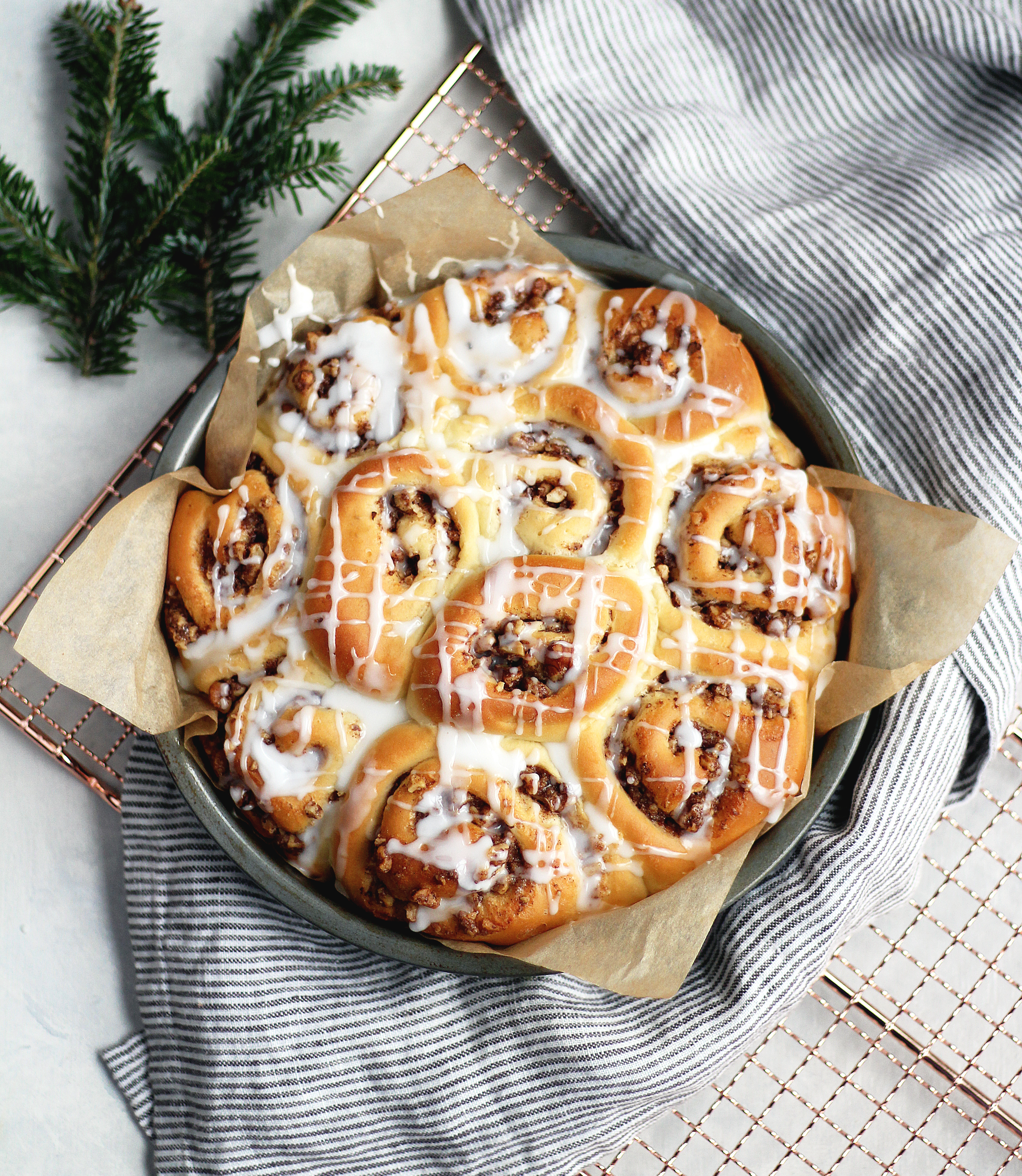 I am so excited. 1. Christmas is this weekend. 2. I'm traveling to California on Thursday to see family for the holiday. 3. I have the BEST Christmas morning (or any slow Saturday/Sunday morning) breakfast for you. I'm also planning to make these for New Years brunch.
I grew up baking and cooking – it's always been a very present passion of mine – and cinnamon rolls are one of the things I first started baking. My mom gave me a cookbook for kids when I was 8 or 9 and I for some reason clung to the cinnamon roll recipe. I made it almost monthly for years. I'd make them at home, at my best friend's house, and basically anywhere someone would let me make a mess in their kitchen.
So, if 8-year-old Christine can make these, then I have all the confidence that you can too. I promise you, cinnamon rolls aren't as daunting to make as they look. And the payoff is big. Fluffy, warm, gooey cinnamon rolls that are perfect with a mug of hot coffee.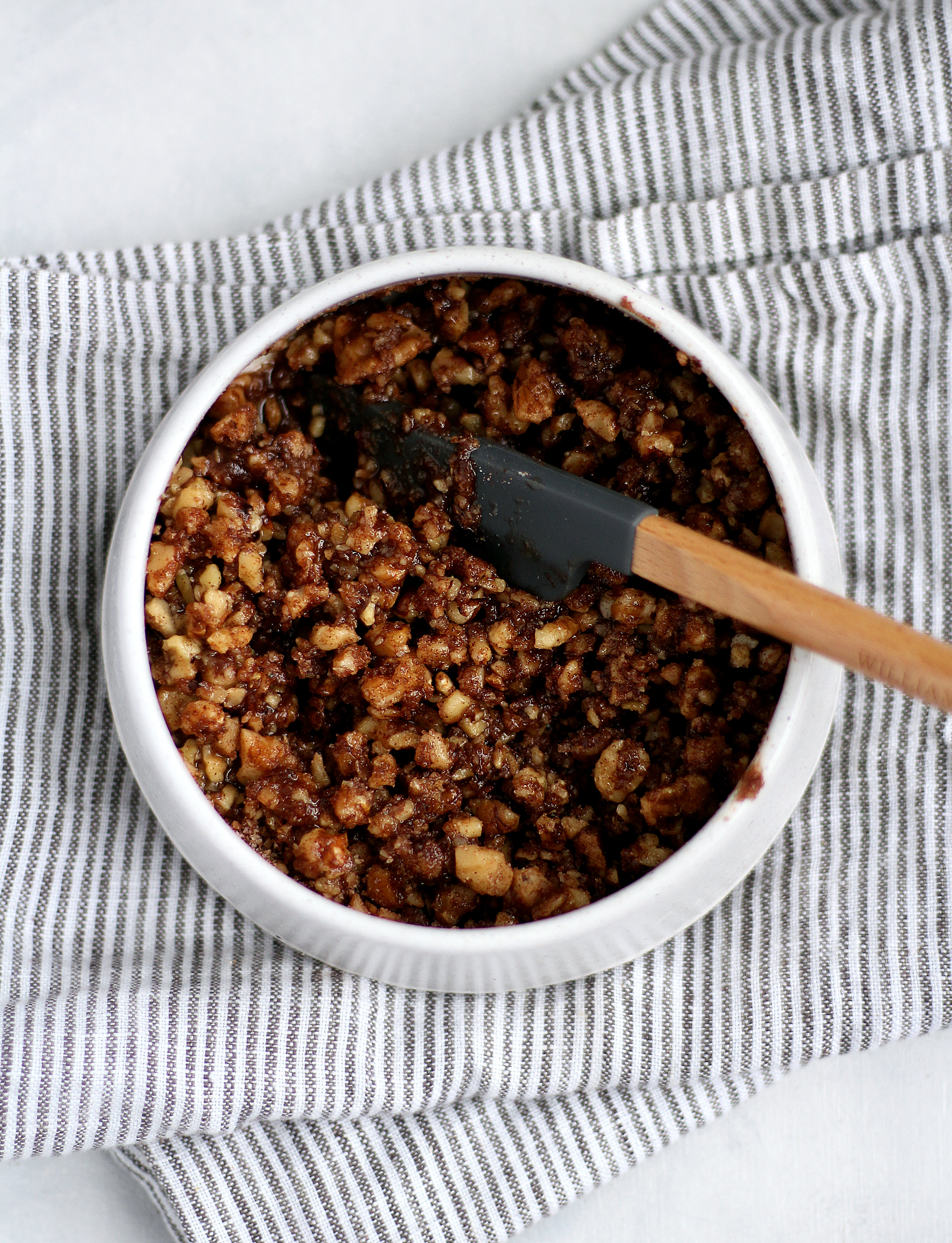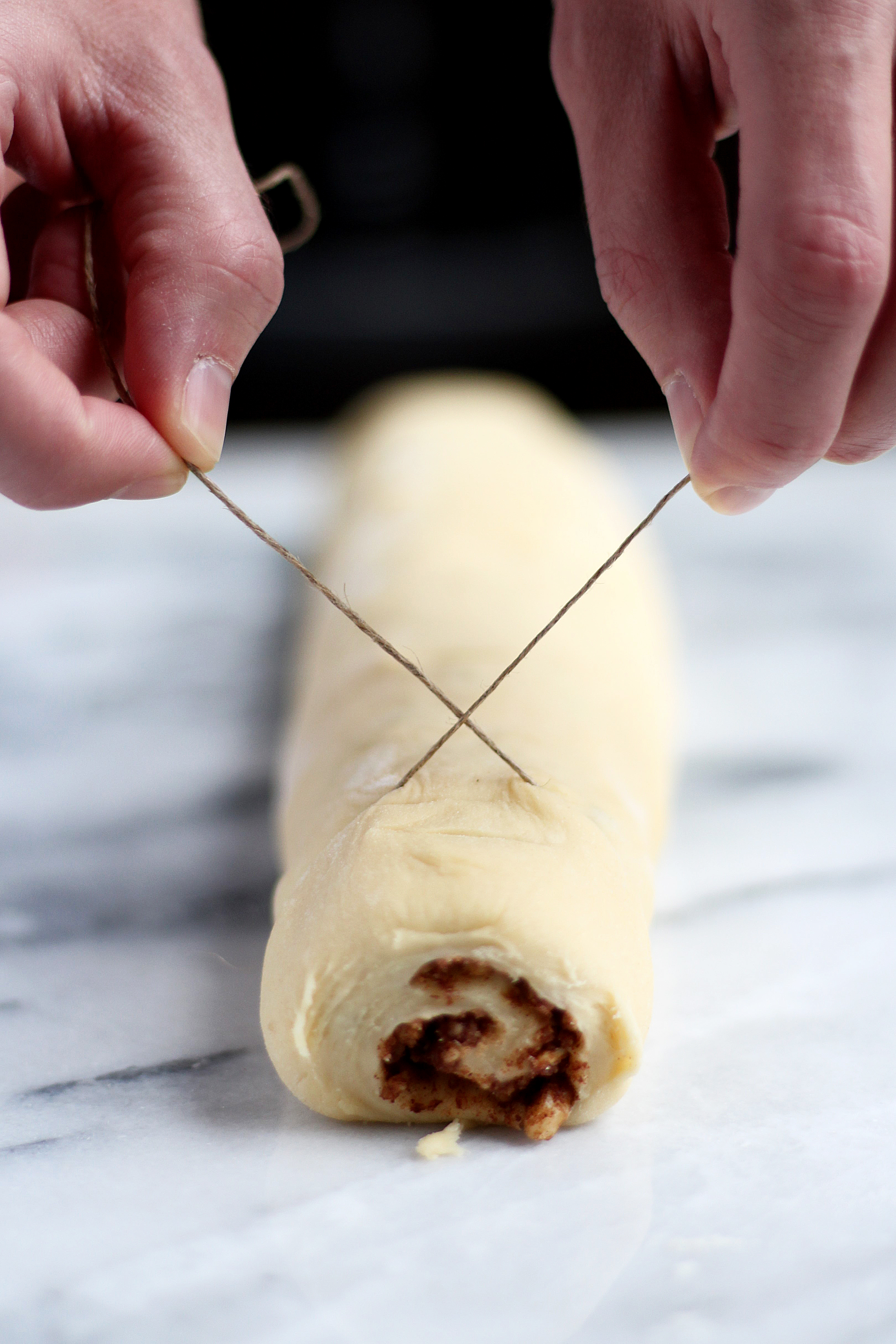 These cinnamon rolls are the grown up (and Christine-ified) version of my beloved classic cinnamon rolls. That's right – cinnamon rolls inspired by baklava. 2 of my favorite things – one usually for breakfast, one usually for dessert – morphed into the dreamiest breakfast rolls to go alongside brunch.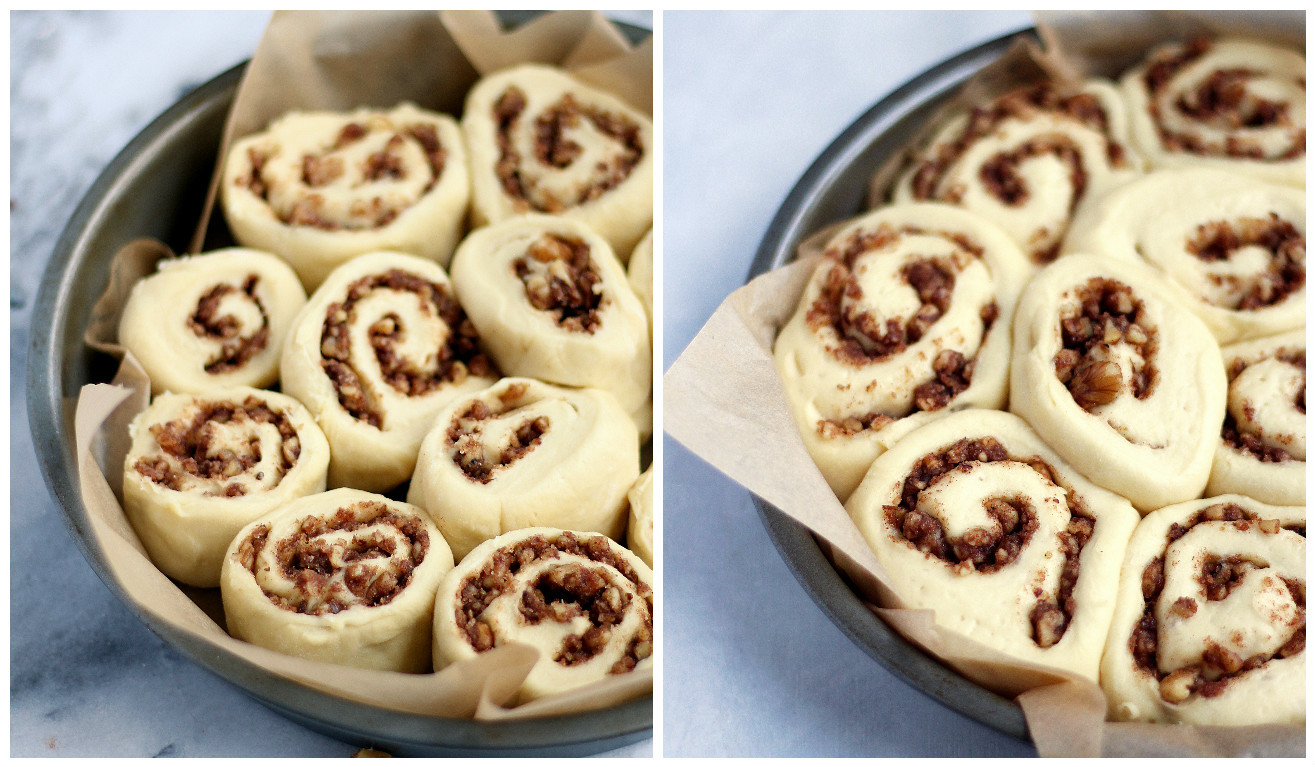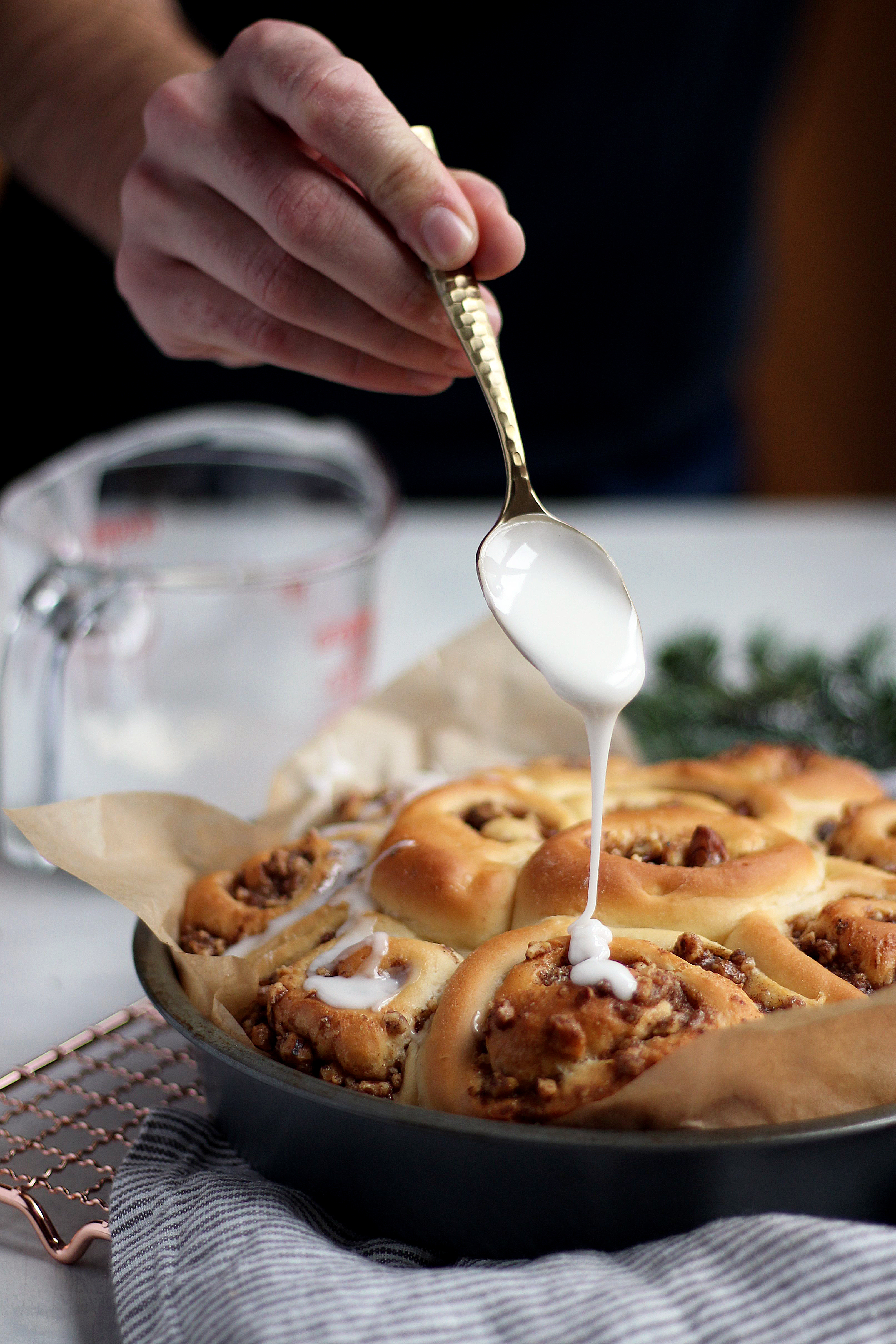 They're filled with crushed walnuts, sugar, and cinnamon and drizzled with an orange blossom glaze. Orange blossom water is a floral water (like rose water!) that's commonly used in Middle Eastern desserts, including baklava. I usually get it at Whole Foods or Middle Eastern markets. If you can't find it, don't let it deter you from making these. You can just leave it out and make a plain glaze or top it with honey instead of the glaze… totally up to you.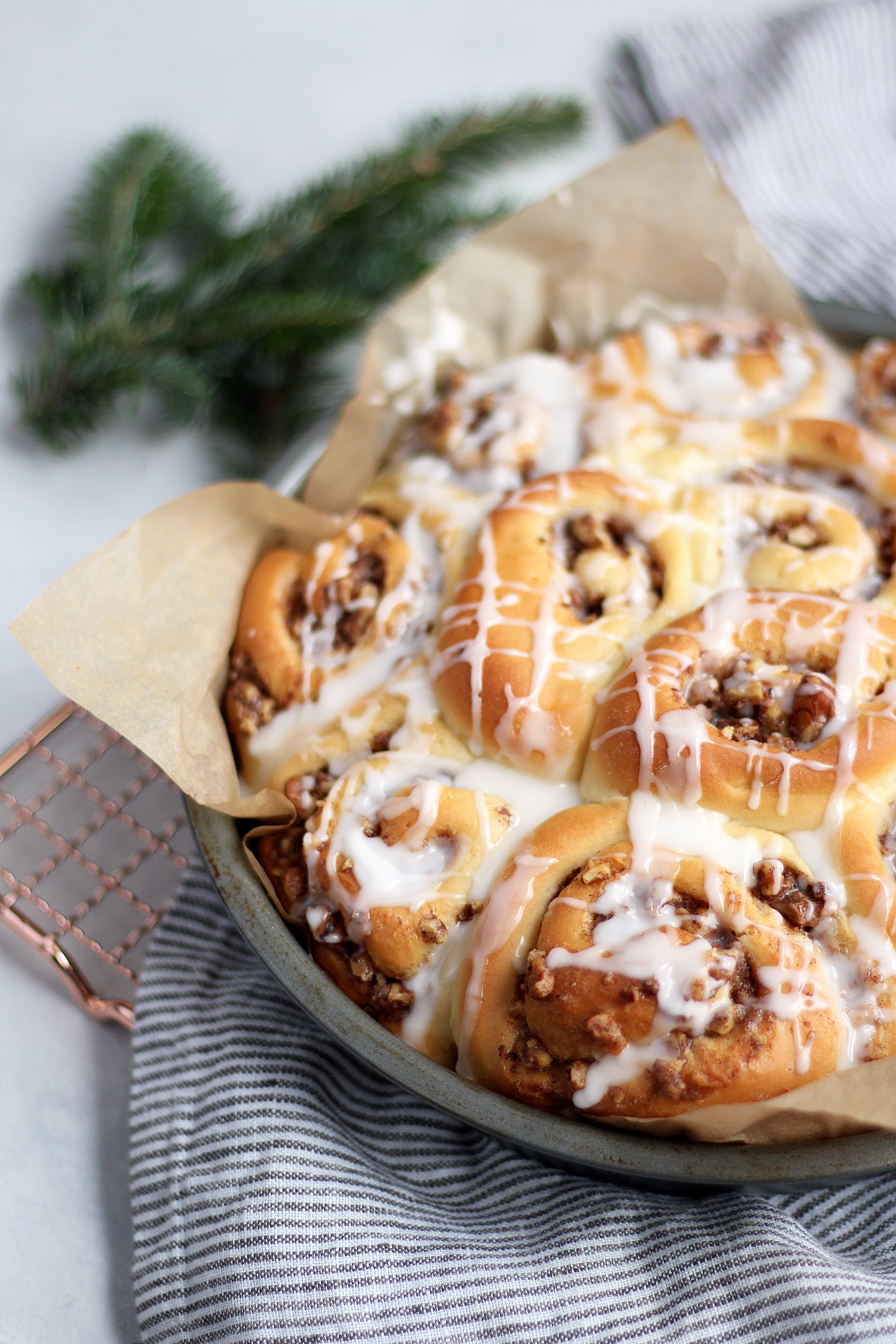 The best part is that you can make these ahead of time, up to rolling and cutting them then placing them in the pan and then in the fridge. Then, first thing in the morning, you'll take them out of the fridge, let them rise for about an hour-ish at room temperature (and maybe get back in bed..), and then bake.

Walnut Baklava Cinnamon Rolls
These cinnamon rolls are fluffy and pillow-y and reminiscent of baklava, with walnuts and orange blossom water. They're surprisingly pretty simple to make and can be prepped the night before!
Ingredients
Dough
1 package active dry yeast (or 2¼ teaspoons)
½ cup water, divided
2¾ cups all-purpose flour (scooped and leveled), divided
3 tablespoons granulated sugar
½ teaspoon salt
¼ cup milk of choice
3 tablespoons unsalted butter, melted
1 large egg
Filling
1 cup walnuts, finely chopped (see picture for example)
¼ cup granulated sugar
3 tablespoons butter, melted
1 tablespoon cinnamon
Glaze*
1 cup confectioners' sugar
1 tablespoon milk
2 teaspoon orange blossom water
pinch of salt
Instructions
In a small bowl, whisk the yeast with ¼ cup warm water (110-115 degrees F) until dissolved. Set aside.
In a large bowl, combine 2¼ cups of the flour (setting aside the rest of the flour), sugar, and salt and stir well.
In a separate bowl, whisk together the milk, ¼ cup water, butter, and egg. Stir the liquid mixture into the flour mixture. Add the water and yeast mixture too. Add enough of the reserved flour to make a soft dough. You'll have ½ cup left, but may not use all of it. I usually start with adding ¼ - ⅓ cup flour just until the dough is soft and elastic and isn't sticky.
On a lightly floured surface, knead the dough for 3-4 minutes. Place the dough back in the bowl and cover with a lightly damp towel for ~10 minutes.
To make the filling, combine the walnuts, sugar, butter, and cinnamon. Stir well. After 10 minutes, roll the dough out into a 8x14 inch rectangle. Evenly distribute the walnut filling. Roll the dough up tightly, on the long side. Using a sharp knife or string (or floss!), cut the dough into 11 even pieces. Grease a 9-inch round pan and place the rolls into the pan. Loosely cover with foil and let rise in a draft-free place for 60-90 minutes (think: on top of the fridge, on the stove top, making sure the stove is off).
Once the rolls have risen and doubled in size (see the picture above), remove the foil and preheat the oven to 350 degrees F. Bake for ~30 minutes, or until the top is golden.
Meanwhile, make the glaze by whisking together the confectioners' sugar, milk, orange blossom water, and a pinch of salt. If it seems too thick, you can add more milk (or orange blossom water if you prefer a more floral glaze).
Right before serving, top the cinnamon rolls with the glaze. These are best enjoyed the same day, but you can store them in an air-tight container in the fridge for a couple days. When you're ready to serve, warm the rolls and top with the glaze.
Notes
*If you prefer, you can use honey instead of the traditional glaze.