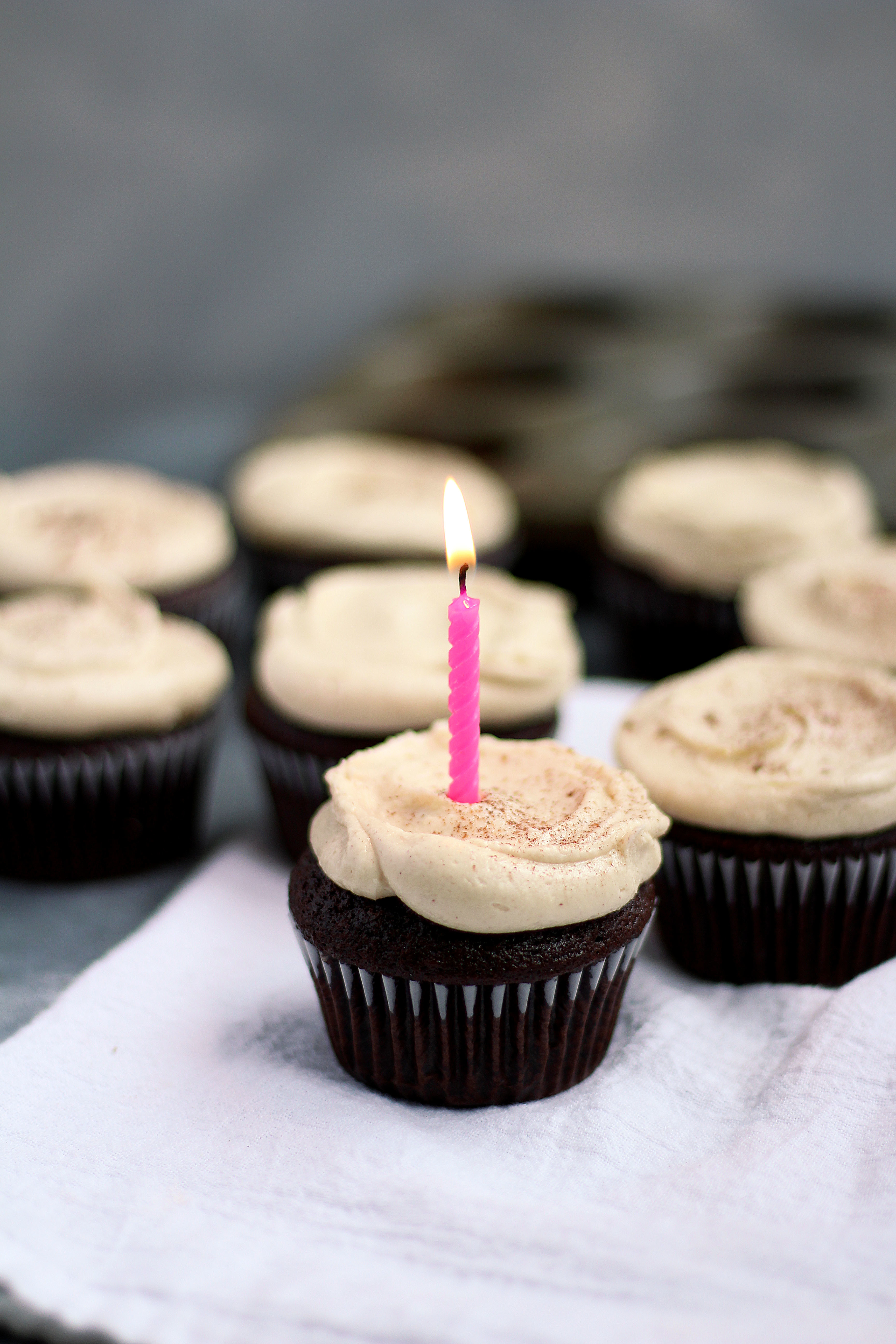 My birthday is tomorrow, and in celebration of it, I came up with a cupcake that totally reflects everything I could ever want in a cupcake. Growing up, me, my siblings, and all of my friends would always have birthday parties at a roller skating rink called Skateland. The party-planning process always involved going shopping for and putting together treat bags for my guests and picking out the perfect cake. For me, it was ALWAYS chocolate. Chocolate with vanilla frosting and those big dollops of balloon frosting.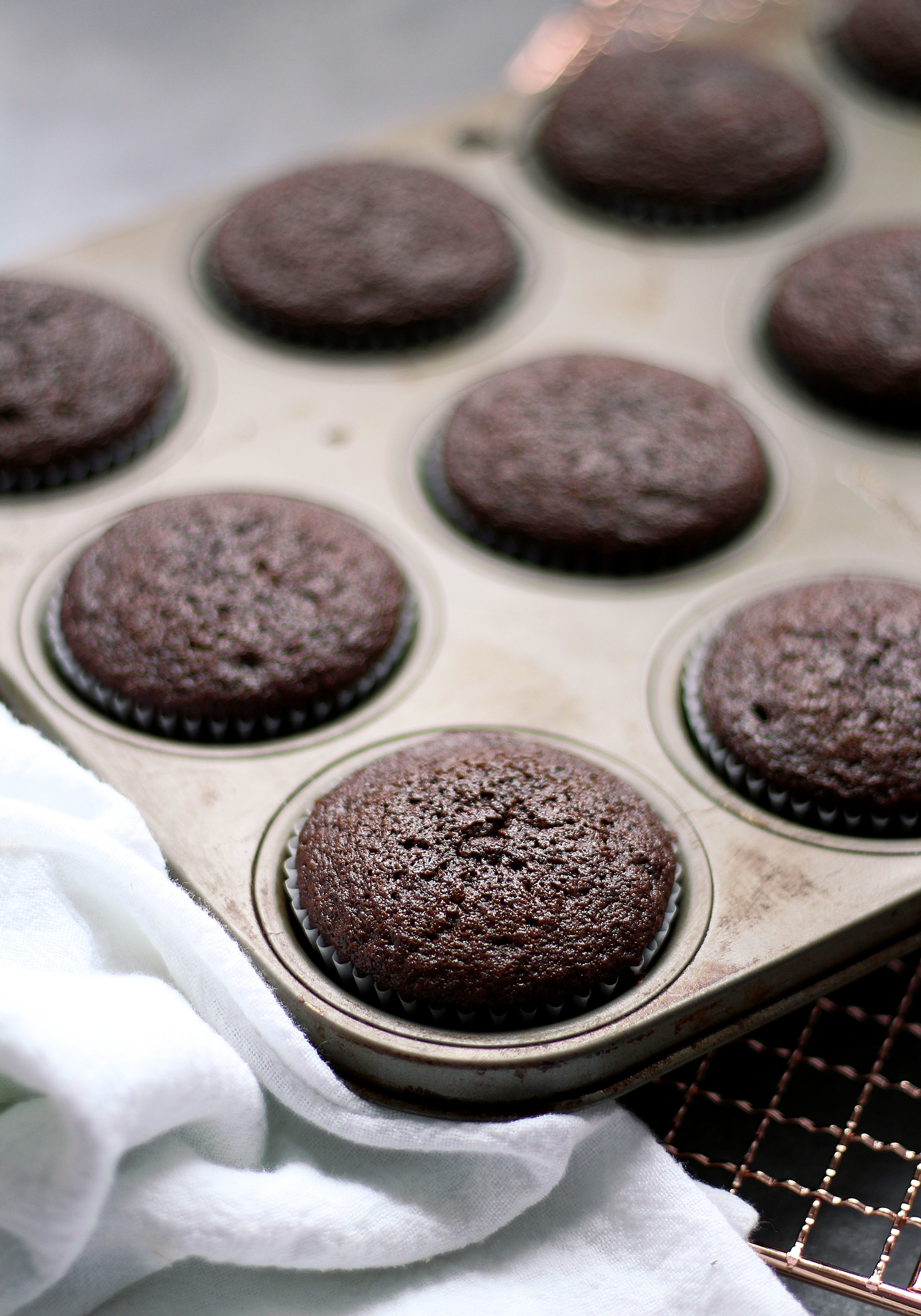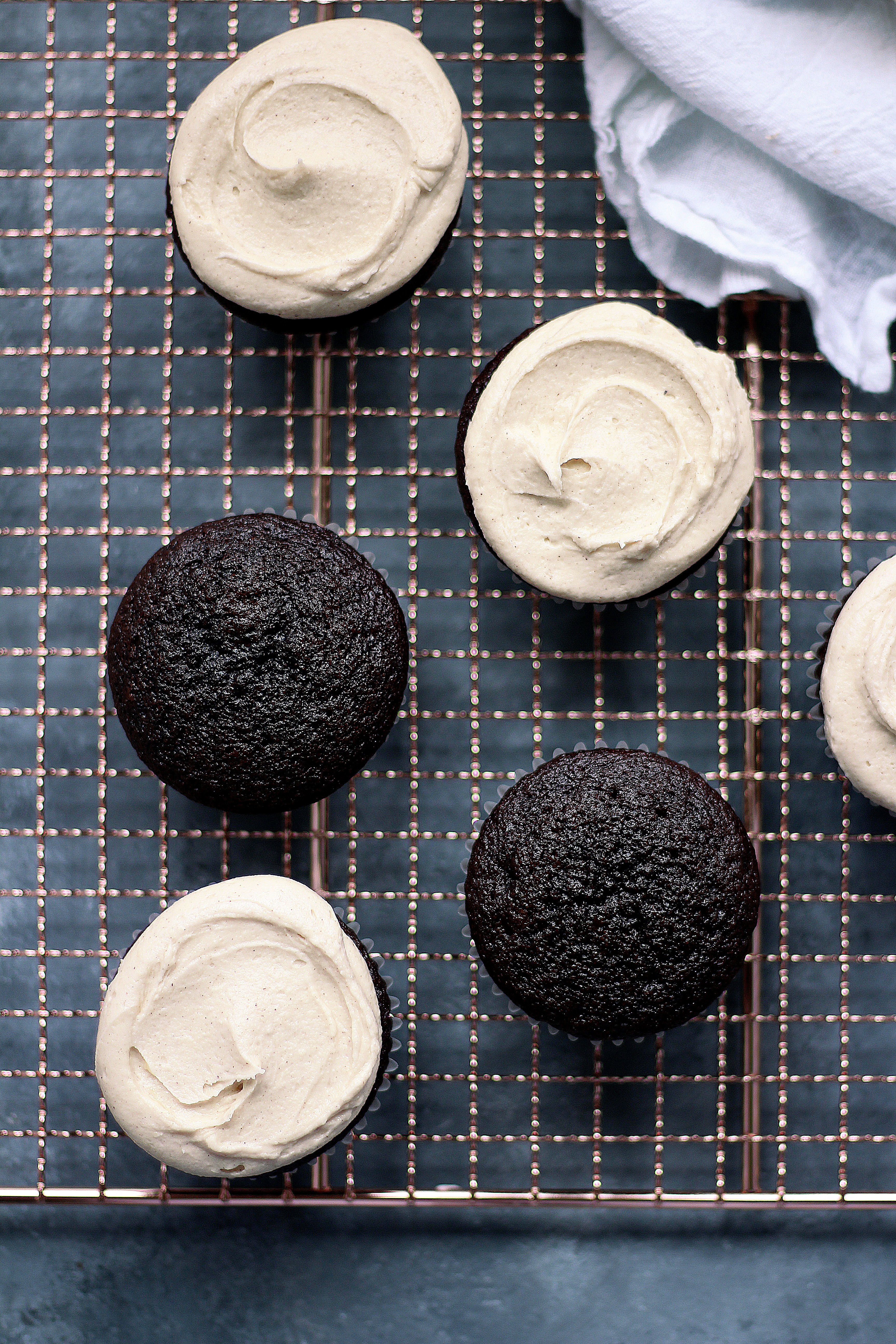 I always have had a disdain for vanilla cake. Give me chocolate or give me nothing at all. I actually remember being the only one of my friends and family with a chocolate birthday cake every single year. In fact, I would have chosen chocolate frosting too if the colorful frosting balloons would have looked as nice.
So this year, I decided to create the most "me" cupcake I could possibly come up with, which first and foremost, meant testing out several chocolate cupcake recipes before I found the most perfect one. I wasn't trying to re-invent the wheel, but simply find the PERFECT cupcake base, which I did, thanks to Food & Wine. The frosting, of course, involves tahini, an ode to my typical and favorite cuisine (Middle Eastern, of course). I ADORE halva, and when anything sweet is mixed with tahini, it has that similar sweet, nutty/earthy taste.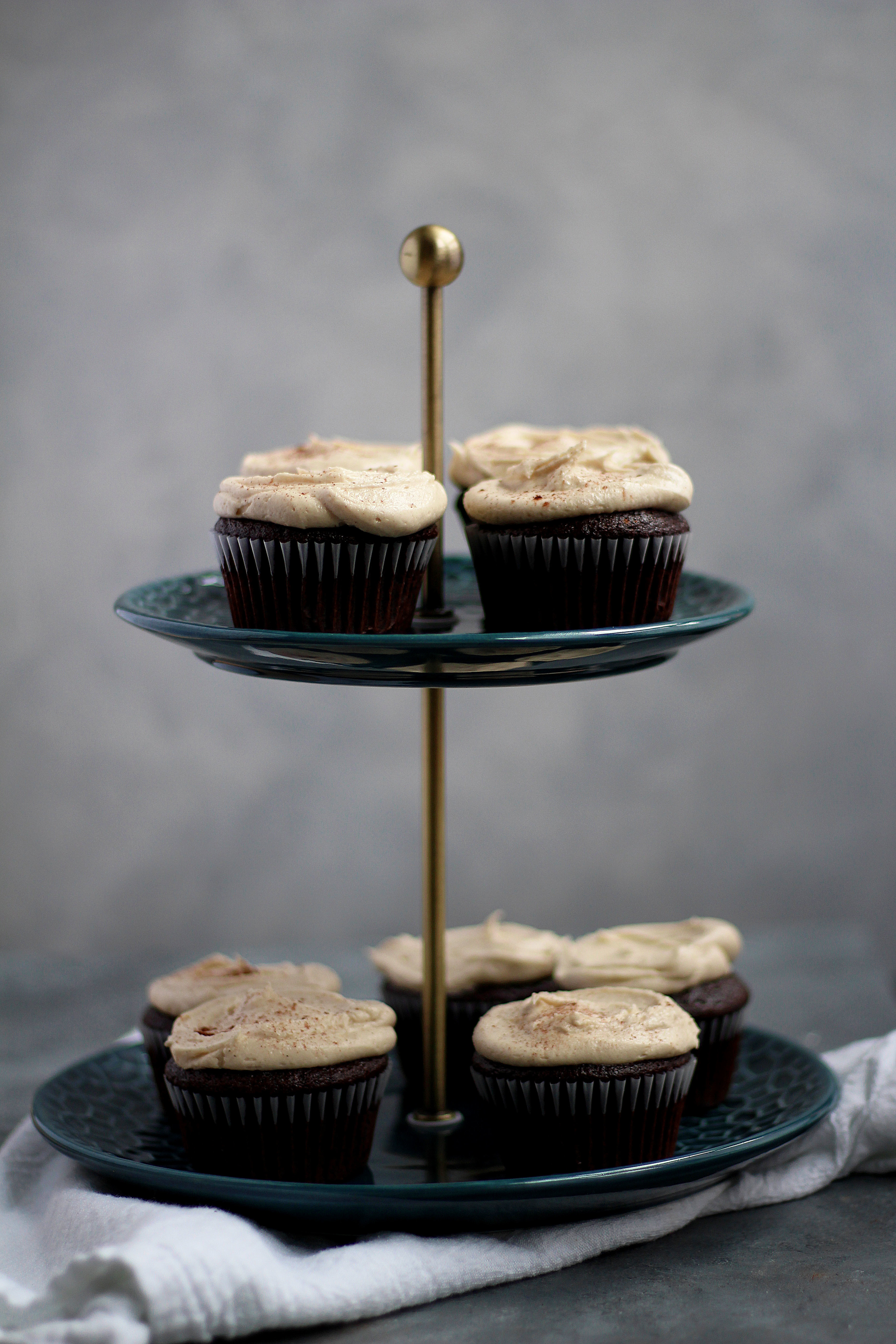 This cupcake is perfection: a rich chocolate flavor with a light crumb + perfect dome and sweet tahini buttercream frosting with a hint of vanilla and cinnamon. My new favorite cupcake of all time. Perfect for any birthday or celebration. The best part is this makes 12 perfect cupcakes. Not a random number like 14-16, nor a huge amount. 12 like it's supposed to be. Plus, it's all really easy to make. I made the cupcake base all in one bowl, without the need of a electric mixer. I don't think I'll ever need another cupcake recipe again.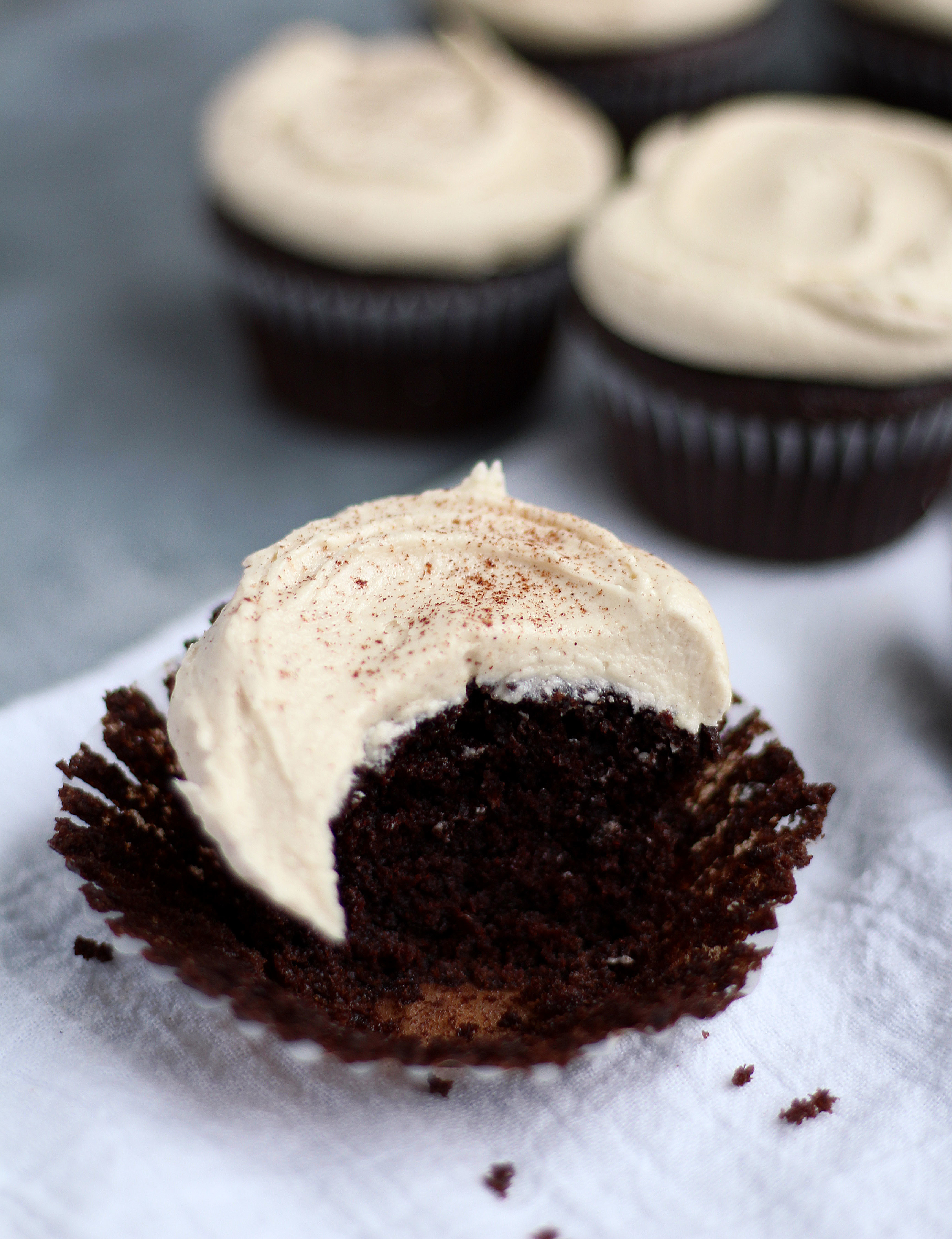 Chocolate Cupcakes with Tahini Buttercream Frosting
This recipe makes 12 perfectly rich chocolate, perfectly domed cupcakes with a light, delicate crumb with a sweet and nutty tahini frosting (think: grown up/Middle Eastern peanut butter frosting).
Author:
thyme & toast, cupcake base lightly adapted from Food & Wine
Ingredients
Cupcakes
4 tablespoons unsalted butter
¼ cup vegetable oil (or melted coconut oil)
½ cup water
1 cup all-purpose flour (spooned in the cup and leveled)
1 cup granulated sugar
¼ cup + 2 tablespoons unsweetened cocoa powder (not Dutch process)
¾ teaspoon baking soda
¼ teaspoon cinnamon
⅛ teaspoon salt
1 large egg
¼ cup buttermilk (or ¼ cup milk with ¾ teaspoon lemon juice)
1 teaspoon vanilla extract
Tahini Buttercream Frosting
1 cup unsalted butter, room temperature
⅓ cup tahini
2 cups confectioners sugar
¼ teaspoon cinnamon
1 teaspoon vanilla extract
~2 tablespoons milk, more or less as needed (depending on how liquidy the tahini is)
Instructions
Preheat the oven to 350 degrees F and line a 12-cup muffin tin with liners.
In a small-medium saucepan, melt the butter, vegetable oil, and water over low heat until just melted. Let cool slightly.
In a large bowl, sift the flour, sugar, cocoa powder, baking soda, cinnamon and salt. Mix well to combine. Add the butter mixture and beat with a whisk or handheld mixer on low until smooth. Add the egg, buttermilk, and vanilla and continue mixing until smooth. Divide the batter evenly into the 12 lined cupcake tins (about ¾ full).
Bake in the center of the oven for about 25 minutes, or until springy and a toothpick comes out clean. Let cool.
Meanwhile, make the tahini buttercream frosting. In a medium bowl, combine the room temperature butter and tahini and beat with a mixer on medium-speed until no lumps remain. Add half of the powdered sugar and continue beating. Add the cinnamon and vanilla and 1 tablespoon of milk, if needed, and continue beating. Add the remaining powdered sugar. Beat until smooth and light/fluffy, adding another tablespoon of milk or more, if needed.
Frost the cupcakes when cool and serve immediately. See notes for storing information.
Notes
The unfrosted cupcakes can keep at room temperature for several days in an air-tight container. Once frosted, the cupcakes should either be consumed immediately or stored in the fridge in an air-tight container and brought to room temperature before enjoying. The frosting by itself can keep for several days in the fridge, but should be brought back to room temperature before frosting the cupcakes.