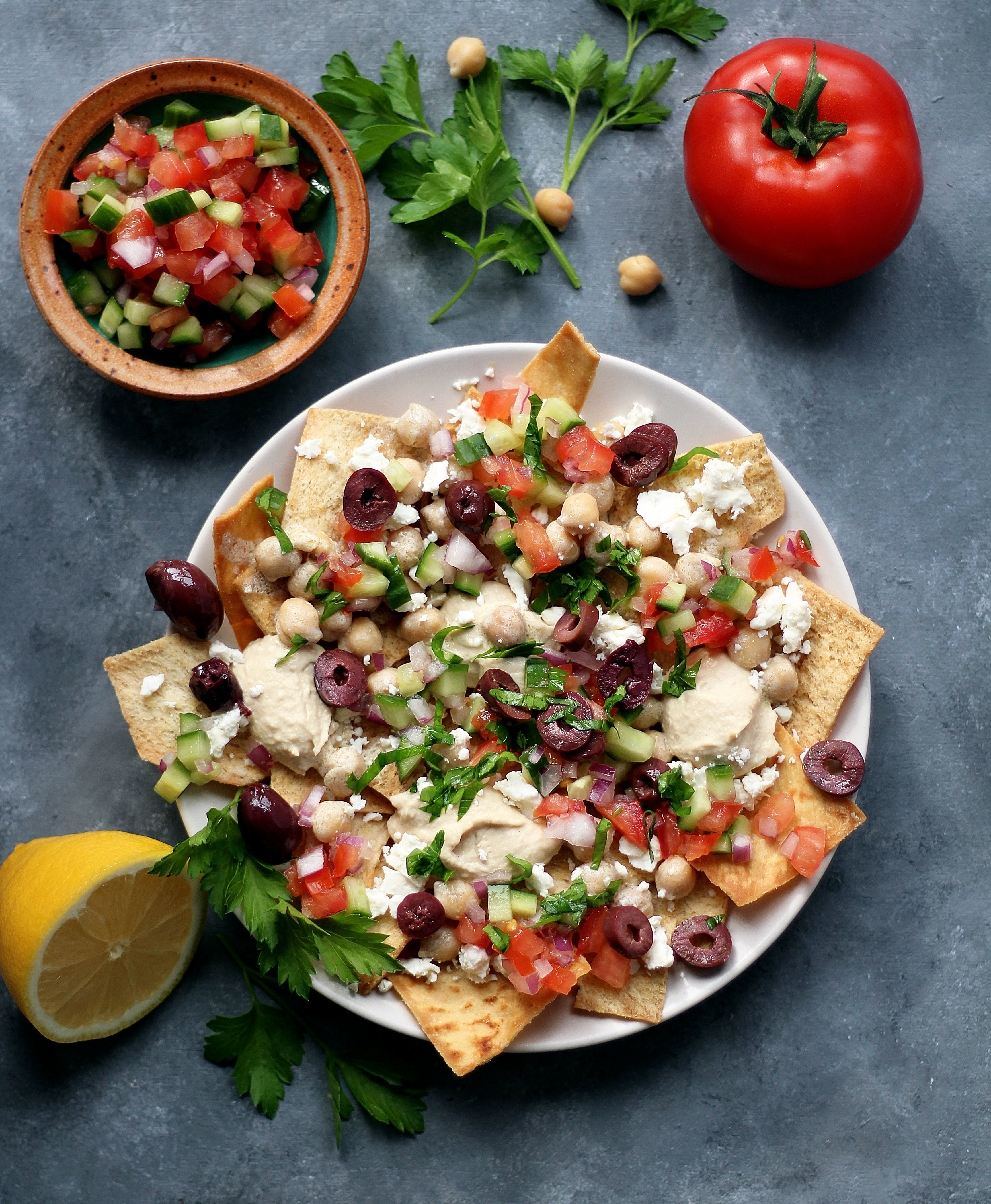 I'm not a huge fan of football. There, I said it. I didn't grow up with it, since football in the middle east is actually soccer and neither my high school nor my college NOR my grad school had a football team. Come to think about it, was that on purpose?
I remember growing up in South Carolina, I would always ask my parents what team my family rooted for. My parents, of course, had no idea what I was talking about. To this day, I am endlessly bored by football games (sorry to those of you who love it – just not my cup of tea), BUT football snacks? Different story. I usually make chili every year for the Super Bowl and curl up on the couch, watching commercials and checking out when the game comes back on.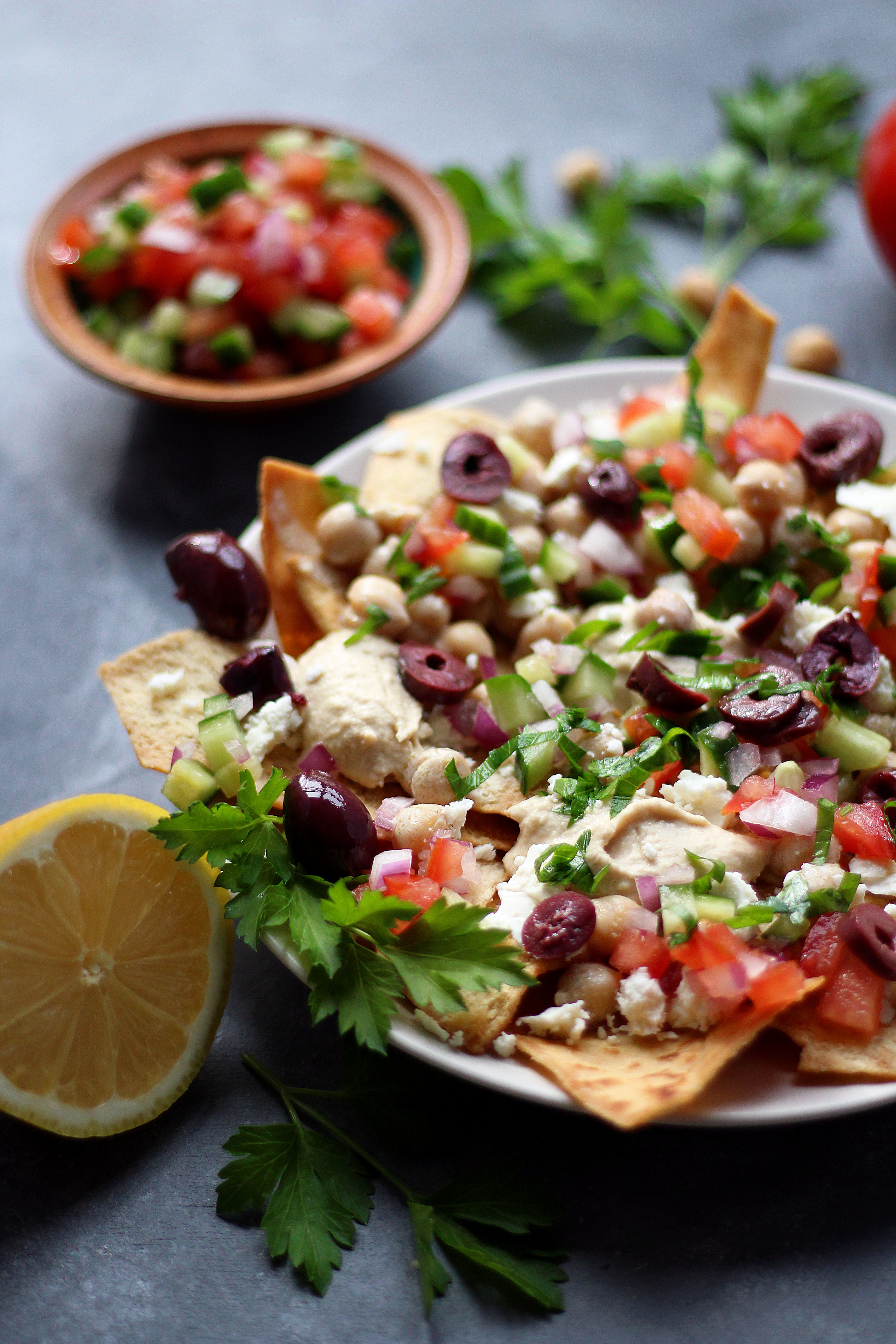 This year, I went a different route and loved it so much I decided to post it here: Mediterranean nachos. And cupcakes, but that's a story for another day. I am a huge fan of nachos – loaded with cheese, beans, jalepenos, guac, sour cream, salsa, all that good stuff. So, I set out to create a Mediterranean-inspired version… and one that's a little less of a stomach ache. Feta for the cheese, hummus instead of sour cream, kalamata olives instead of the canned ones (tbh: I love all olives, including the canned ones), a tomato cucumber salsa, and warm marinated chickpeas. Super fresh, super delicious, and surprisingly light.
I know the Super Bowl is over, but this is such a great go-to app for parties and can totally be made into a dinner, assuming you don't go too crazy on the pita chips – add a little lettuce and it's essentially a salad 😉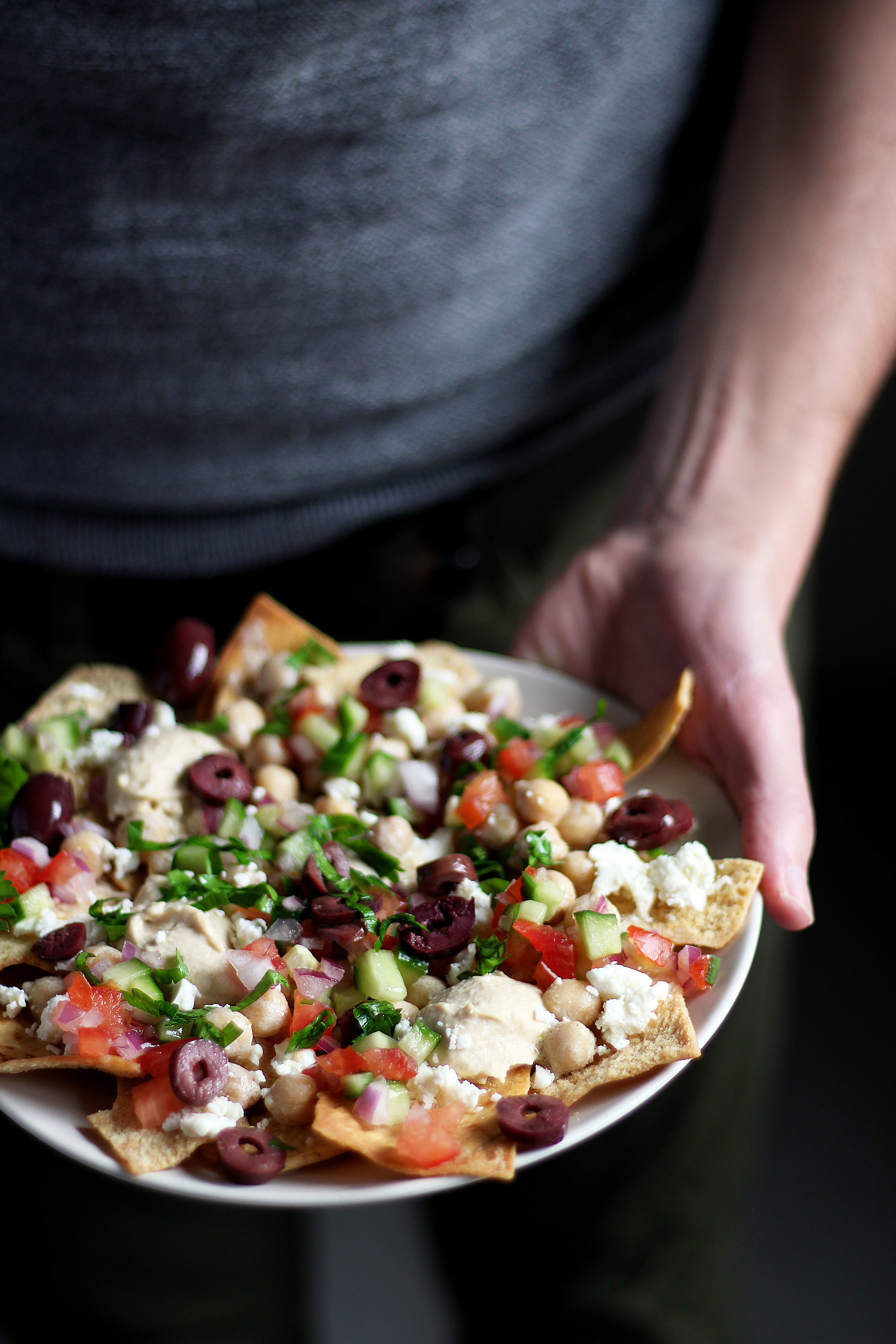 Mediterranean Nachos
The perfect party snack - healthified nachos featuring Mediterranean ingredients.
Ingredients
tomato-cucumber salsa
¾ cup chopped tomato (~1 medium tomato)
½ cup chopped cucumber
¼ cup finely chopped red onion
2 teaspoons lemon juice
⅛ - ¼ teaspoon salt, to taste
marinated chickpeas
1 tablespoon olive oil
1 clove minced garlic
½ teaspoon cumin
¼ teaspoon coriander
1½ cups cooked chickpeas (or 1 15-ounce can, rinsed and drained)
¼ cup plain yogurt
½ teaspoon lemon juice
other ingredients
1 bag pita chips (I like to use Stacy's ~8 ounce bag)
¼ teaspoon salt
½ cup hummus
½ cup crumbled feta
¼ cup chopped kalamata olives
chopped parsley
Instructions
Combine the ingredients for the tomato-cucumber salsa and mix well.
For the marinated chickpeas, heat a skillet with olive oil over low-medium heat. Once glistening, add the garlic, cumin, and coriander, and stir frequently for about 30 seconds, or until fragrant (make sure they're only slightly cooked and don't burn). Remove from the heat and add the chickpeas to the warm pan. Stir until warmed and add the yogurt, salt, and lemon juice, mixing well until fully incorporated.
Spread the chips on a large tray or plate (or you can have each person assemble their own nachos!) Add dollops of the hummus on the pita chips. This will provide the stick for the other items. Next, layer the chickpeas, then feta and cucumber-tomato salsa. Finally, add the kalamata olives and parsley.