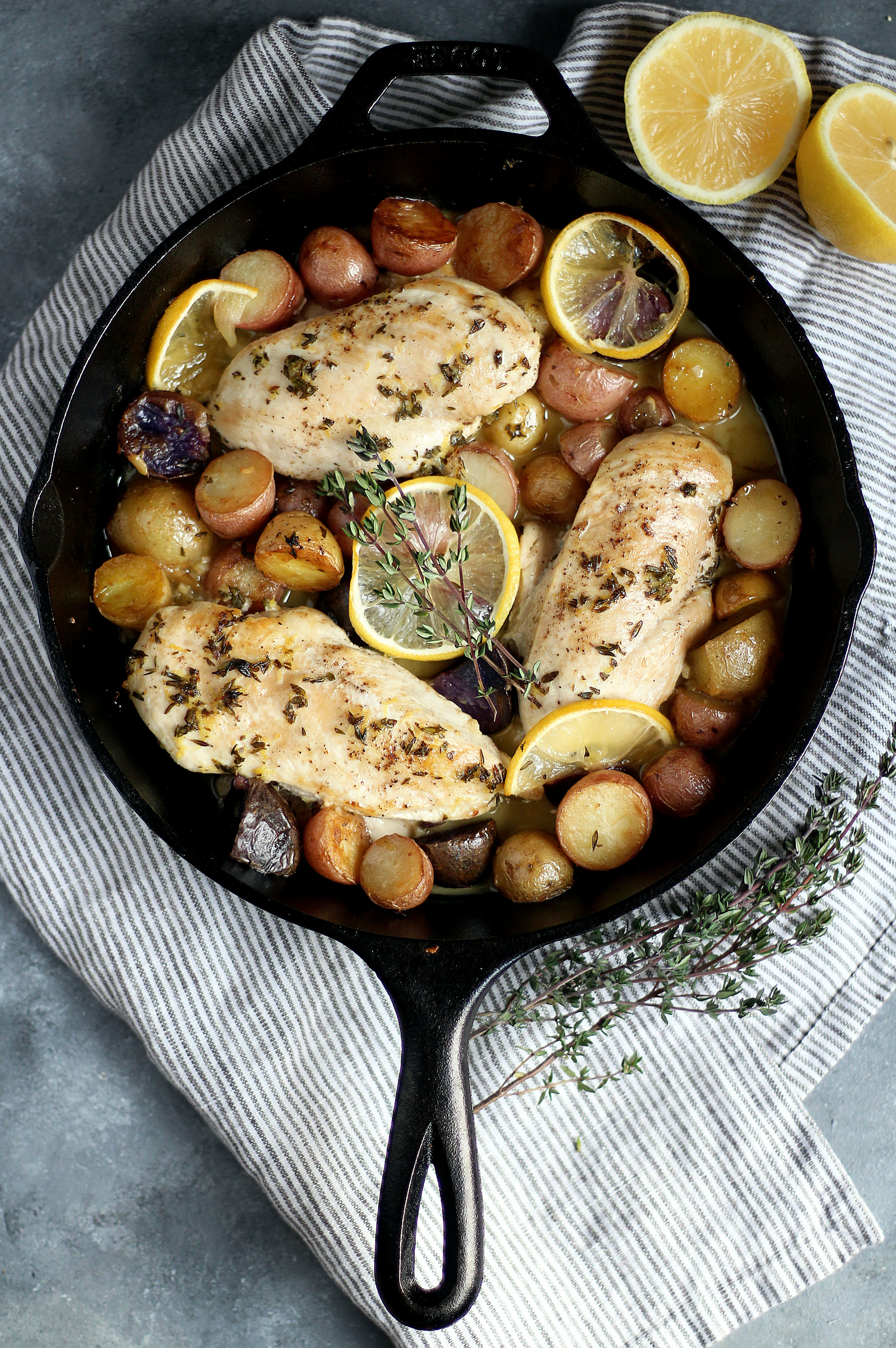 I am constantly trying to simplify my kitchen, and life, generally, lately… I can't say it's going so well. I've talked before about my desire to live a more minimalist lifestyle, which totally competes with the fact that I attach sentimental value to everything. Plus the fact that I love new gadgets, yet convince myself that the older items will serve some purpose eventually. (Do you ever do that with clothes? I have some clothes that are SO out of style that I convince myself that one day I'll have a themed party to wear them to). I've been seeing tons of people raving about cast iron skillets on Instagram, and after finding out that they're pretty affordable, I immediately ordered one on Amazon. I love the idea of being able to saute on the stove top then stick it right in the oven. At least I'm simplifying my cooking?
Today I'm sharing my new favorite dinner that's simple as can be – one pan and under an hour. Definitely my type of weekday dinner. It has all my favorite flavors: garlic, lemon, olive oil, and my site's namesake, thyme, one of my favorite spices ever. I make this at least every other week. I'll usually serve it with a side salad or some sort of veggie – my favorites are haricots verts and asparagus with a little of the sauce drizzled on it.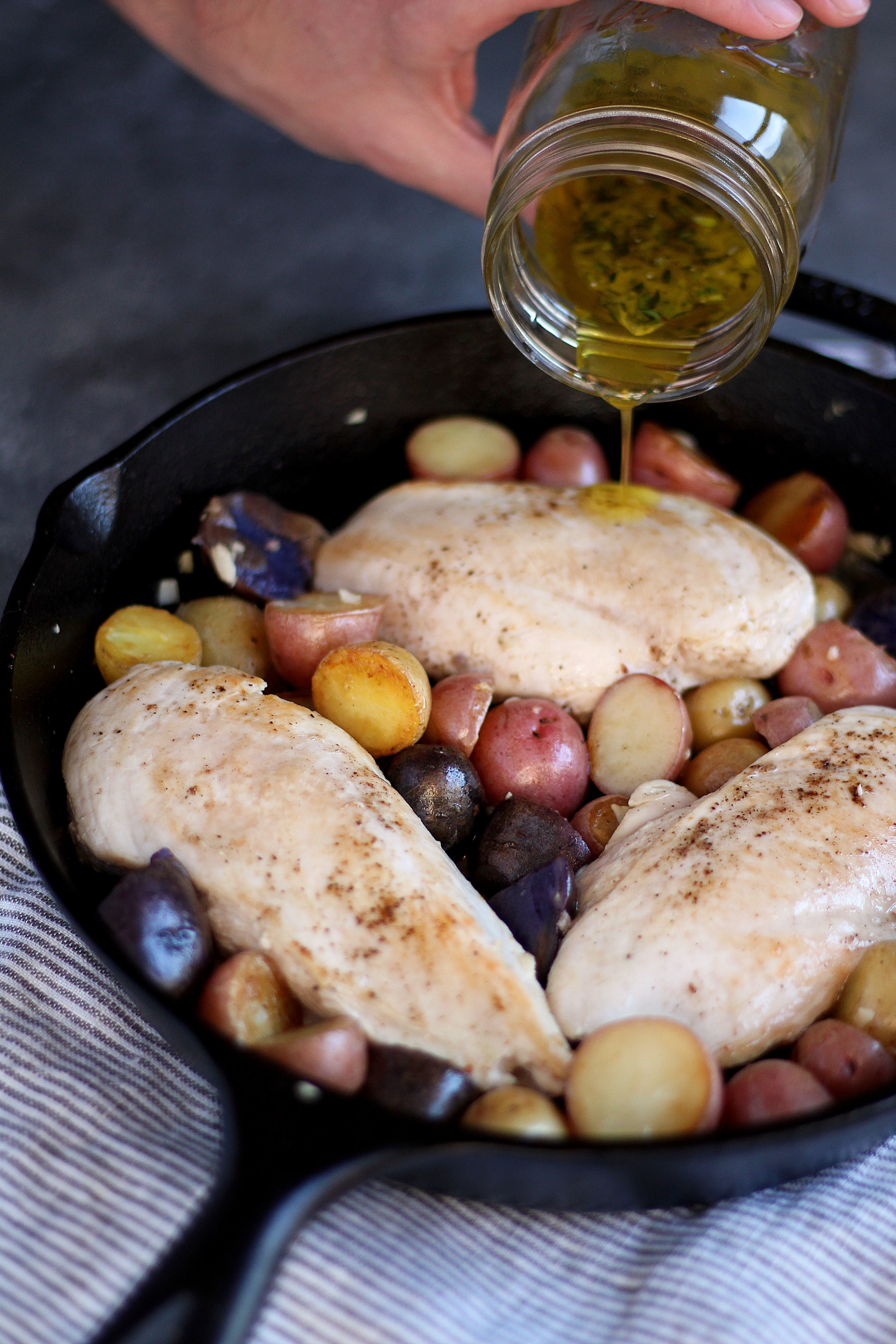 What I love about this: all the work is done in one pan, making for easy cleanup AND it's quick. What more could you ask for? If you don't have a cast iron skillet, you can do the stove top work in a pan then simply transfer it to a baking dish. For the two of us (me and Evan), it's perfect. We get two nights worth of meals. Sometimes, the next day, I'll slice the chicken and put it on top of a salad with the potatoes, some haricots verts, and olives, kind of like a salade nicoise, but with chicken.
Am I gushing? I feel like I'm gushing. Seriously, I have all the heart eyes for this recipe.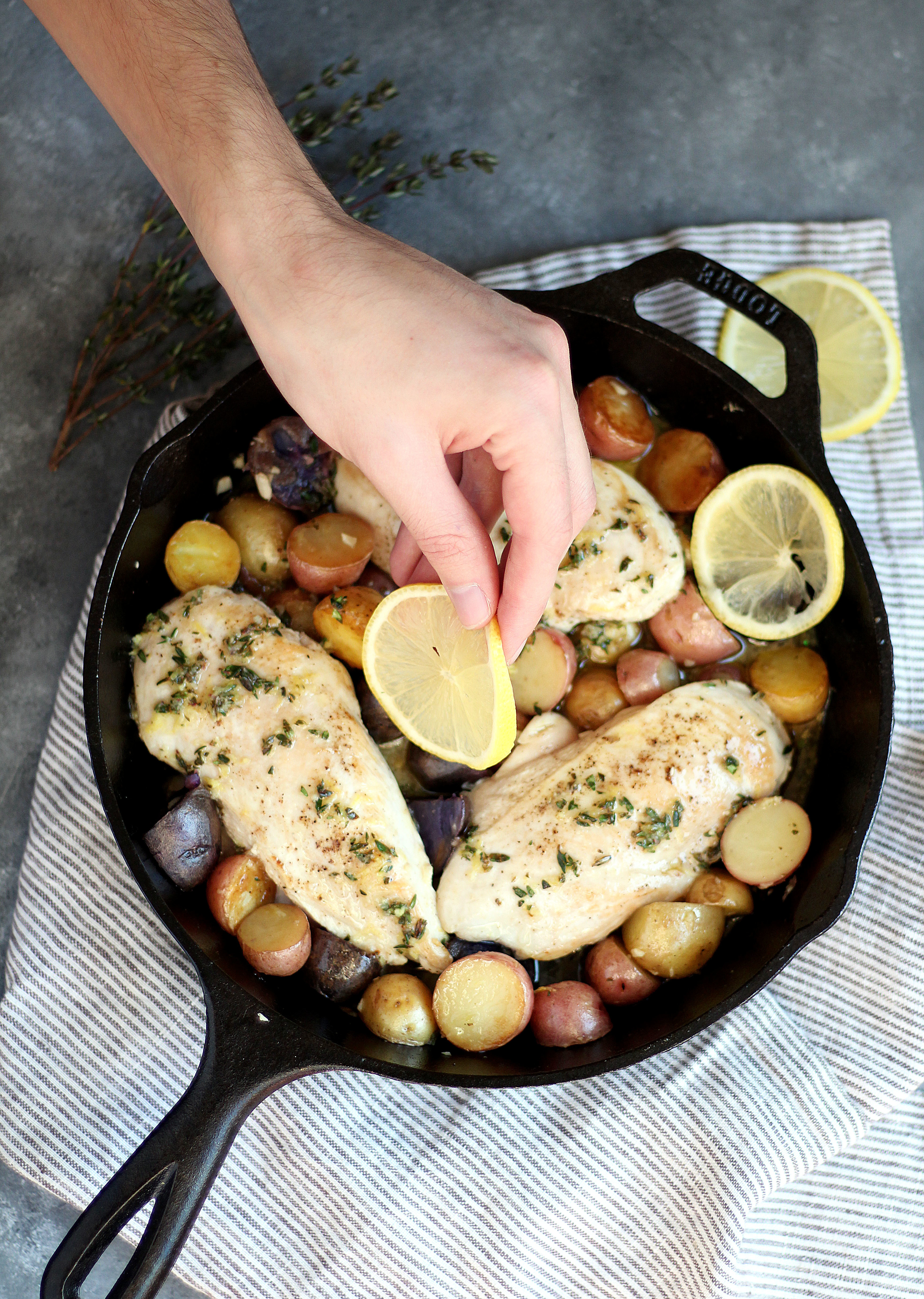 If you have zaatar, I also recommend a little sprinkle on the chicken for even more flavor. Okay, I'm done. Just promise me you'll make this.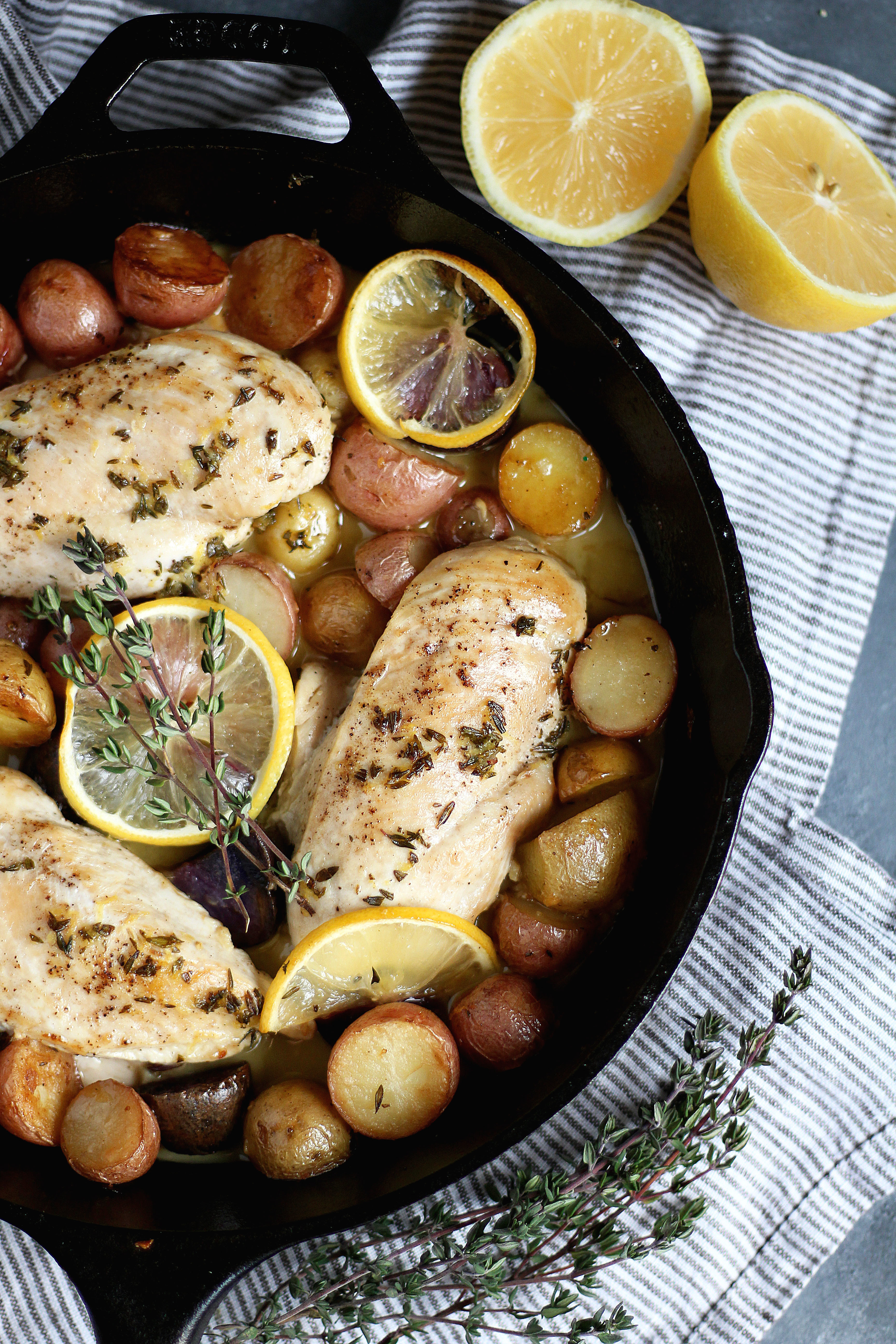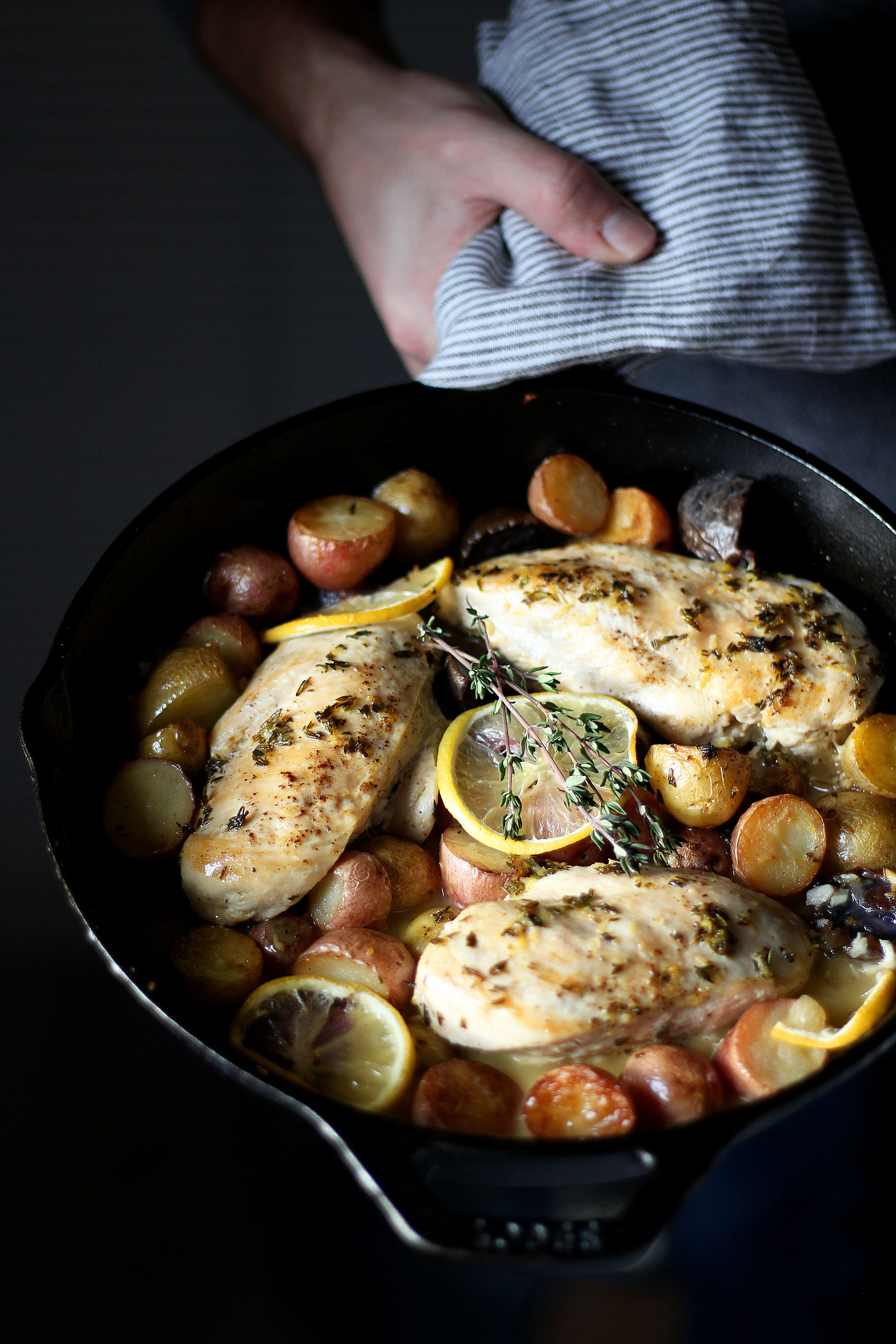 What's your favorite kitchen purchase lately?

One-Skillet Garlic Lemon Chicken
The easiest and most flavorful skillet chicken. A perfect weeknight meal with a side of greens or roasted vegetables!
Ingredients
4 skinless chicken breasts
¼ cup extra virgin olive oil, divided
salt and pepper
1 pound baby potatoes, halved or quartered if large
4 cloves of garlic, minced
¼ cup dry white wine
2 teaspoons chopped fresh thyme
3 tablespoons lemon juice
½ teaspoon lemon zest (~1/2 lemon)
Instructions
Preheat the oven to 425 degrees F.
Pat the chicken dry and season with salt and pepper.
Heat a large oven-safe skillet with over medium-high heat. Add 1 tablespoon of olive oil, and once the olive oil is shimmering, add the chicken, top side down, searing until golden on one side, about 3-5 minutes. Flip and continue cooking for another 1-2 minutes. (The chicken will be cooked on the outside, but raw still on the inside) Remove the chicken and put it aside.
Reduce the heat to medium and add another tablespoon of olive oil. Add the potatoes, stirring, until they are softened and lightly seared-looking, about 5 minutes. Add the garlic and wine to the skillet, scraping any bits from the pan. Let simmer for 2-3 minutes to reduce slightly, stirring frequently.
Remove the skillet from the heat. Nestle the chicken in the potatoes.
Whisk together the chopped thyme, lemon juice, lemon zest, 2 tablespoons of olive oil, and salt and pepper. Pour the mixture over the chicken and potatoes, evenly distributing.
Transfer to the oven and bake for another 20-25 minutes, or until the chicken is done and potatoes are tender.
Serve the chicken, drizzling with the pan sauce.