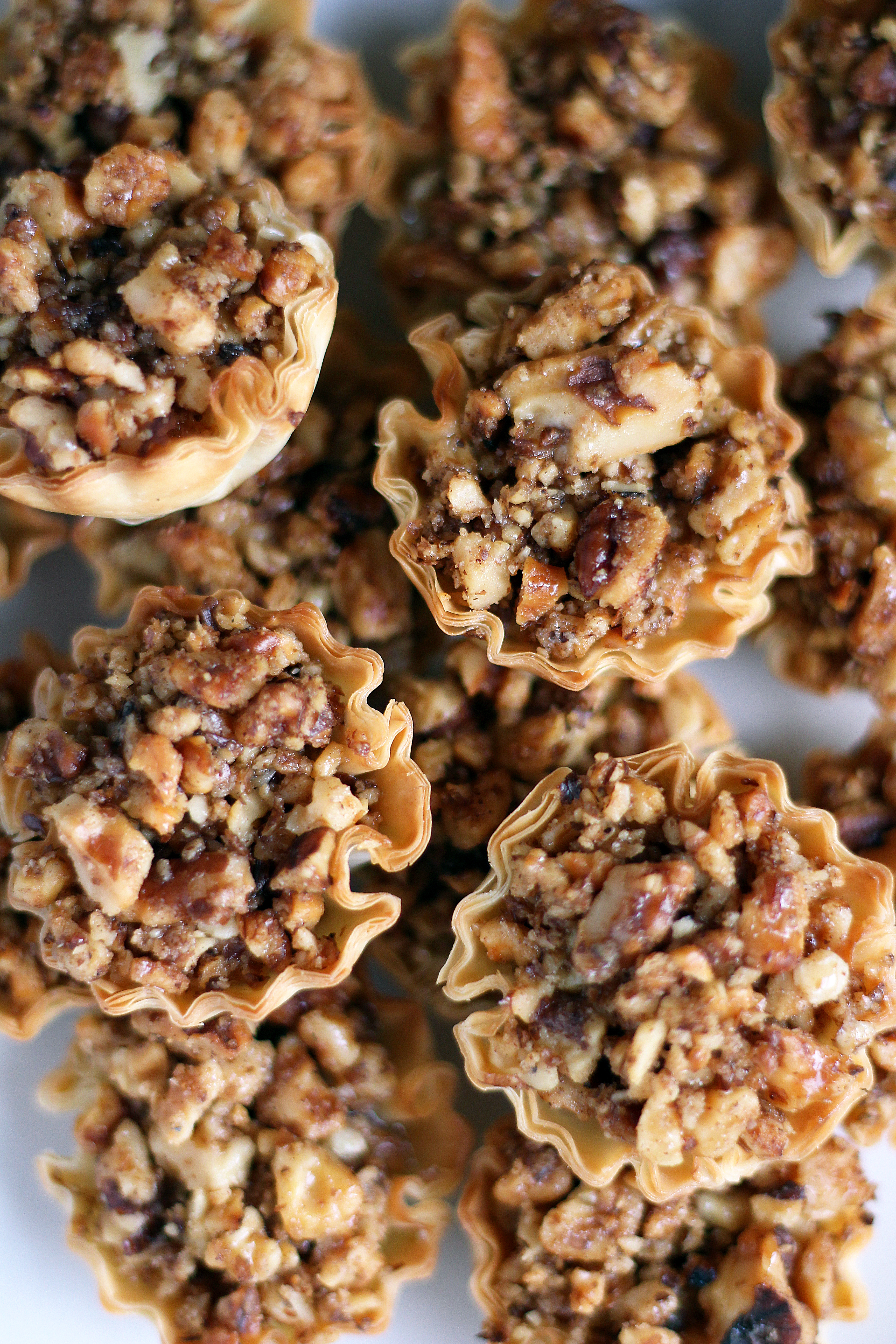 Oh, am I tired. I flew back from LA late Tuesday night and had the hardest time waking up for work yesterday. Somehow, in a long weekend, I got adjusted to west coast time and it feels like I'm waking up in the middle of the night when it's actually morning and time to go to work here on the east coast. Hopefully I adjust soon, but maybe that also means I won't have as hard of a time staying up til midnight for New Year's Eve. Yes, I am fully aware that I am 27 going on 90. No shame.
We usually travel to DC for New Year's Eve to visit with friends and family, but this year, we decided to stay put since we both traveled to the west coast for Christmas. We are [literally] having a pajama party with a couple friends. Comfy clothes, games, no pressure, and lots of eating. We decided to just make a bunch of appetizers – and I LOVE appetizer-style dinners. I'm thinking lots of cheeses and charcuterie, my favorite hummus ever, some specialty cocktails, and these baklava cups.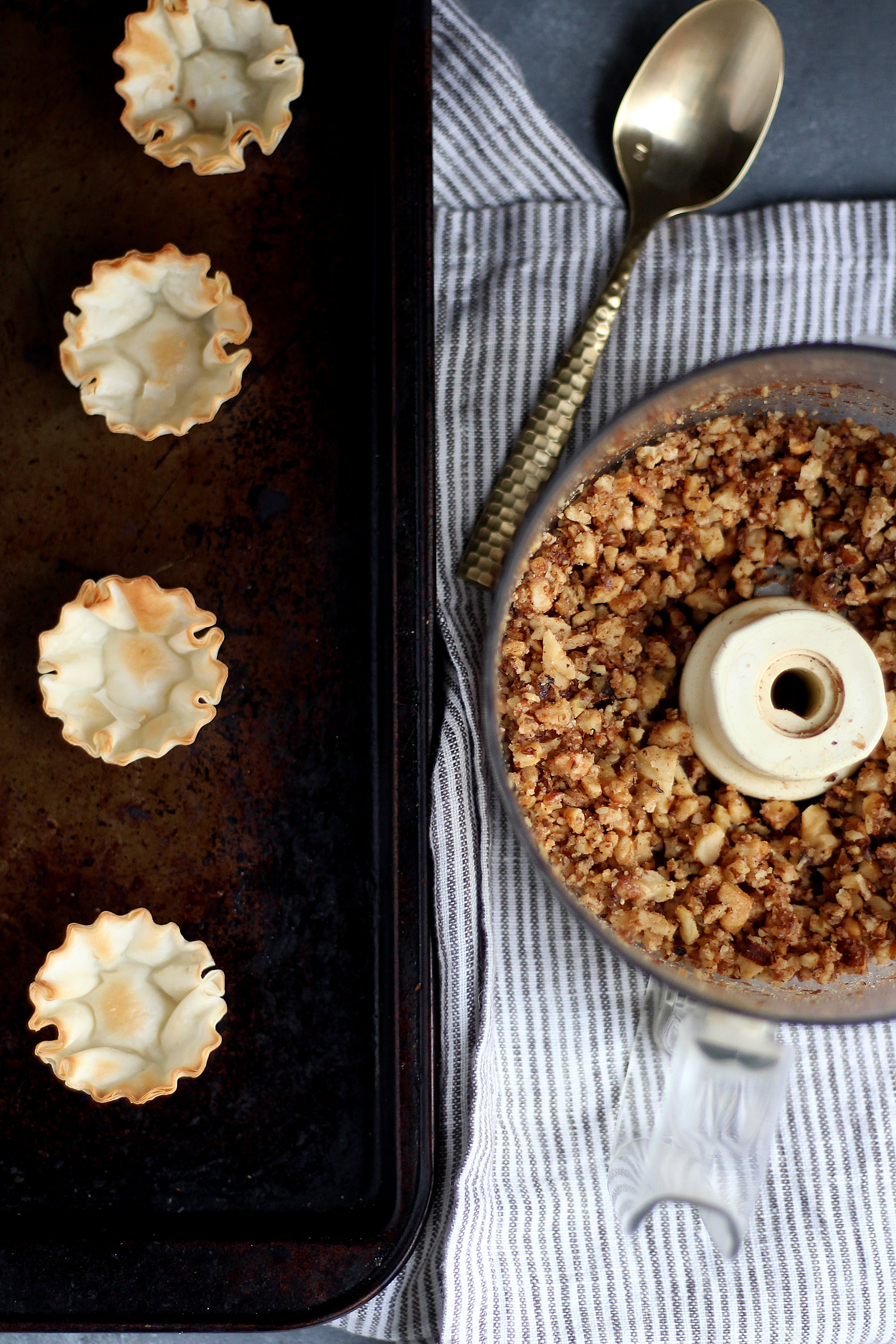 I have to be honest, I am incredibly picky when it comes to baklava. I want my baklava crunchy (not soggy), sweet (but not too sweet), slightly cinnamon-y with a hint of orange blossom, and with only walnuts. I've definitely been spoiled over the years. Every time I go to Lebanon, I make sure to stop by Taj Al Moulouk in Hamra (Beirut) to pick up some of my favorite baklava. Nothing in the US ever compares, unless it's homemade by family members. My aunt has the best baklava recipe, but since I've had multiple holiday parties to go to this month, I was on the search for a simpler recipe to bring. Since homemade baklava has always been a hit in the past, I decided to simplify the recipe (meaning no peeling apart and subsequently ripping each delicate layer of phyllo dough, no carefully buttering each layer, etc).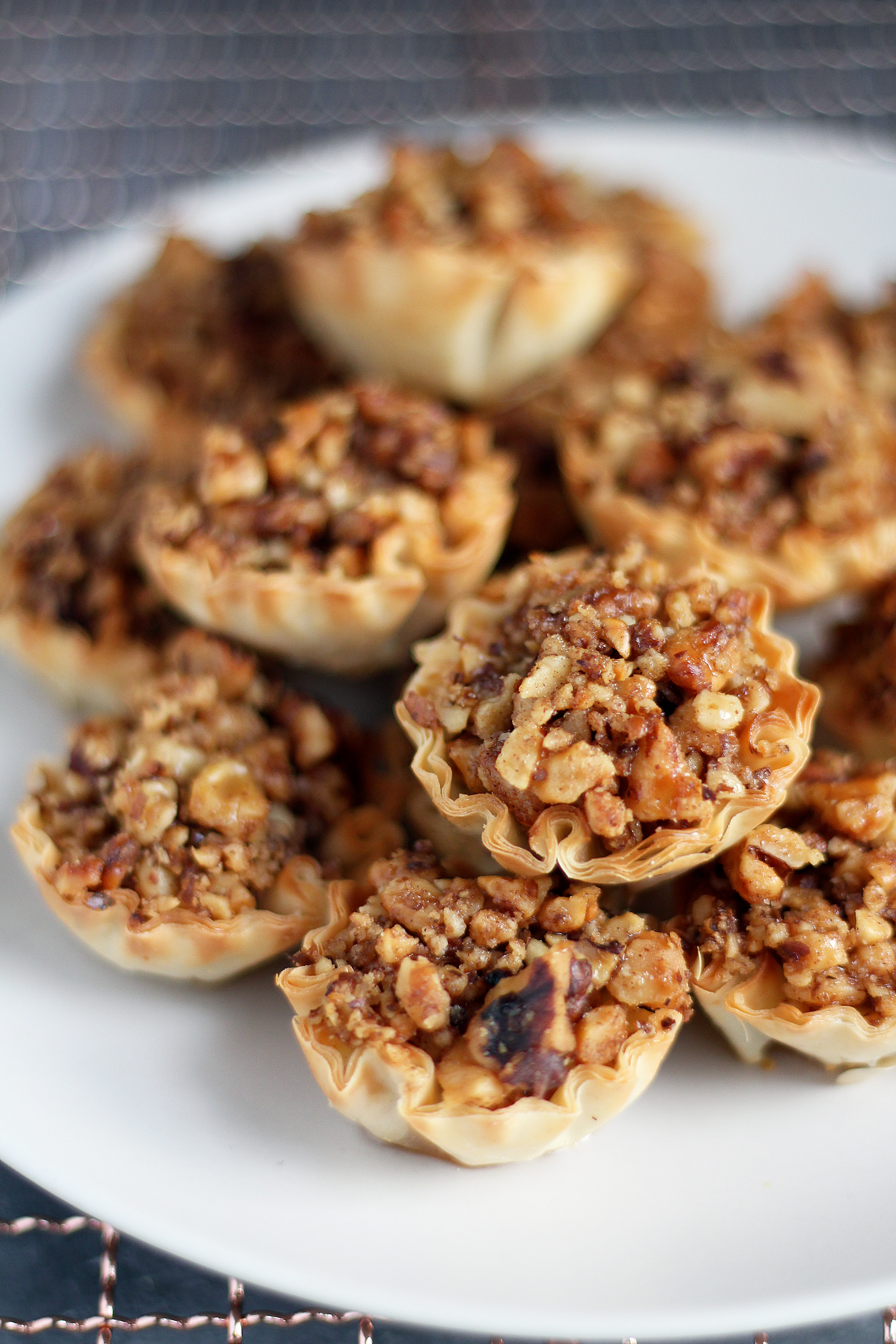 These come together in about 25 minutes. Simply buy phyllo cups in the freezer section. With a knife or food processor, chop the walnuts finely, mix with sugar, stuff the cups, and bake. Meanwhile, you make an orange blossom syrup to drizzle on the cups as soon as they come out of the oven. And done. Easy peasy.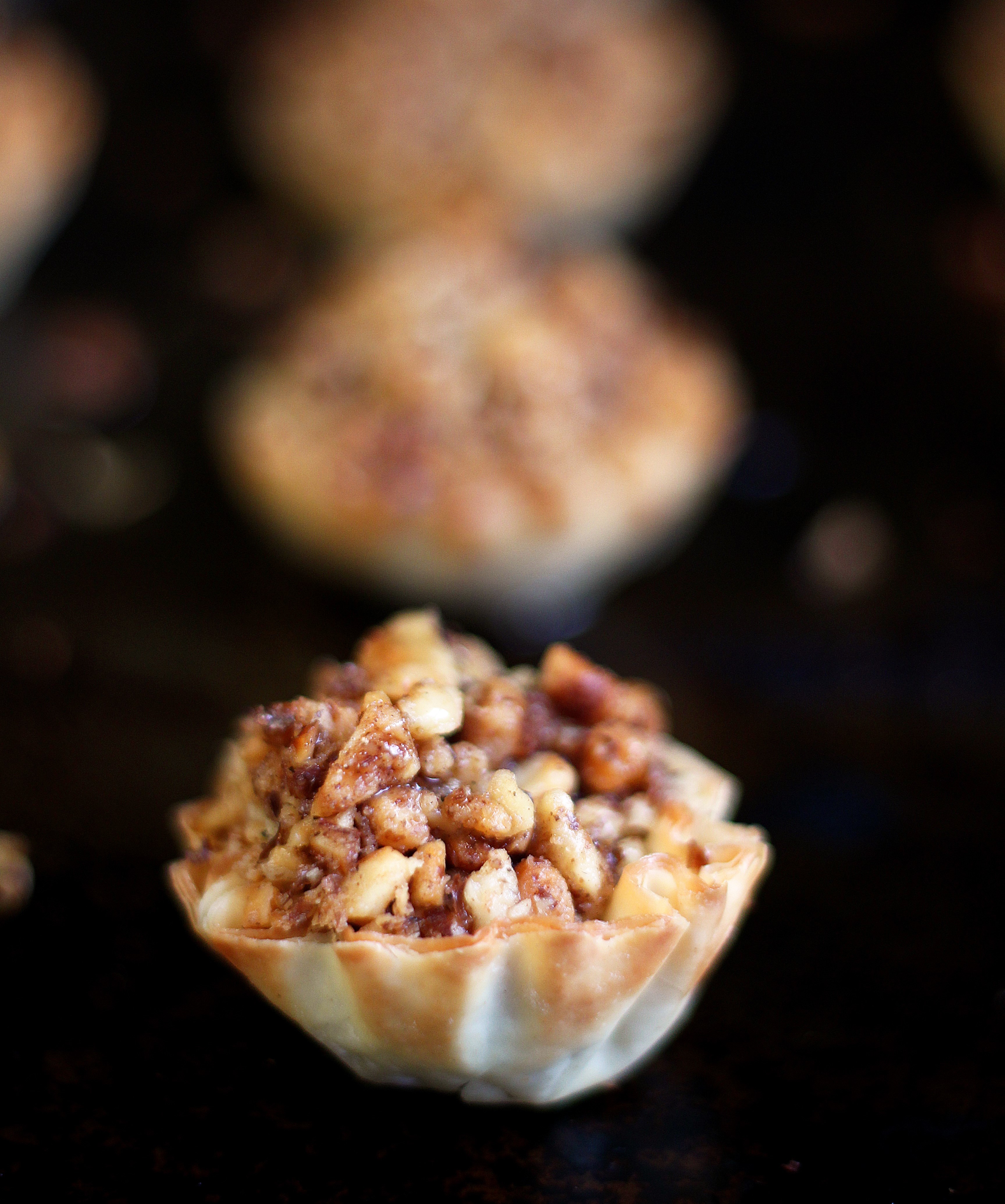 Walnut Baklava Cups
Easy baklava cups that come together in a matter of minutes!
Ingredients
1 cup walnut halves/pieces
½ cup plus 1 tablespoon sugar, divided
¼ cup water
½ teaspoon orange blossom water
¼ teaspoon lemon juice
1 tablespoon unsalted butter, melted
¼ teaspoon ground cinnamon
1 (15-count) box baked mini phyllo (fillo) shells
Instructions
Preheat the oven to 350 degrees F and arrange the walnut pieces on a baking sheet. Toast the walnuts in the oven until fragrant, about 5-8 minutes.
Meanwhile, combine ½ cup sugar and ¼ cup water in a small saucepan over medium heat and bring to a boil. Reduce heat to a simmer and let slightly reduce and thicken for 5-8 minutes. Remove from the heat and add the orange blossom water and lemon juice. Let cool.
Let the nuts cool slightly and place them in a food processor with 1 tablespoon sugar, cinnamon, and the melted butter. Pulse until finely chopped (don't go too far!) - see pictures. (Alternatively, you can finely chop the nuts with a knife and mix it with the melted butter, cinnamon, and sugar in a bowl.)
Arrange the phyllo shells on a baking sheet. Divide the walnut mixture evenly among each phyllo cup. Bake for 10 minutes. Immediately after removing from the oven, spoon 1-2 teaspoons of syrup into each cup.