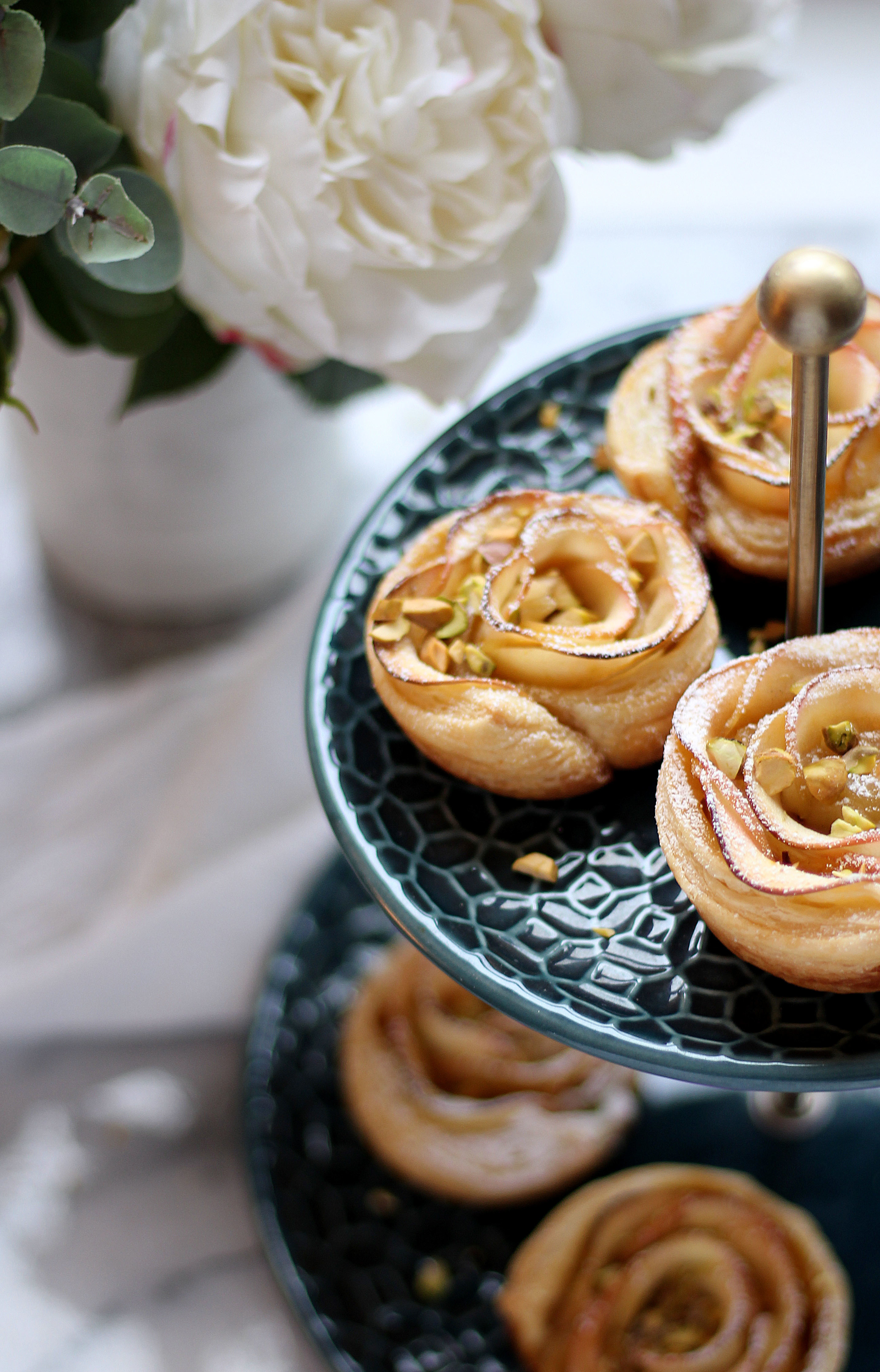 Happy almost-Valentine's Day! In honor of the holiday (and the Bachelor tonight…), I made you these roses! I've seen similar recipes floating around the internet, and I LOVED the idea. I have a love/hate relationship with February. First, it's my birthday month (love), but it also happens to be the coldest month of the year up here in the northeast (hate). It's the month of love (both love and hate). I've gone in and out of loving Valentine's Day over the years, and this year, I'm loving it. See I don't love the cheesy interpretation of Valentine's Day (i.e. must-buy-gifts/chocolates/flowers/cards-for-significant-others), but I love it as an excuse to celebrate love – not just for significant others, but for friends, family, coworkers.
This year in particular, I feel like we could all use some love and kindness in our lives. Do you remember back in the day when we'd celebrate Valentine's Day in elementary school? You'd buy a bag of Valentine's Day candies with spaces to write messages on them and give them out to every one of your classmates. Then, at the end of the day, you'd end up with a treat from each of your classmates, feeling pretty special (and high on sugar). That's the kind of Valentine's Day I'm into.
So, if you're up for making a sweet surprise for your friends, coworkers, significant others, etc in celebration of the holiday, these roses make the perfect treat. They're beautiful, yet EXTREMELY simple. I promise. In fact, it requires just a handful of ingredients and only about 15 minutes of hands-on time. I buy frozen puff pastry for these, making them even easier.
You'll slice an apple really thin and heat it with water and lemon until they're slightly soft and bendable (without breaking). Then, after defrosting your puff pastry, you add a little of your apricot-rosewater concoction, a sprinkle of cardamom, and then layer the apple, fold in half, and loosely roll them up. And repeat 5 more times. Check out the pictures for more of a visual play-by-play!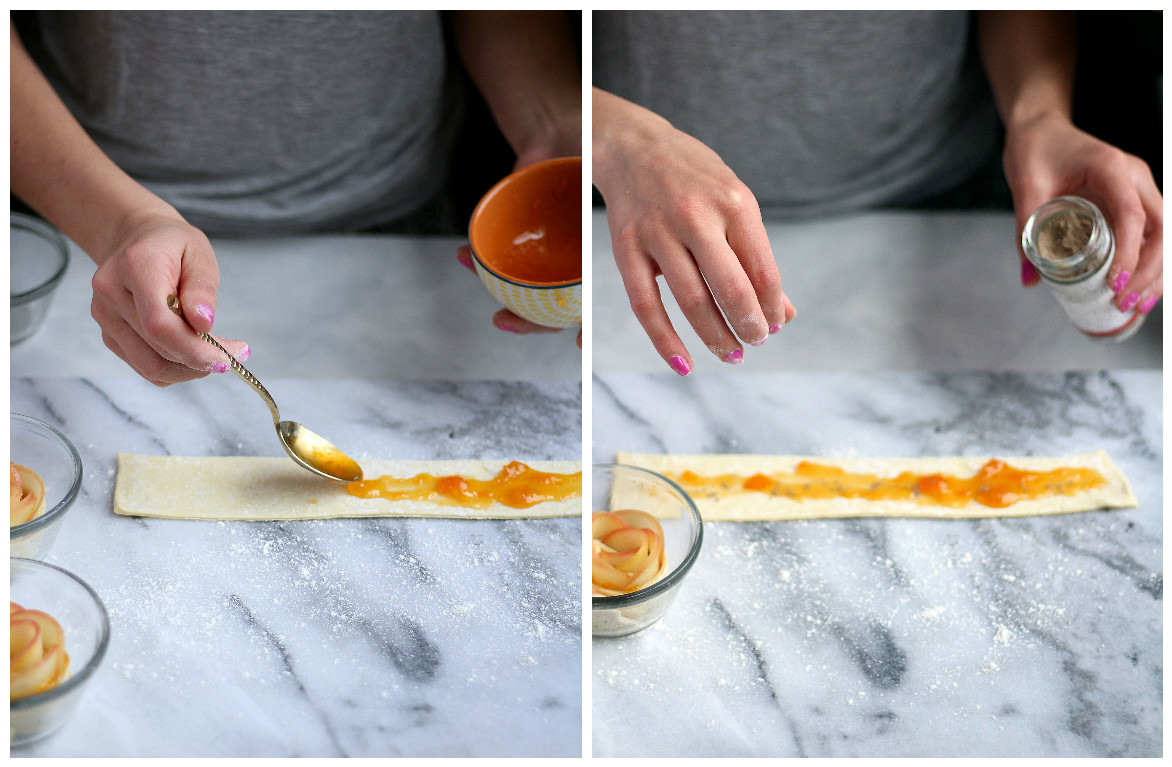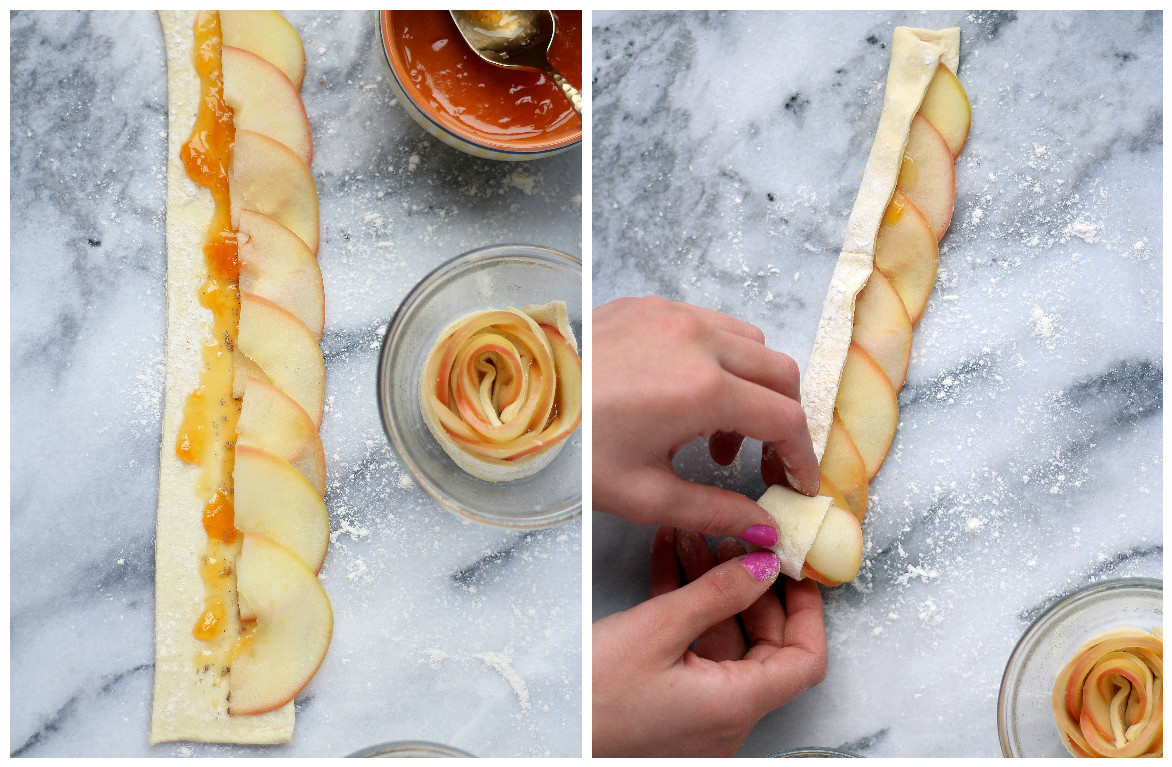 Cardamom Apple Roses
These beautiful apple roses are deceptively simple and make the perfect slightly sweet dessert. They go great with a scoop of vanilla ice cream or a cup of coffee.
Ingredients
1 large red apple, halved, cored, and very thinly sliced
½ teaspoon lemon juice
3 tablespoons apricot preserve
1 teaspoon rose water (or plain water)
1 sheet of puff pastry, defrosted (I like to use Pepperidge Farm)
several pinches of cardamom
½ teaspoon granulated sugar
powdered sugar
unsalted and shelled pistachios, crushed
Instructions
Preheat the oven to 375 degrees F and grease 6 small ramekins.
Add the thinly sliced apples to a bowl with water and the lemon juice. Microwave on high for 2-3 minutes or until the apple slices are soft enough to bend slightly without breaking. Alternatively, you can do this on the stove. Drain the apples.
Combine the apricot preserve and rose water in a small bowl and microwave for 30 seconds or until just warm and easier to spread. Stir well.
Refer to the pictures for a visual of the directions: On a floured surface, roll the puff pastry into a 11-inch x 13½-inch rectangle. Using a pizza cutter or sharp knife, divide it into 6 2¼-inch x 11-inch strips. Divide the apricot mixture evenly among each strip of dough, spreading it on. Sprinkle a pinch of cardamom on each strip of dough.
Add an overlapping layer of apple slices as shown in the pictures, making sure the top of the apple slightly sticks out over the dough. Fold the bottom half of the dough over the apple slices. Gently roll into a rose, making sure they are loosely rolled (if they are too tight, the dough on the inside won't cook as easily). Lightly seal the edge at the end and place in a greased ramekin. Repeat with remaining roses. Sprinkle the ½ teaspoon of granulated sugar on each apple rose.
Place the ramekins in the oven. After baking for 20 minutes, loosely cover the ramekins with foil to prevent the apples from burning. Continue cooking for 25-35 minutes, or until the puff pastry is cooked (including the inside).
Once slightly cooled, sprinkle the roses generously with powdered sugar and top with crushed pistachios.