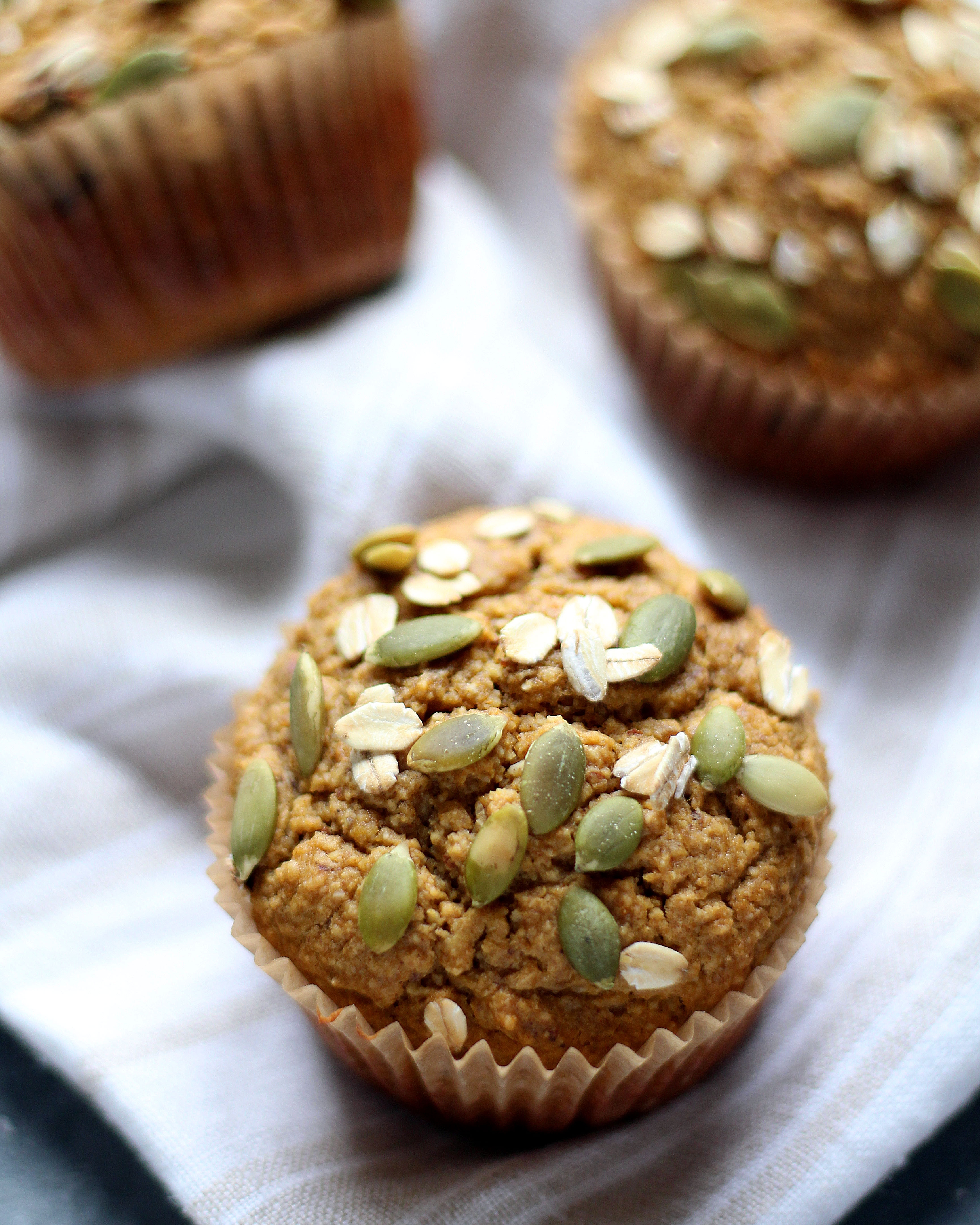 Are you sick of pumpkin yet? I'm not. I'm constantly looking for healthier ways to enjoy my favorite seasonal flavors. Don't get me wrong, I am all about indulging in pumpkin pie with whipped cream on the side, but I'm thinking I probably shouldn't do that every single day (with the exception of Thanksgiving weekend…), nor should I do that for breakfast.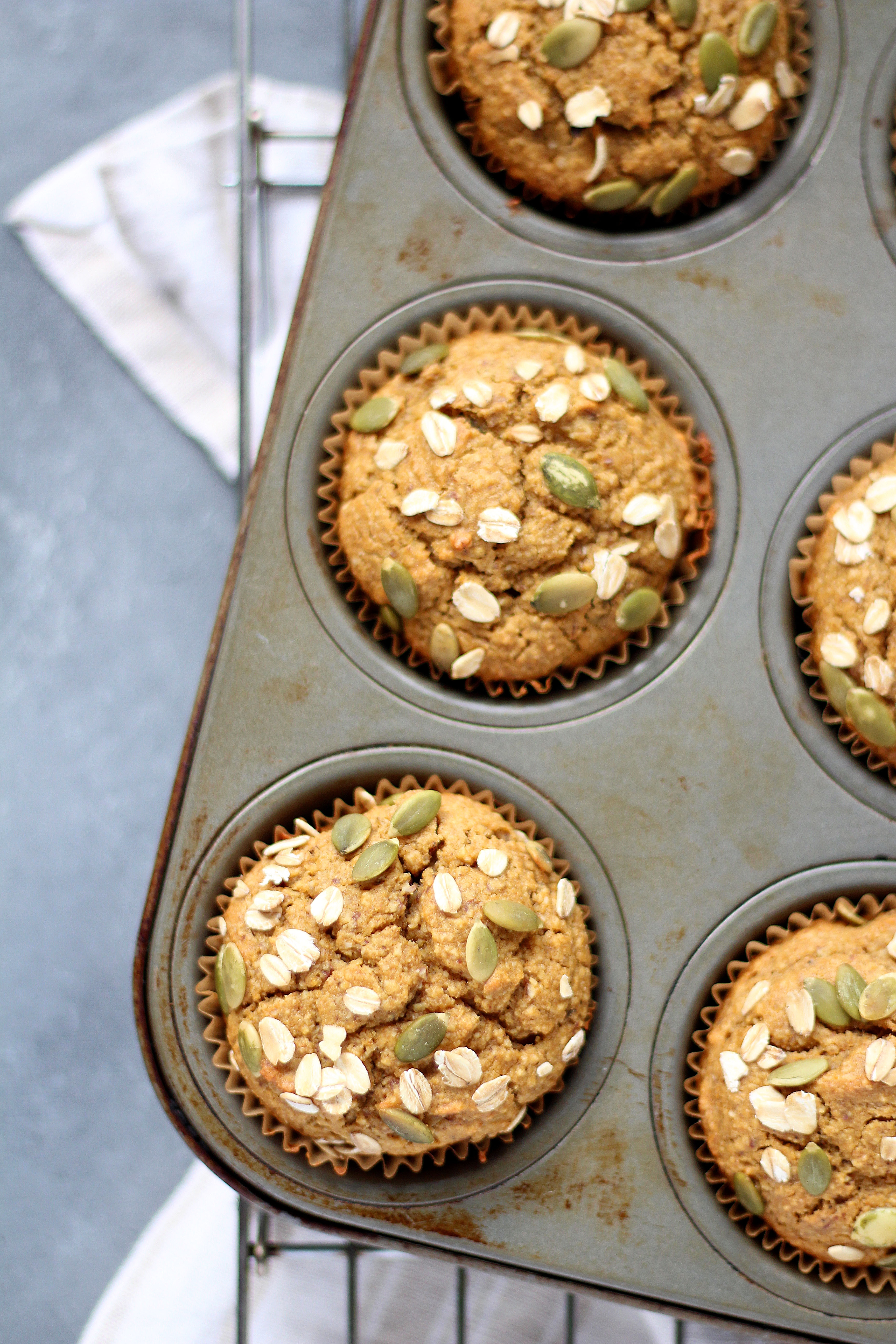 These muffins came about for 3 reasons: 1. My quest to find a hearty and healthy muffin that feels like a treat in the morning. I love a good baked good with my coffee, and the local bakery has been seeing me far too often lately. 2. My friend Jenn (I've referred to her before – she pretty much tries everything I make before I post it) is all about healthier treats that we can indulge in daily, and I always pick up on a slight hint of disappointment if she asks if my recipe is flourless and I answer no. So maybe I should call these the "Jenn muffins"? You better believe she tested these out before I posted them, and they got her stamp of approval. 3. I'm always looking for a healthy toddler-approved snack for my niece. Something refined sugar free, hearty and whole grain, and easy for her to eat herself.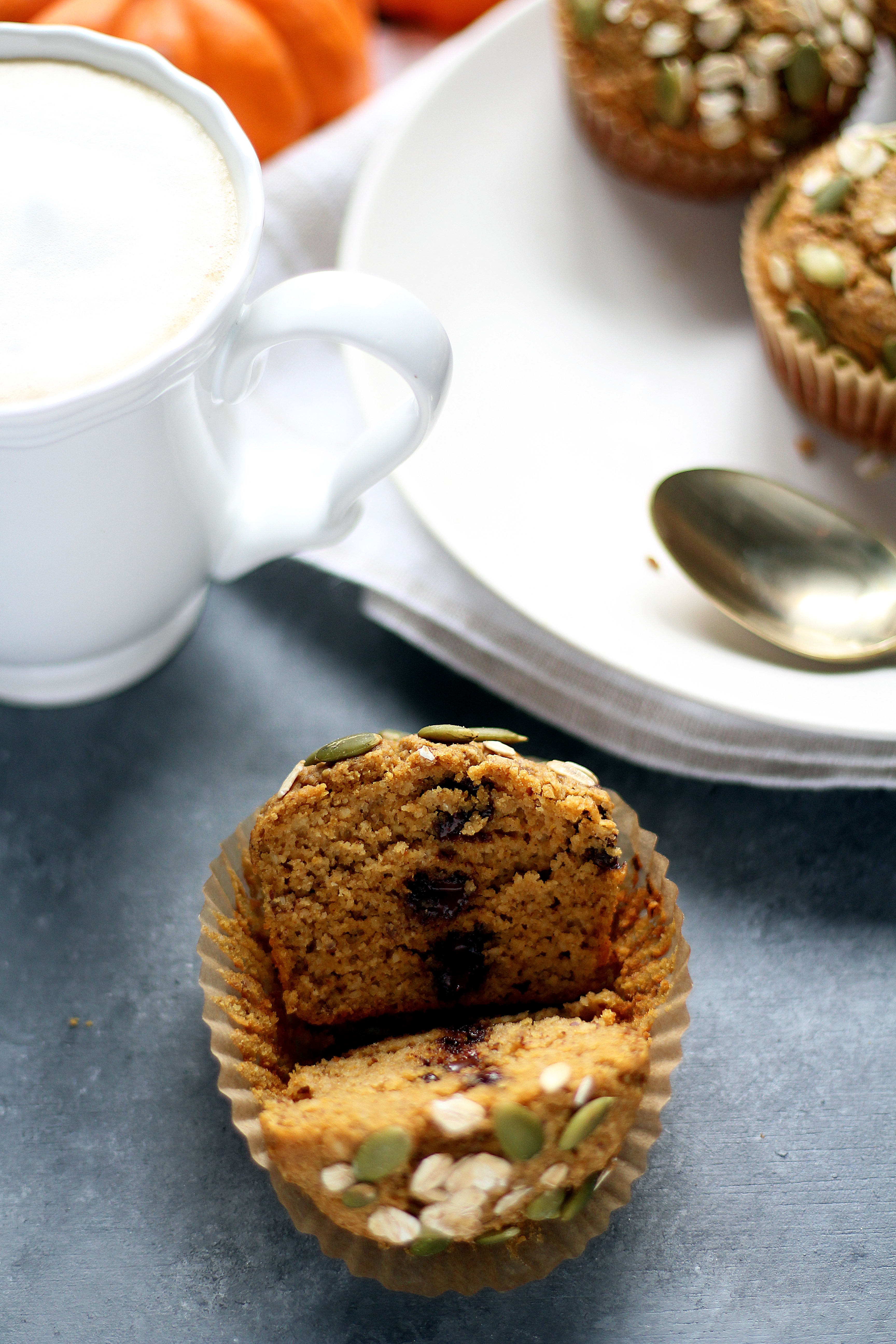 Enter this muffin. It's flourless and made with almond meal and oat flour (you can buy this at the store for a super reasonable price – I think I got mine for $3.99 – or grind your own out of rolled oats until it resembles a flour). It's made with pure maple syrup, pumpkin-y, and flavored with all my favorite fall spices – cinnamon, nutmeg, ginger, and cloves. My favorite way to eat it? Slather it with a little almond butter and nibble on it with a frothy latte.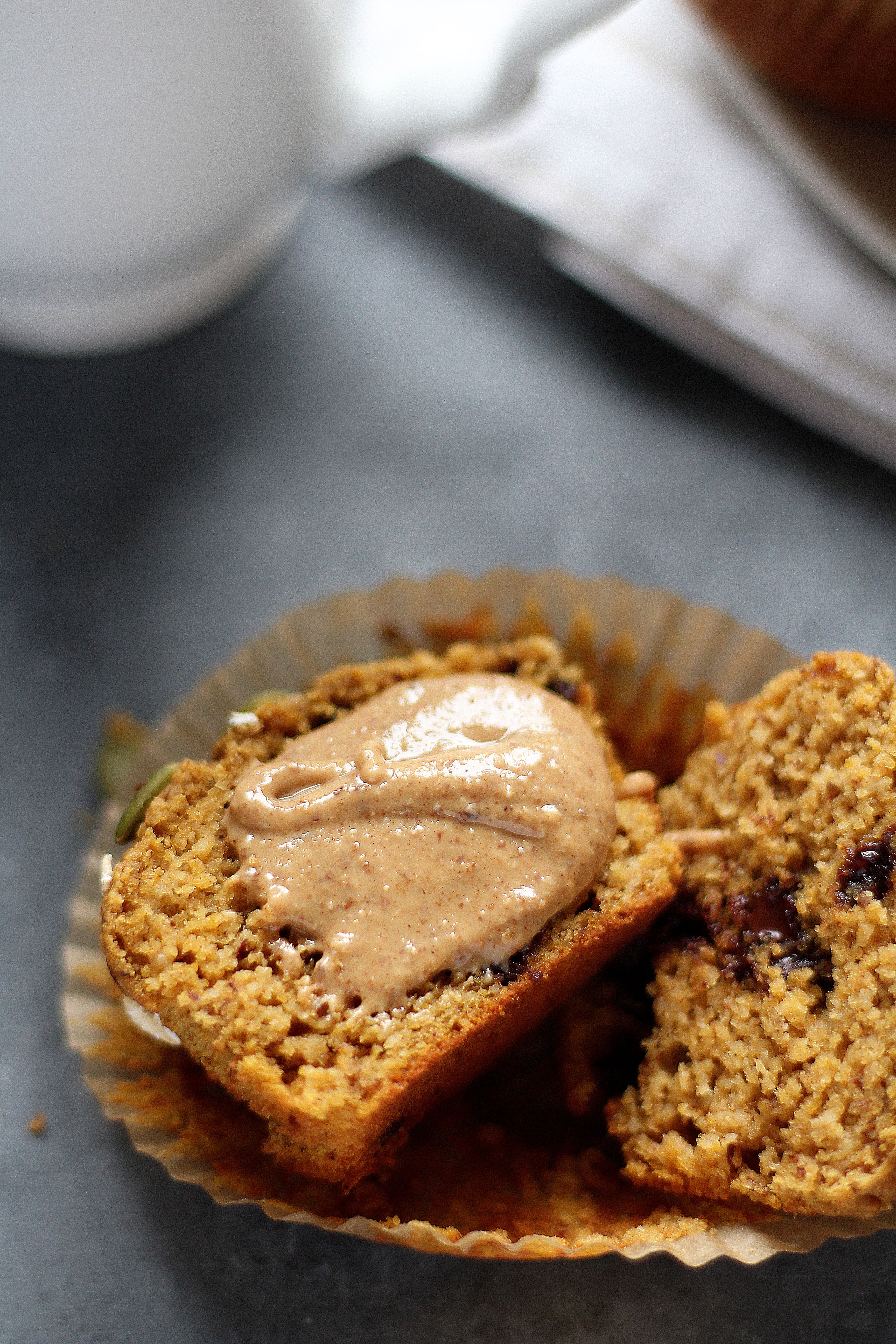 Perfect for toddlers, friends, and yourself, with a cup of coffee (of course).

Healthy Flourless Pumpkin Muffins
These muffins are hearty but light, perfectly spiced, and go great with a piping hot mug of coffee. They're healthy and only lightly sweetened, but you won't feel like you're missing out on those bakery muffins!
Ingredients
2 large eggs
⅔ cup pumpkin puree
⅓ cup maple syrup
3 tablespoons milk of choice
2 tablespoons melted coconut oil or unsalted butter
1 teaspoon vanilla extract
1 teaspoon apple cider vinegar or lemon juice (for rise - you won't taste it!)
1 cup oat flour
1 cup almond meal
1 teaspoon baking powder
¼ teaspoon baking soda
¾ teaspoon cinnamon
½ teaspoon ginger
¼ teaspoon nutmeg
¼ teaspoon cloves
⅓ cup chocolate chips
Optional toppings: pepitas, rolled oats
Instructions
Preheat the oven to 350 degrees F. Line a muffin tin, filling 9 cups,and grease the liners (to avoid the muffins sticking since they're light on oil).
In a large bowl, beat the eggs, pumpkin puree, maple syrup, milk, coconut oil or butter, vanilla extract, and cider vinegar/lemon.
In a separate bowl, mix together the oat flour, almond meal, baking powder and soda, and spices.
Add the dry ingredients to the wet ingredients, stirring well to ensure it's fully incorporated. Fold in the chocolate chips.
Divide the batter evenly among 9 muffin cups (they'll be about ⅔ or almost full). Bake muffins for 25-30 minutes, or until a toothpick inserted in a muffin comes out clean.
Let the muffins cool in the tin. Enjoy the muffins as is or with a little almond butter. Store in a cool, dry place.