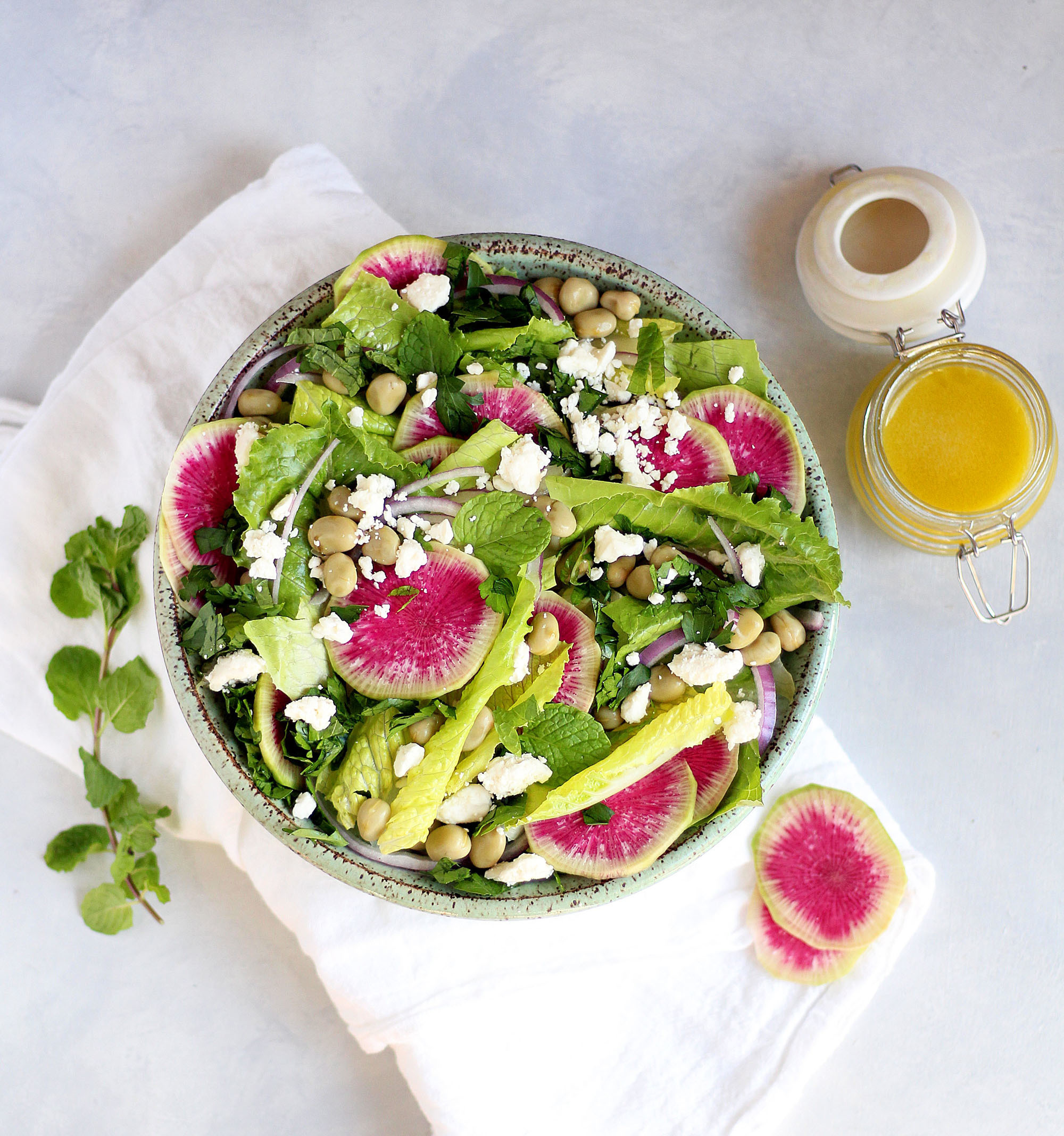 I have to admit, I feel a little silly sharing a salad as my first recipe of the new year. It feels very… stereotypical new year's resolution-y. And I feel a little iffy about new year's resolutions. In the past, I've made them and of course rarely followed through, but at the same time, I love the idea of a fresh year and setting positive intentions.
So, this year, I decided to re-frame my resolutions to take off some of the pressure. Instead of resolving to change behaviors, I've decided to set intentions for how I want to feel and things I want to add into my life. I want to take action to feel, and be, more energetic and active (especially during these long winters), mindful, and positive. I've been working on actions that will help me get to that place – adding more vegetables to my diet and incorporating just a little more activity into my every day will help with energy levels, more meditation for mindfulness, and gratitude journaling for positivity.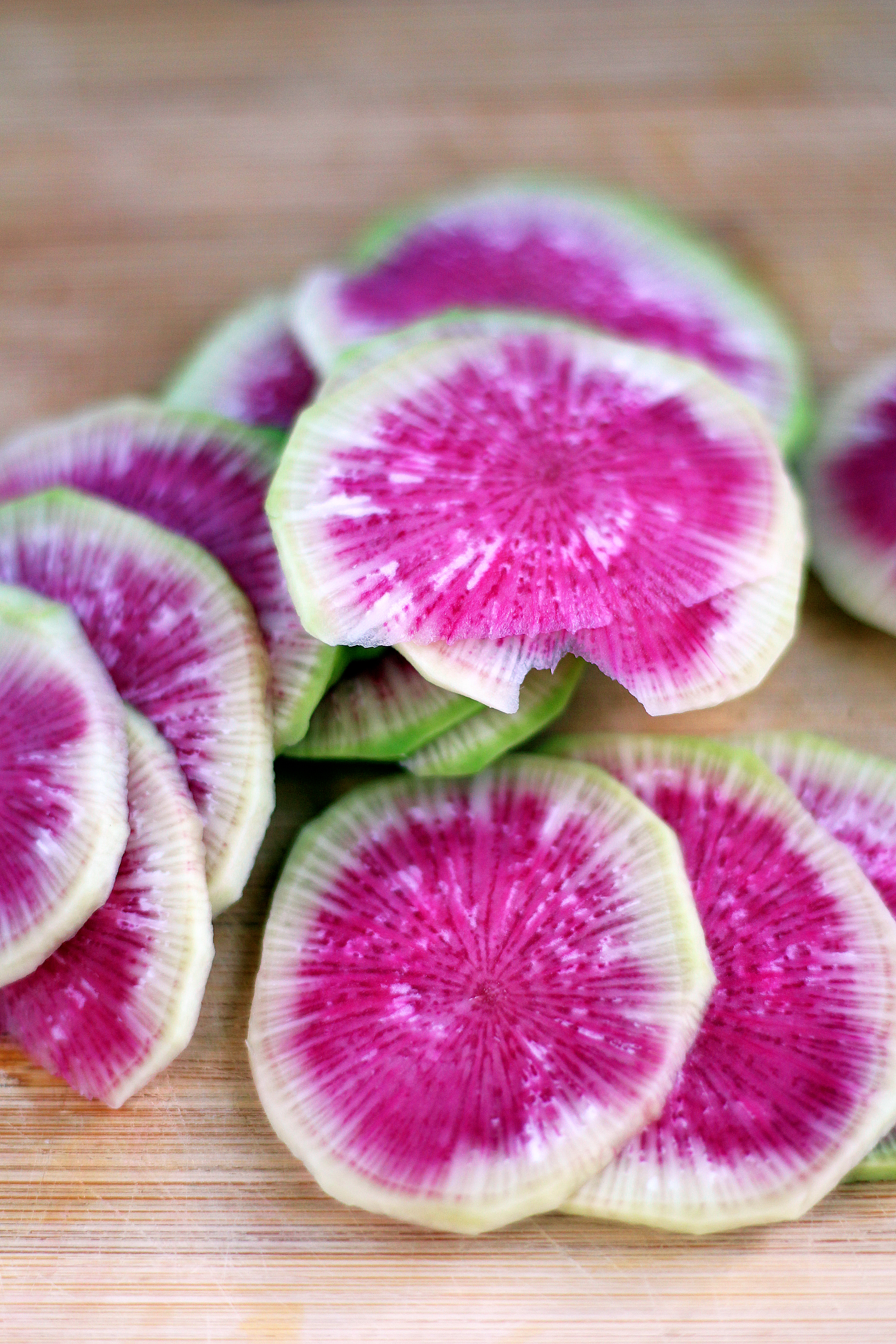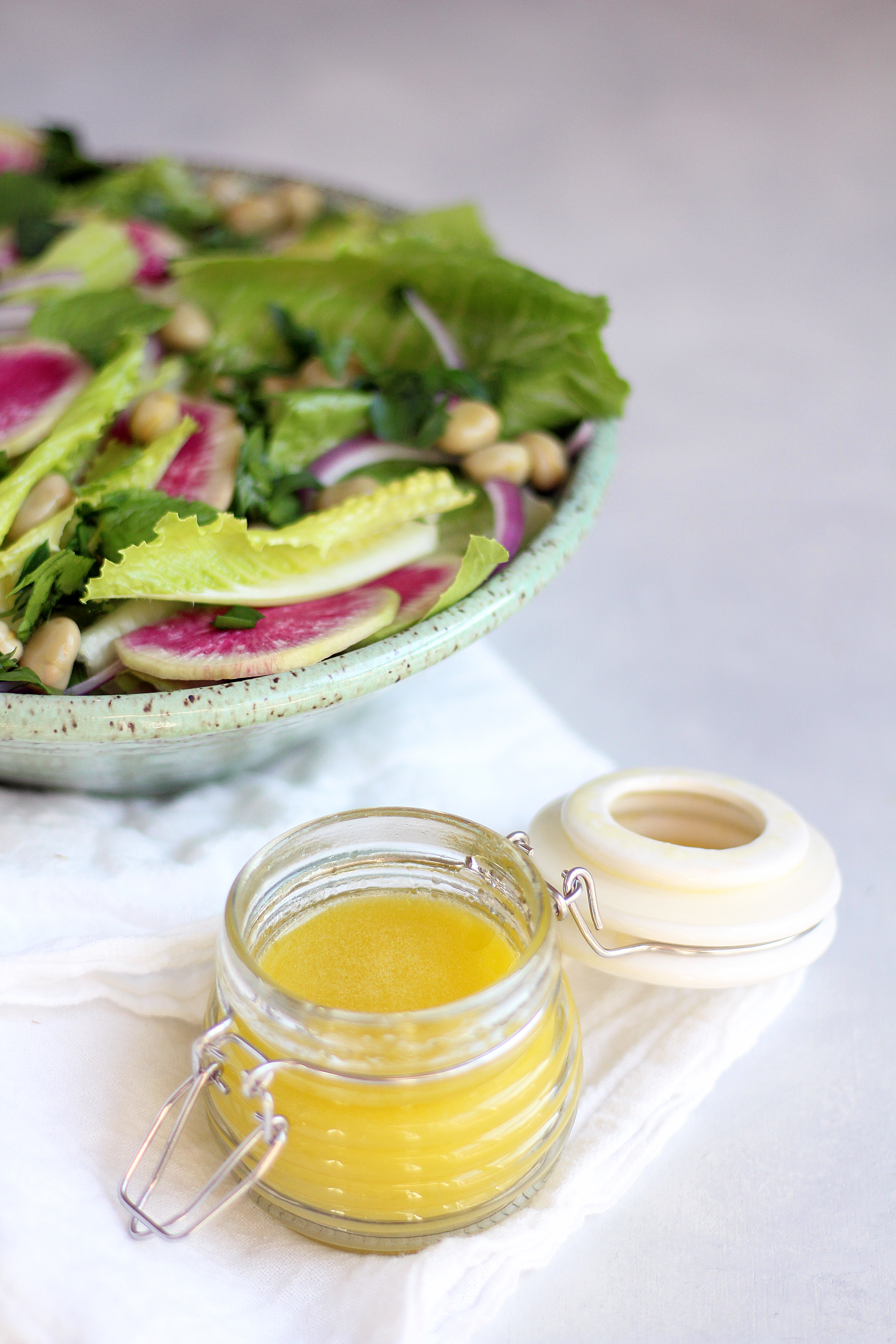 If you're trying to add more vegetables into your diet too, I've found variety and lots of textures and crunch are most satisfying for me. I love this salad because it includes all of the above. Romaine (my favorite salad green because of the crunch!), fava beans for protein, fiber, and other nutrients, avocado… because avocado, watermelon radishes for a pop of color and crunch. One of my favorite ways to incorporate more vegetables into my diet is going to the farmers market or grocery store to find new and exciting vegetables. This time, it was these gorgeous watermelon radishes. If you can't find them, don't sweat it – you can use regular radishes and feel free to include any other fun veggie you might find!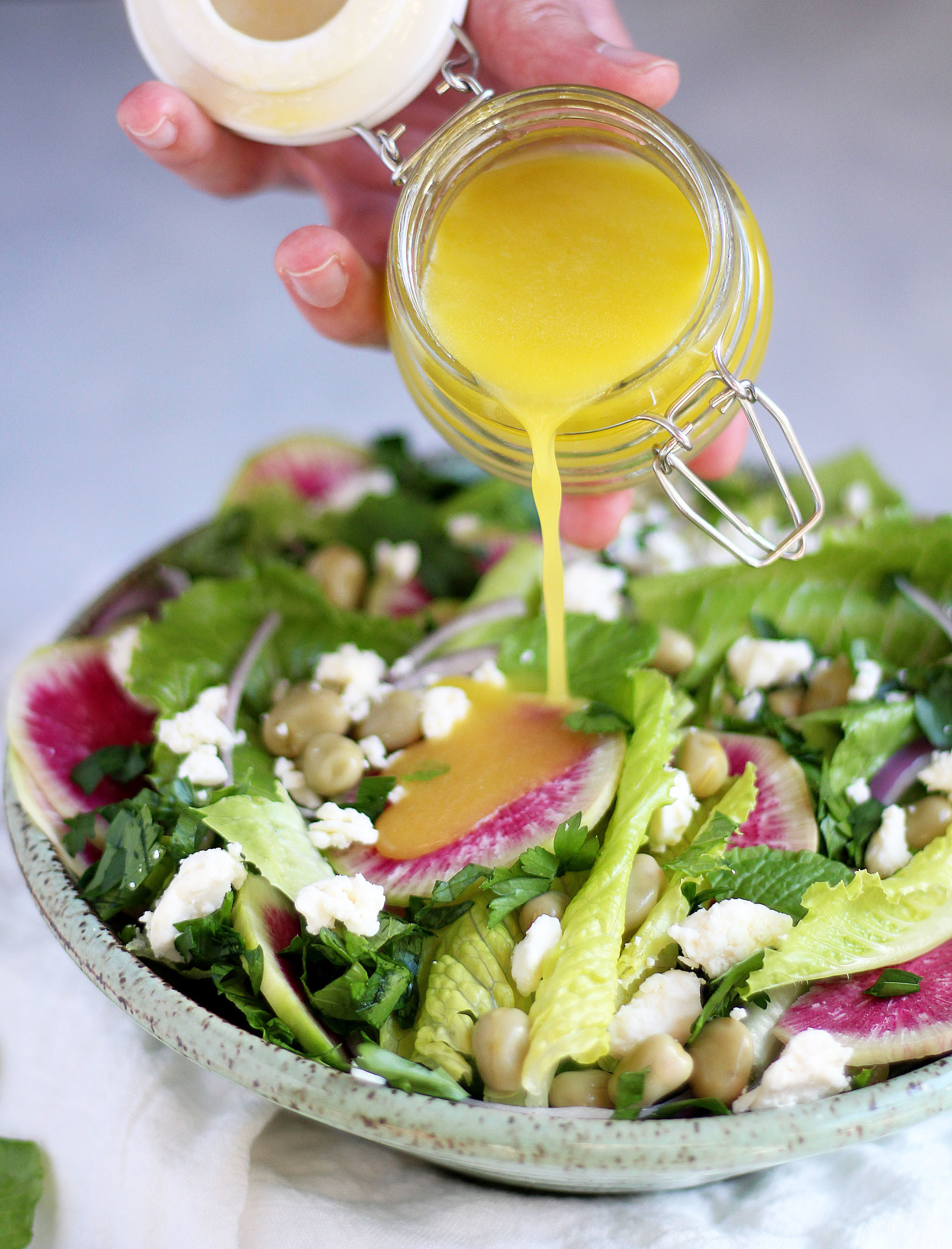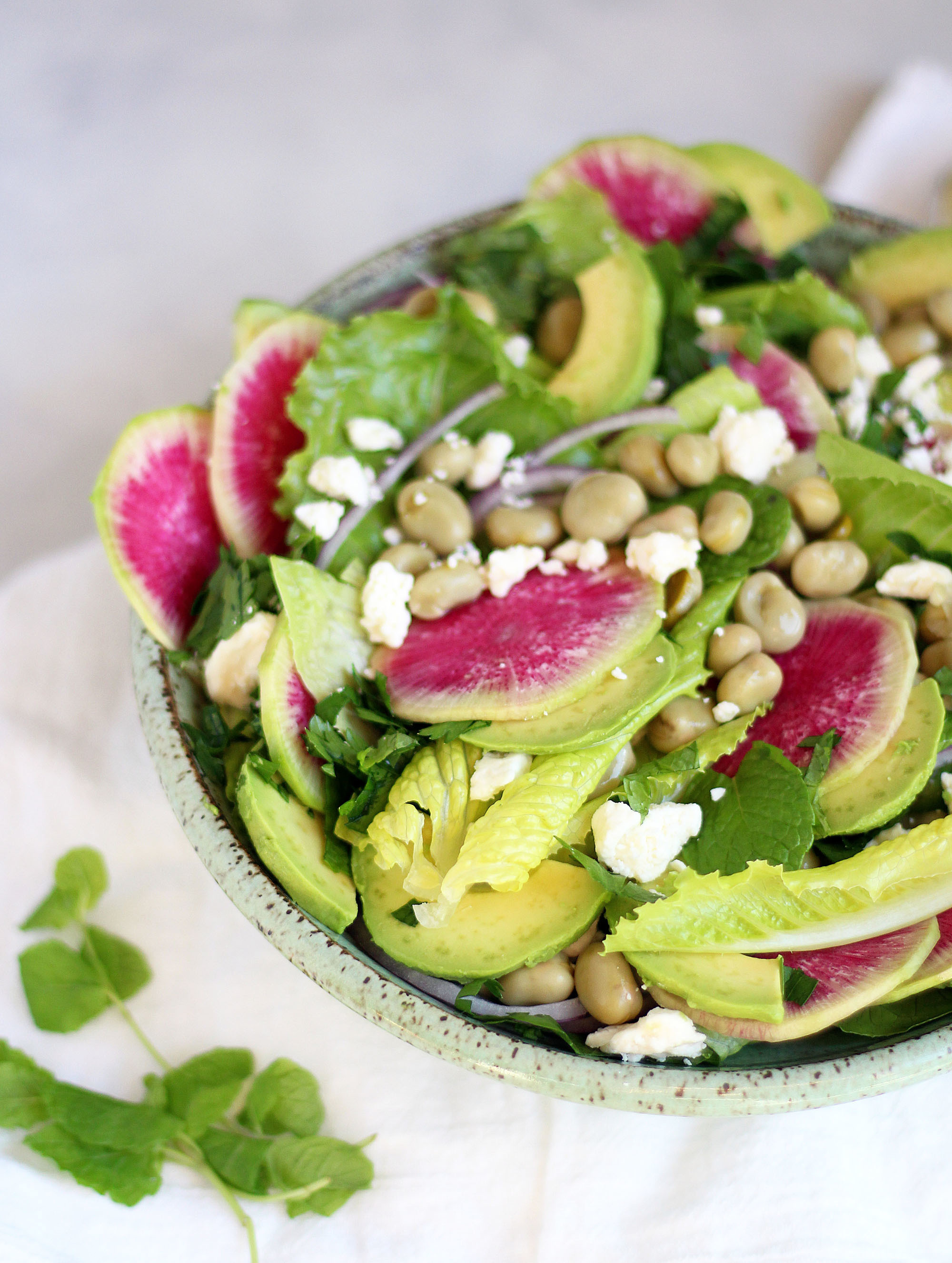 Herby Romaine Salad with Fava Beans and Radishes
An herby, crunchy romaine salad with fava beans, radishes, avocado, red onions, and mint and parsley dressed with a simple lemon and olive oil dressing. Easy, quick, and healthy!
Ingredients
1 large head of romaine lettuce, chopped
1 avocado, chopped
1 small-medium watermelon radish (or a couple regular radishes), thinly sliced
⅓ cup cooked fava beans
¼ red onion, thinly sliced
¼ cup chopped flat leaf parsley
a couple leaves fresh mint, chopped
crumbled feta (as much or as little as you want!)
¼ cup lemon juice
¼ cup extra virgin olive oil
salt and pepper, to taste
Instructions
Combine the romaine lettuce, avocado, watermelon radish, fava beans, red onions, and herbs in a large bowl.
To prepare the dressing, in a jar or small bowl, combine the lemon juice and olive oil. Whisk together or put the lid on the jar and shake. Add salt and pepper to taste.
If you're serving the salad immediately, drizzle enough salad dressing to lightly coat the salad (you may not use all of the dressing) and toss to combine. Otherwise, toss the salad with the dressing immediately before serving.