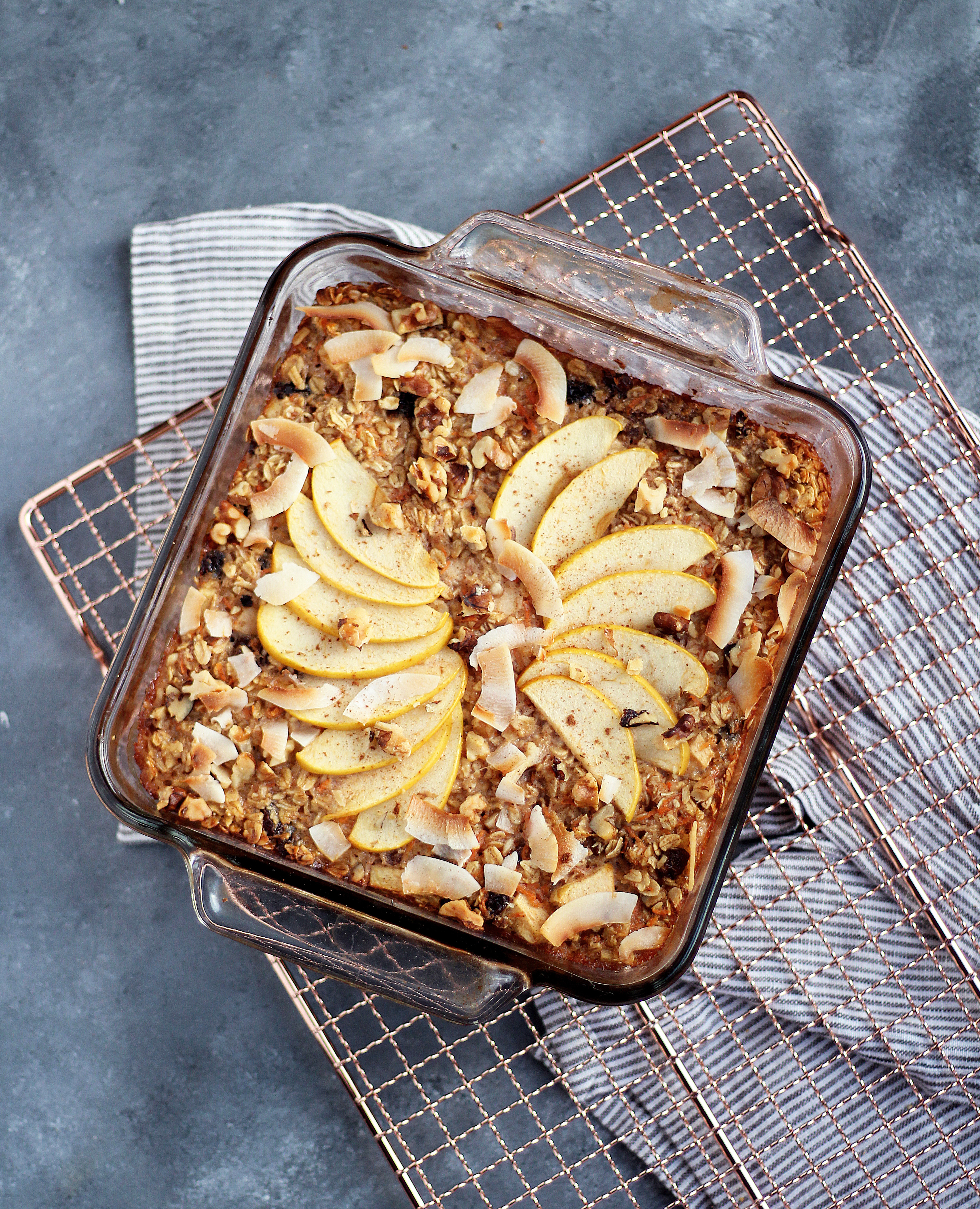 Alright, I think I'm almost done Christmas shopping. I've been wrapping up this week (figuratively and literally), and now I just need to get everything in the mail before I leave for California next week. This year, my family is going to be all spread out, and I have gifts to send to Colorado, DC, and New York. I kind of feel like Santa Claus.
Needless to say, life has been a bit hectic (but fun!) leading up to the holidays. We've had Christmas parties galore, holiday shopping to do, travel plans to make, and of course, work and blogging, where I'm scrambling to get a good chunk of things done so I can take off some time to enjoy the holiday unplugged.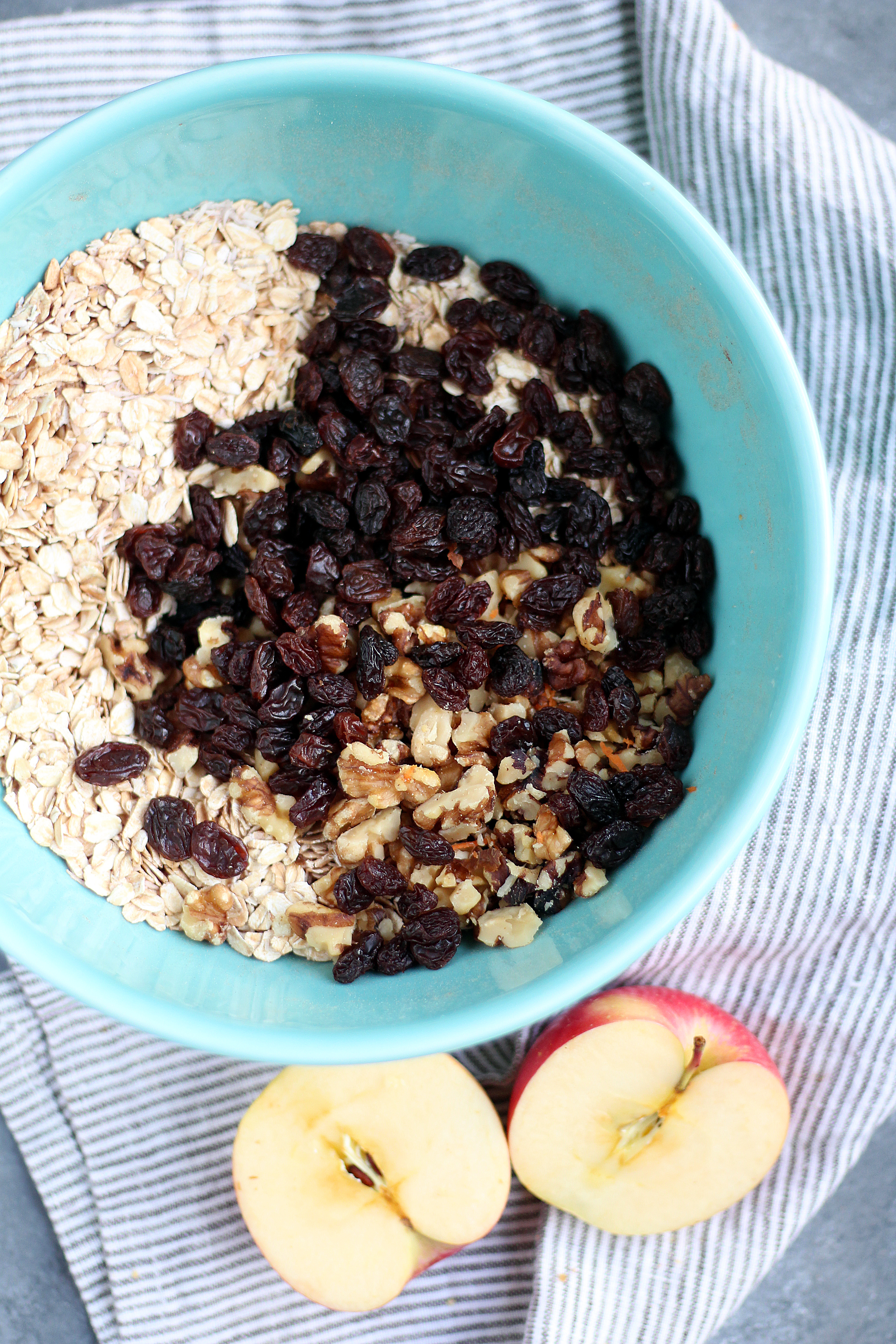 I have been food prepping and batch making food like crazy on Sundays since the weeks have been so hectic. And Evan has been pitching in with making dinner – he made this ramen last night. So good. Seriously all I crave when it's cold or I'm sick is ramen. Luckily (or not luckily?) it's the former. It's been freezing here. Also, for the last month, every single Sunday, I've made this baked oatmeal to nibble on all week. It's no secret I have a love for muffins and baked goods, and I have this thing for making oatmeal inspired by my favorite breads and muffins (see here and here).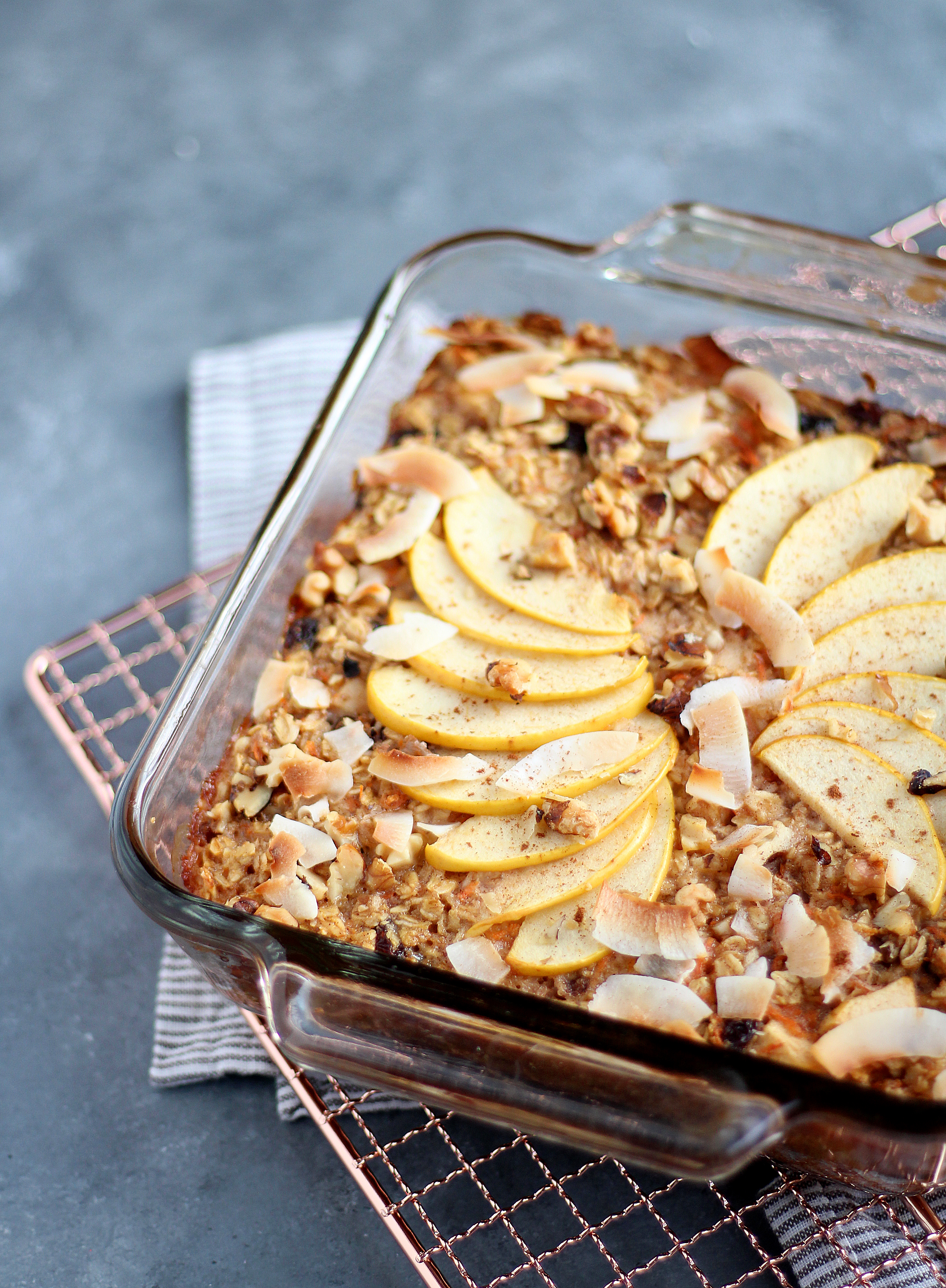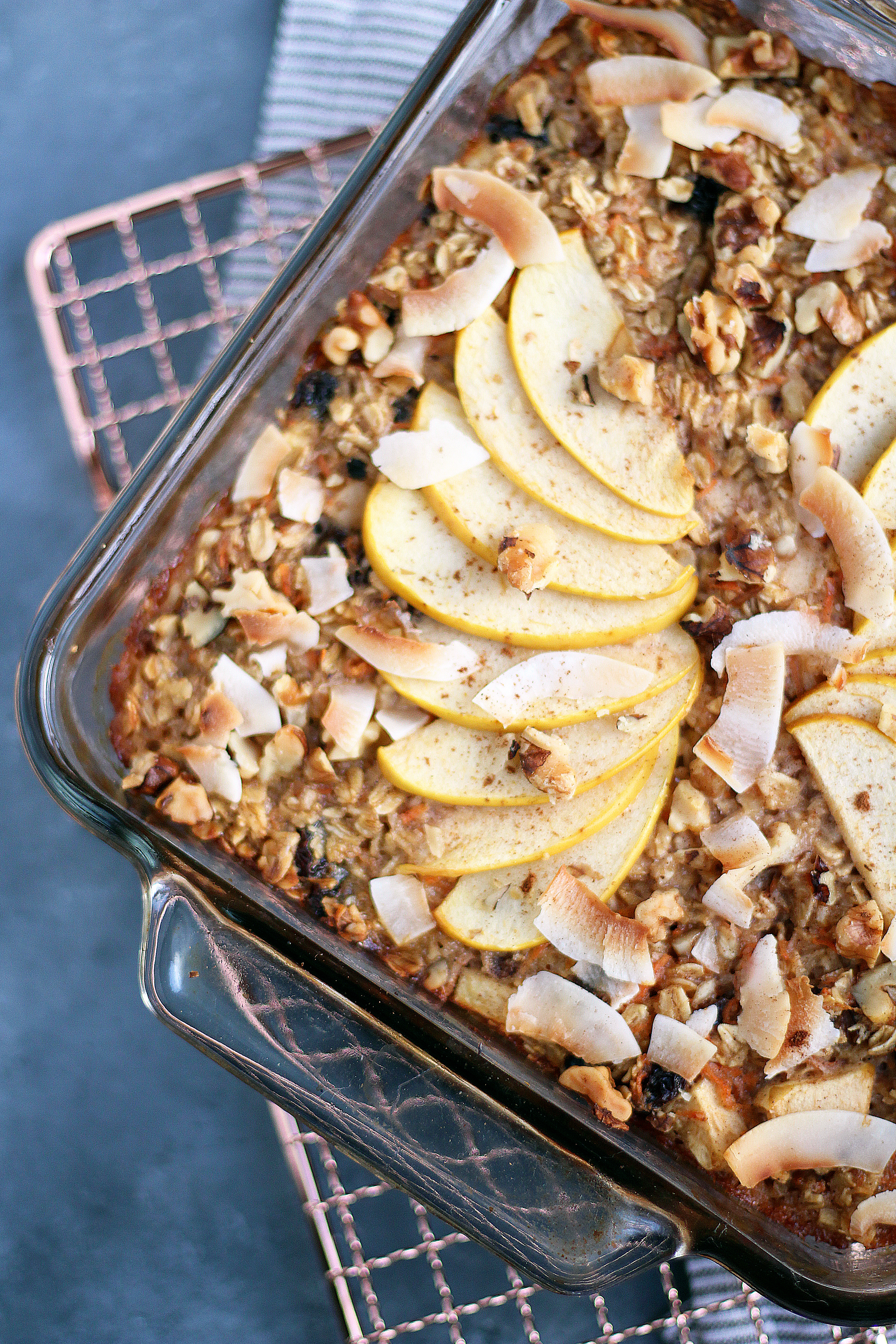 I adore loaded muffins, and this oatmeal is inspired by one of my favorites – morning glory muffins. Loaded with coconut, shredded carrot, raisins, and walnuts.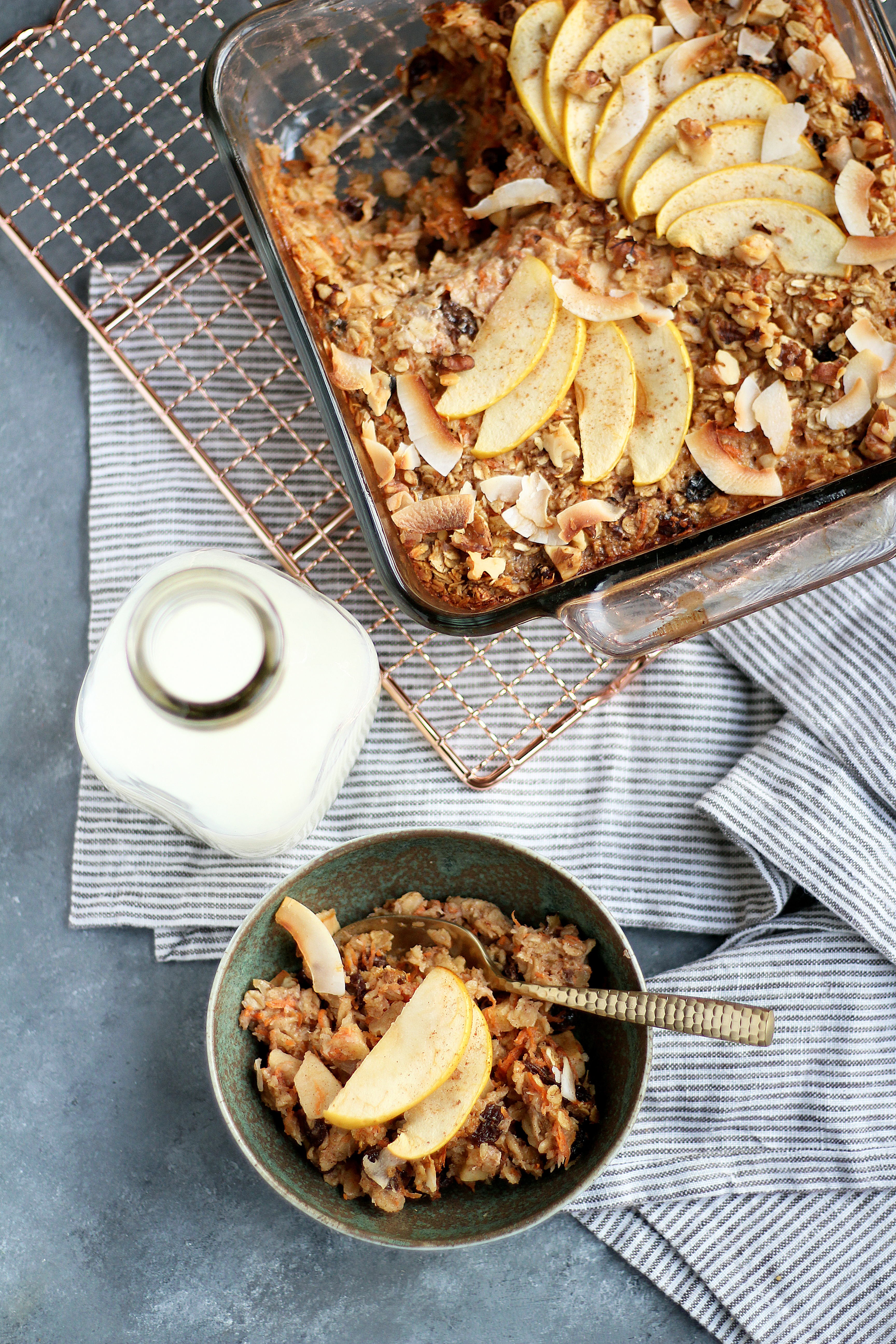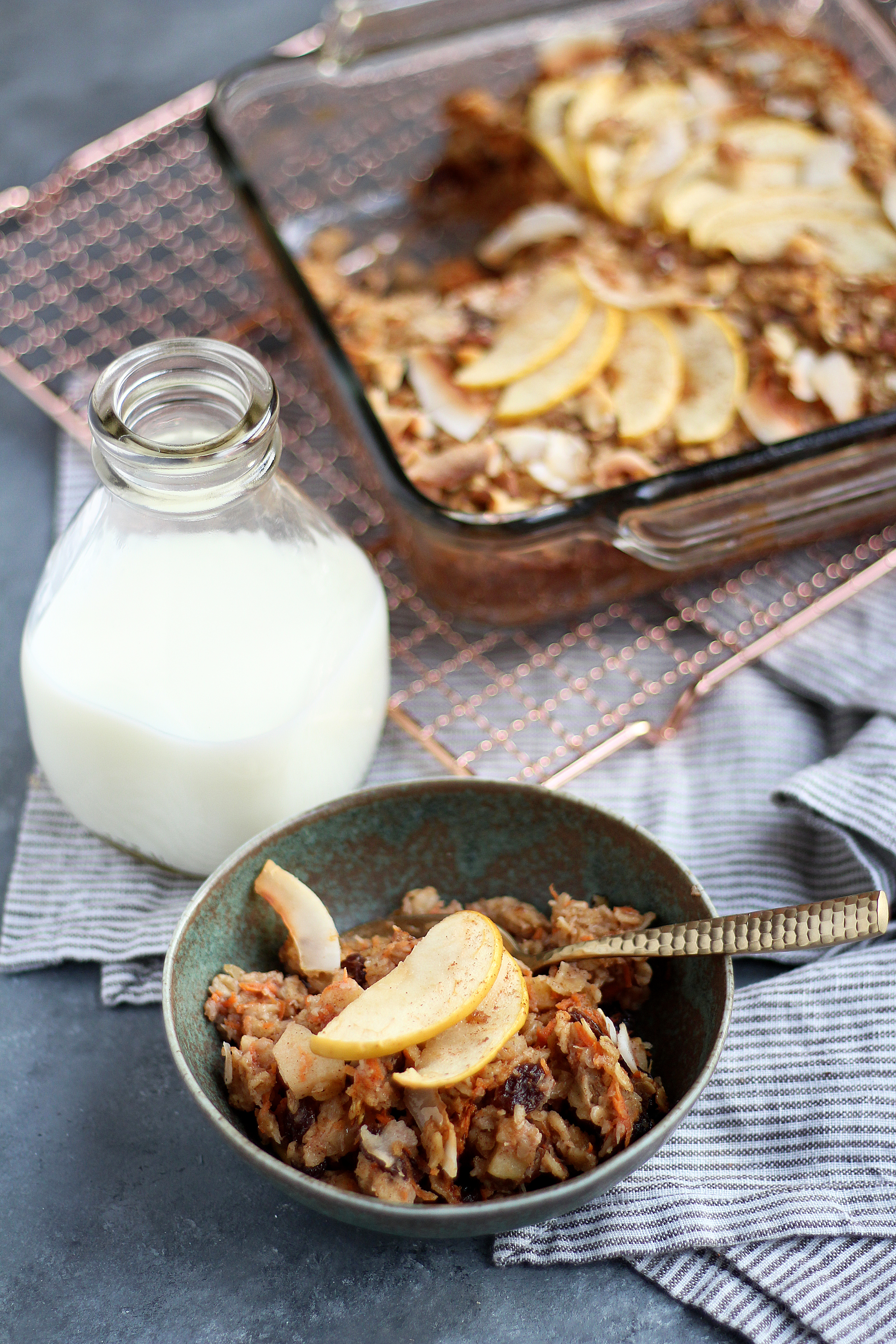 I love it slightly warmed the next morning, sometimes with a scoop of yogurt, sometimes with a bit of warmed milk. It should last you up to 5 days in the fridge – ie. the length of a work/school week. Meant to be.
Morning Glory Baked Oatmeal
Baked oatmeal inspired by morning glory muffins - loaded with coconut, shredded carrots, raisins, and walnuts. Perfect to meal prep at the beginning of the week to enjoy all week long. It's great slightly warmed with a splash of warm milk or a side of yogurt!
Ingredients
2 cups rolled oats
⅓ cup shredded unsweetened coconut
1 teaspoon baking powder
1½ teaspoons cinnamon
¼ teaspoon salt
½ cup chopped walnuts
½ cup raisins
1 large egg
1¾ cup milk of choice
⅓ cup pure maple syrup
3 teaspoons melted unsalted butter or coconut oil (cooled)
1 teaspoon vanilla extract
⅔ cup finely grated carrots (~2 medium carrots)
1 medium apple, chopped
Optional toppings: coconut flakes, extra walnuts, a thinly sliced apple, 1 tablespoon brown sugar
Instructions
Preheat the oven to 375 degrees F and grease an 8-inch x 8-inch baking dish.
In a large mixing bowl, combine the oats, shredded coconut, baking powder, cinnamon, and salt. Whisk well to combine. Stir in the walnuts and raisins.
In a separate bowl, combine the egg, milk, maple syrup, butter, and vanilla extract. Whisk well. Add the grated carrots and chopped apple to the liquid mixture and stir to combine.
Add the liquid ingredients to the dry ingredients and mix well to make sure all ingredients are evenly distributed and the oats are all wet.
Transfer the mixture to the greased baking dish and add any desired toppings.
Bake for 40-45 minutes, until the top is golden and the liquid is absorbed. Let cool slightly before scooping out and eating. Store leftovers in an air-tight container in the fridge.