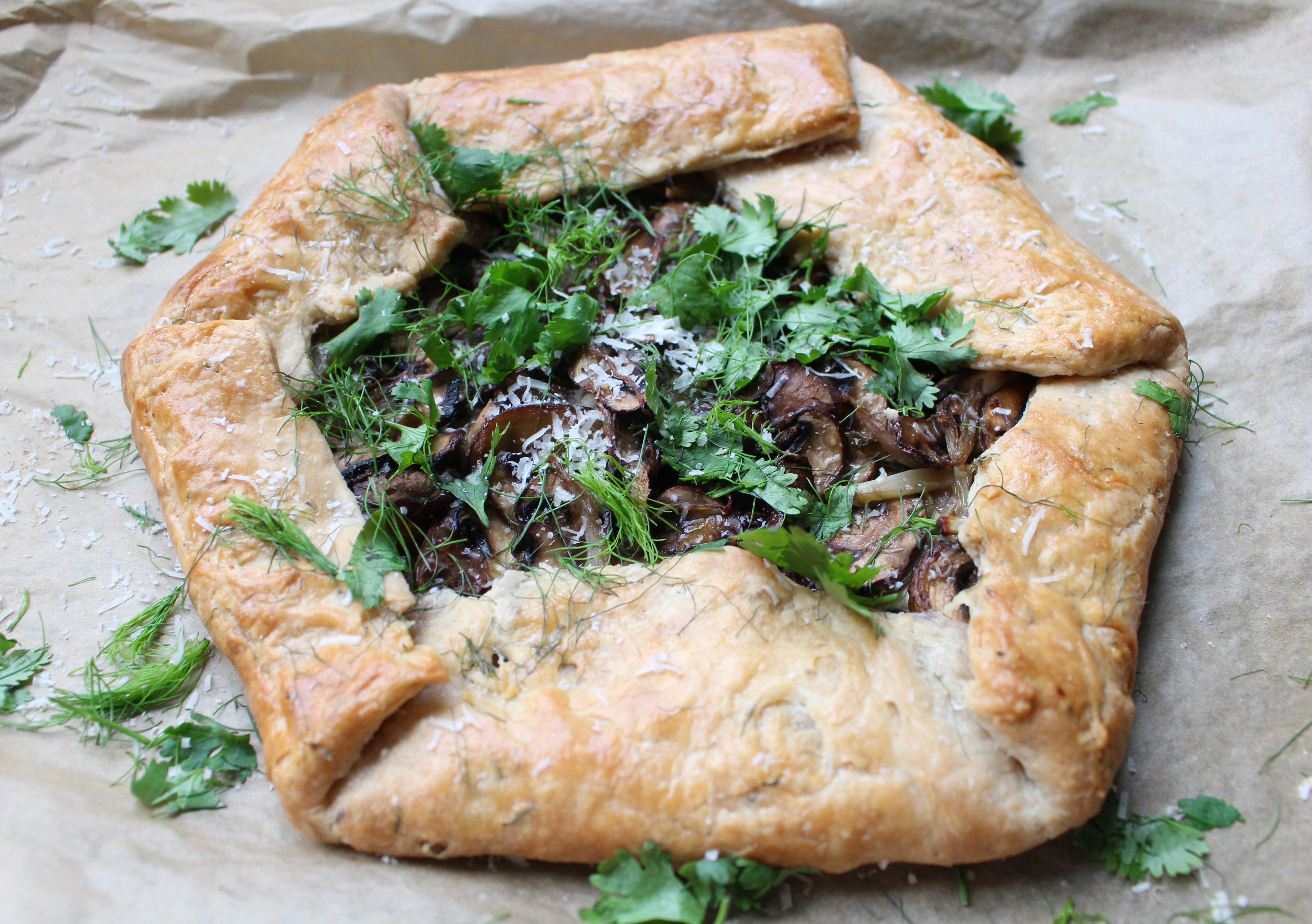 Evan and I have a neighborhood pizza place that we adore and frequent regularly (Picco in Boston!). It's the perfect spot for a casual dinner of pizza and beer/wine. Generally, I like to mix things up – too much of a routine weirds me out. I usually never order the same thing at restaurants. This pizza place is the exception. I fell in love with a pizza there, which I now consider my favorite pizza combination in the world. It's a white pizza with ricotta, fennel, and sausage with microgreens. It's actually heaven. Needless to say, you can probably imagine my horror when we went to Picco earlier this summer and were told that they no longer carried that pizza (!!!).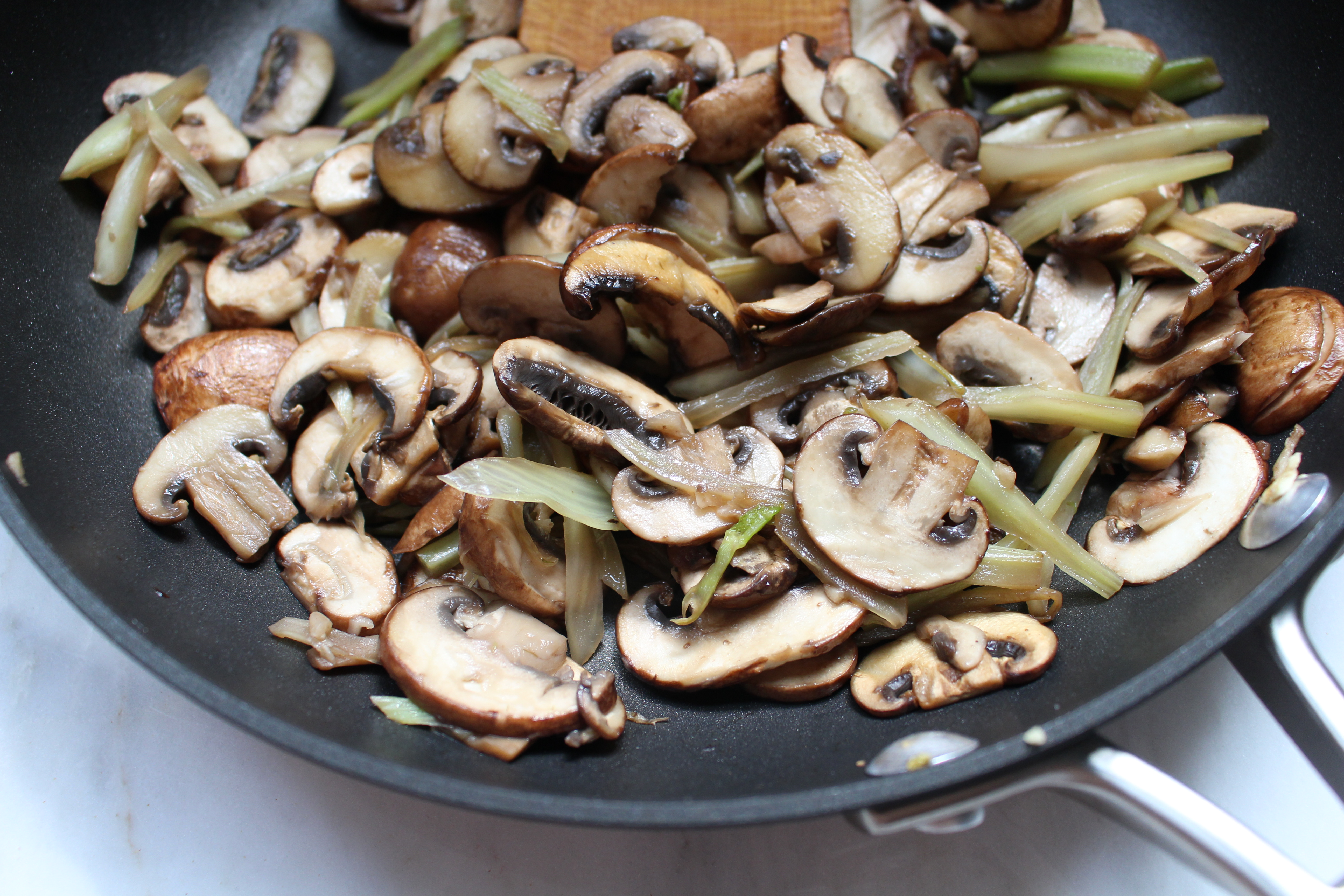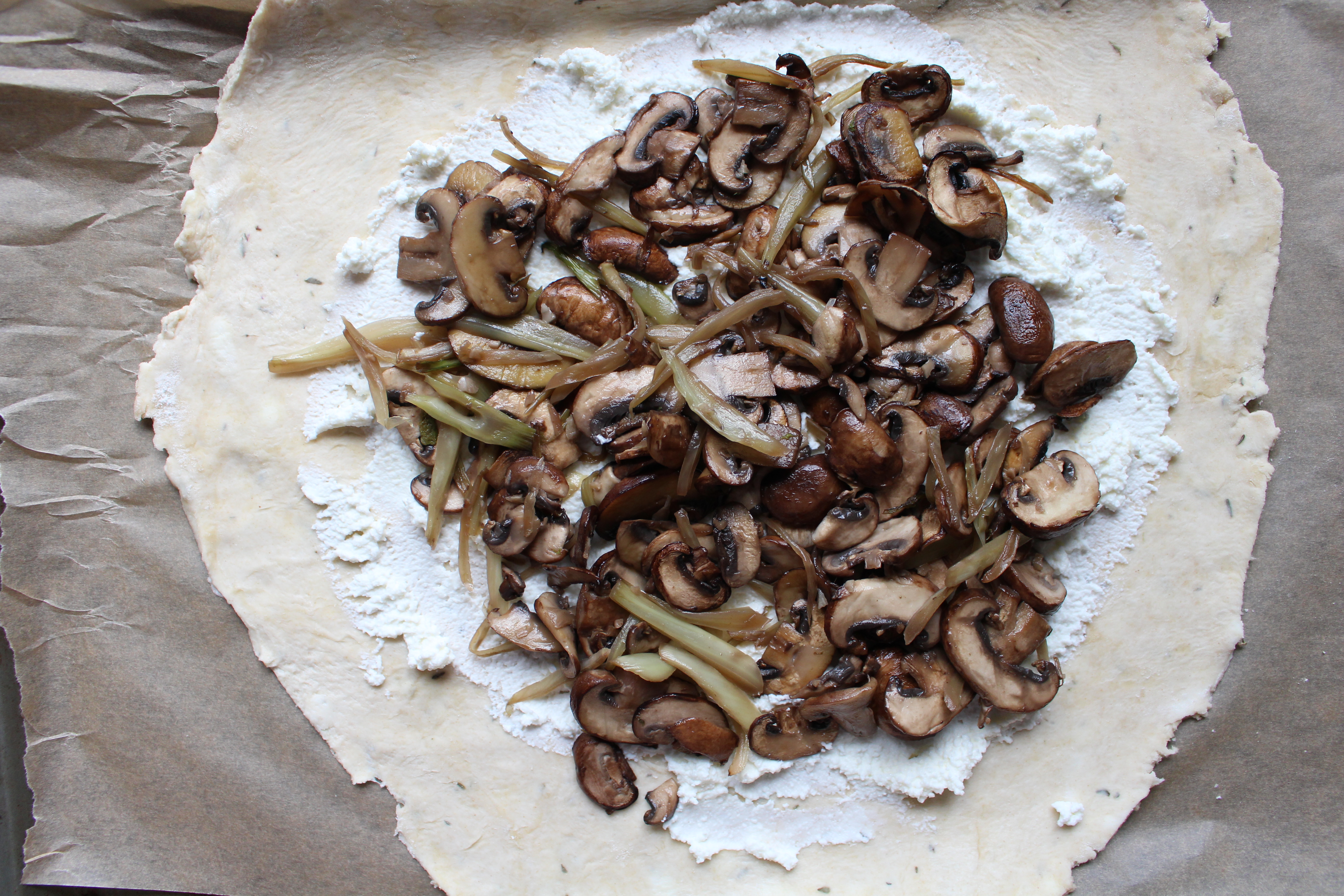 Enter this galette. I made it a goal this summer to make the perfect galette/pie dough. I made COUNTLESS fruit galettes (none of which I've shared here, but hopefully will soon now that I've figured out the perfect dough). When I learned that pizza had been discontinued, I decided to make it in galette form, using the perfect dough. I love mushrooms, so I subbed the sausage for mushrooms.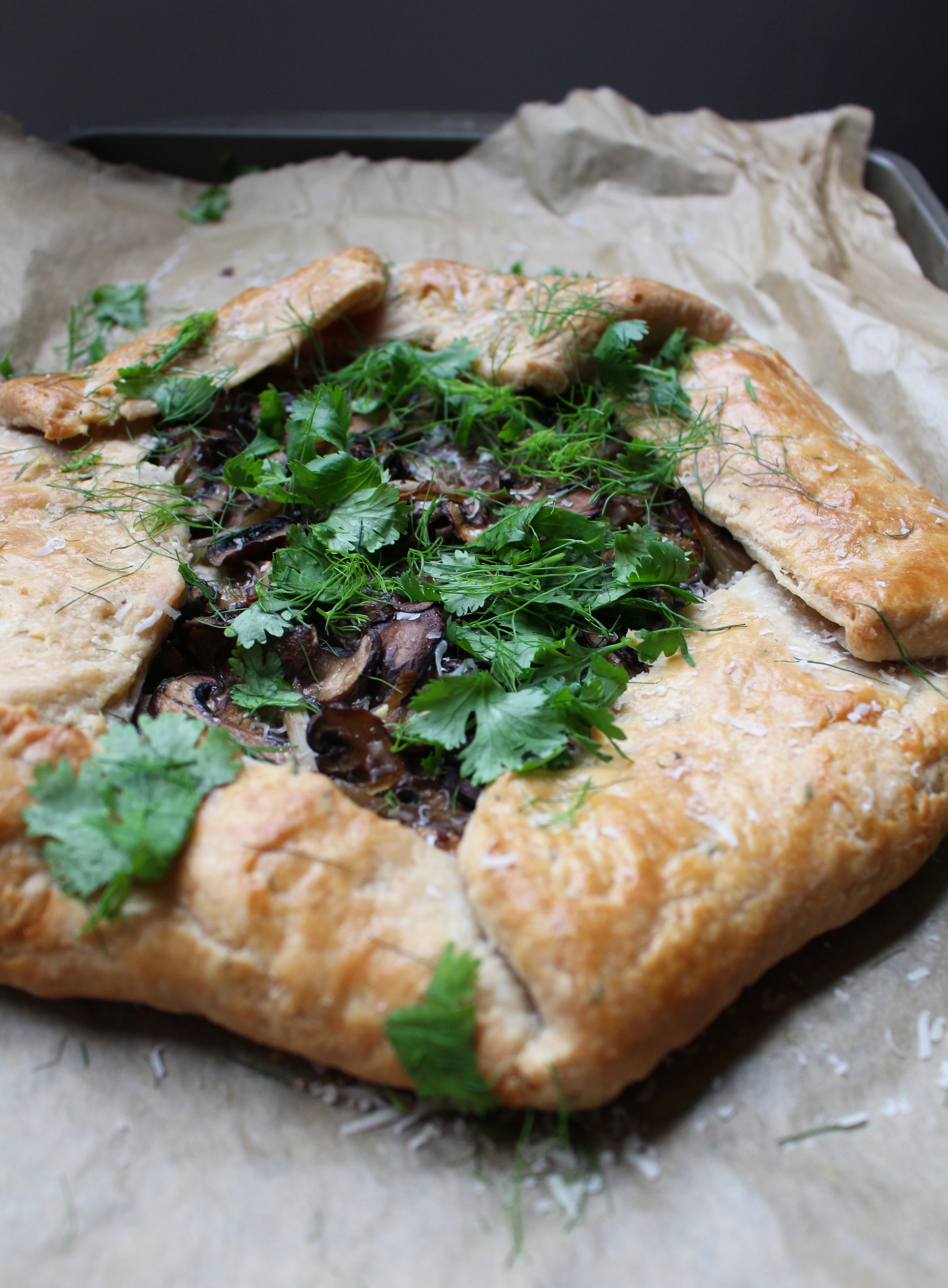 Why do I love this galette? It's SIMPLE. I promise. Making dough can be daunting to some, but it's truly easy. It comes together in just a couple minutes. Once you cook the veggies, you then throw them on top, haphazardly fold up the edges, bake, and presto – an imperfectly perfect warm, flaky, savory galette. This is 100% my go-to for dinner parties and is perfect with a side salad. I mean look at that puffy, flaky crust… Swooooon.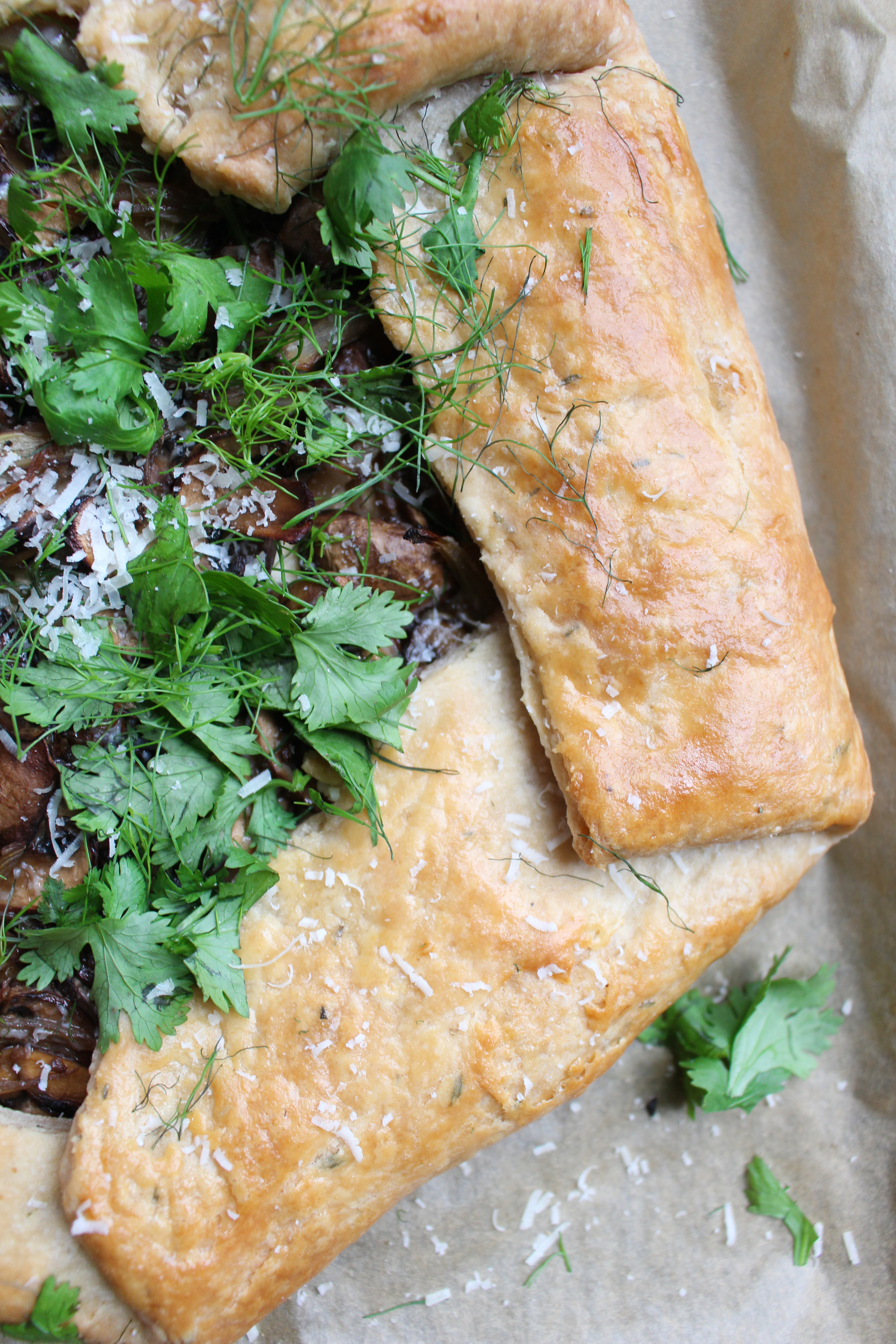 Mushroom and Fennel Galette
Galettes are deceptively easy to make and not to mention beautiful! This dough is perfectly flaky and can easily be adapted to make a sweet galette (by leaving out the thyme).
Ingredients
Dough
¾ cup white flour
½ cup white wheat flour (or white)
½ teaspoon thyme
8 tablespoons unsalted butter
¼ cup Greek yogurt
1 teaspoon lemon juice
¼ cup ice water
½ teaspoon salt
Galette
10 ounces baby bella or white button mushrooms, sliced
1 medium fennel bulb, washed, trimmed, and bulb thinly sliced (keep the fronds for topping)
2 small cloves garlic, minced
1 tablespoon extra virgin olive oil
¼ teaspoon thyme
½ cup + 2 tablespoons ricotta
salt and pepper, to taste
1 egg yolk whisked with 1 teaspoon water
toppings: chopped cilantro, fennel fronds, grated parmesan, and fresh ground pepper
Instructions
To make the pastry, combine the flours, thyme, and salt in a large bowl. Place it in the freezer for a couple minutes (I find it easier to chop the butter into chunks first).
Using a pastry blender (or two forks - or your fingers!) cut the butter into the flour until the mixture resembles a coarse meal, trying not to let the butter melt.
Whisk together the yogurt, lemon juice, and water and pour into the butter flour mixture. Using a spatula, stir together as much as you can, then use your hands to knead the mixture into a rough, shaggy ball. Pat into a disk and wrap in plastic. Chill in the fridge for at least an hour or in the freezer for up to 15-30 minutes.
Preheat the oven to 400 degrees F.
Heat the olive oil in a medium-large skillet over medium heat. Add the mushrooms, garlic, and fennel and season with thyme and salt and pepper. Saute, stirring occasionally, until the mushrooms are browned, the water has evaporated, and the fennel is soft - about 10 minutes. Transfer to a plate and let cool.
On a floured counter, roll out the dough into a 12-14 inch round (it doesn't need to be perfectly round!). Transfer it to a parchment-lined baking sheet. It's okay if the dough slightly hangs over since you will be pleating the "crust"/border.
Spread the ½ cup of ricotta on the dough, leaving a 1½ inch border. Season lightly with salt and pepper. Next, add the mushroom and fennel mixture, distributing evenly, leaving the 1½ inch border. Dollop the remaining ricotta over the mushroom mixture. Fold the border over the filling, pleating as necessary. Brush the dough with the egg wash.
Bake about 30 minutes, or until golden. Let cool slightly. Add the toppings as desired and cut and serve.
Notes
Dough recipe was adapted from Smitten Kitchen.