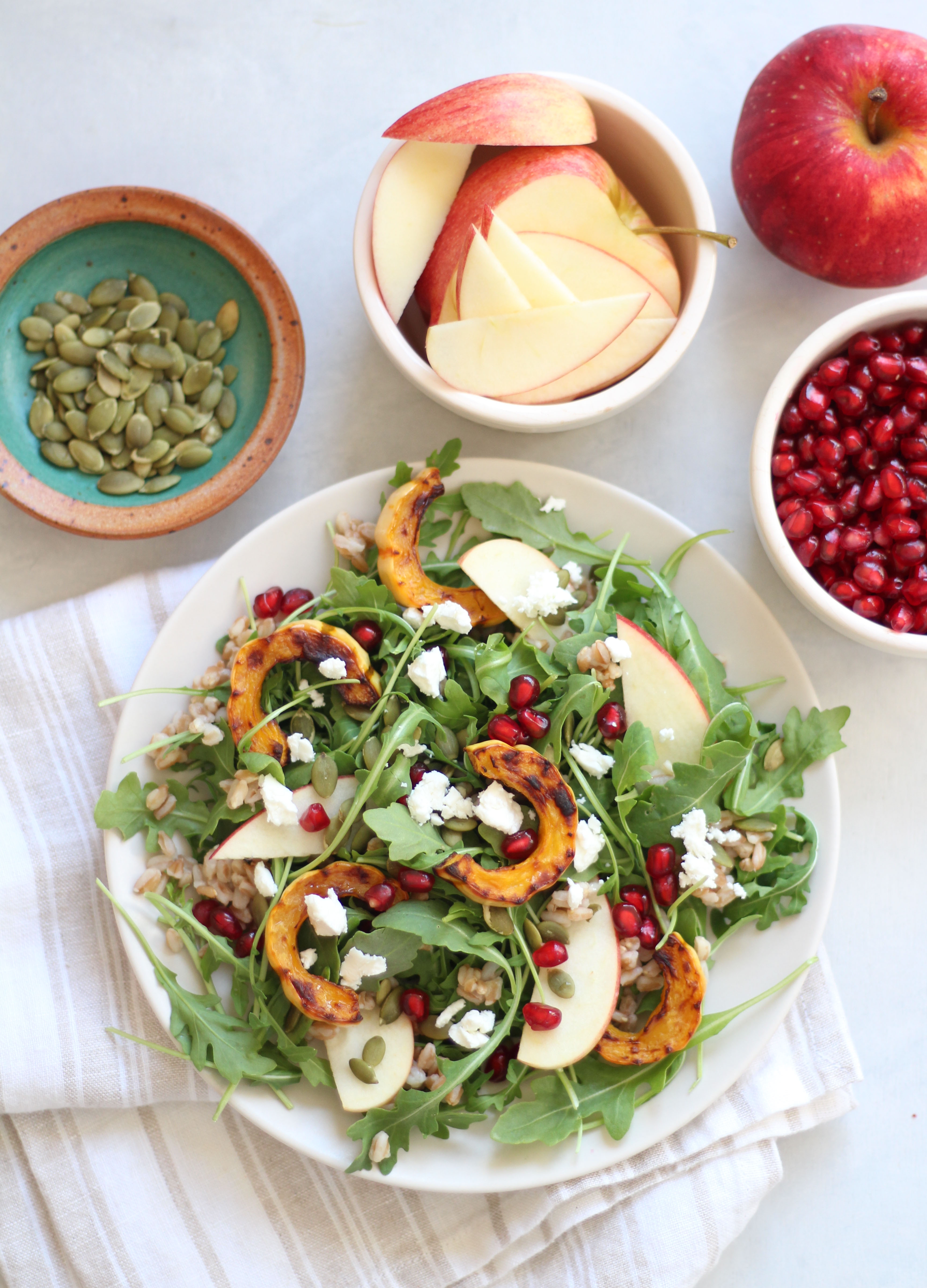 Does anyone else eat something nonstop until they literally can't stand it anymore? I don't do that as much nowadays, but when I was a college student, I'd stock up on things when they went on sale and then never be able to buy them again. Like the granola bars I used to get at Costco. I still shudder when I think of them. I also for some reason got hooked on arugula one summer and it was pretty much the sole leafy green I ate for that entire summer.
I'm only just now easing back into arugula, but I've got to say this is by far my favorite arugula salad I've had yet. I made delicata squash for the first time this year (my favorite of the season is usually acorn!), and I am in love with it. It's infinitely easier to cut than other squash, you can leave the skin on because it's not too tough, and it roasts so quick! I was inspired to make this salad after seeing lots of delicata squash on salads in restaurants and on other blogs.
I love it as a side, but to make it into more of a light meal, it would be great with roasted or grilled chicken on top. It's the perfect salad for the holidays, with colorful red pomegranate, seasonal apples and squash, green arugula and pepitas, and a sweet, tangy dressing. Plus, I love the crunch from the apples and pepitas and the chew and substance from farro. Have you had farro? I love adding it to salads to make them heartier!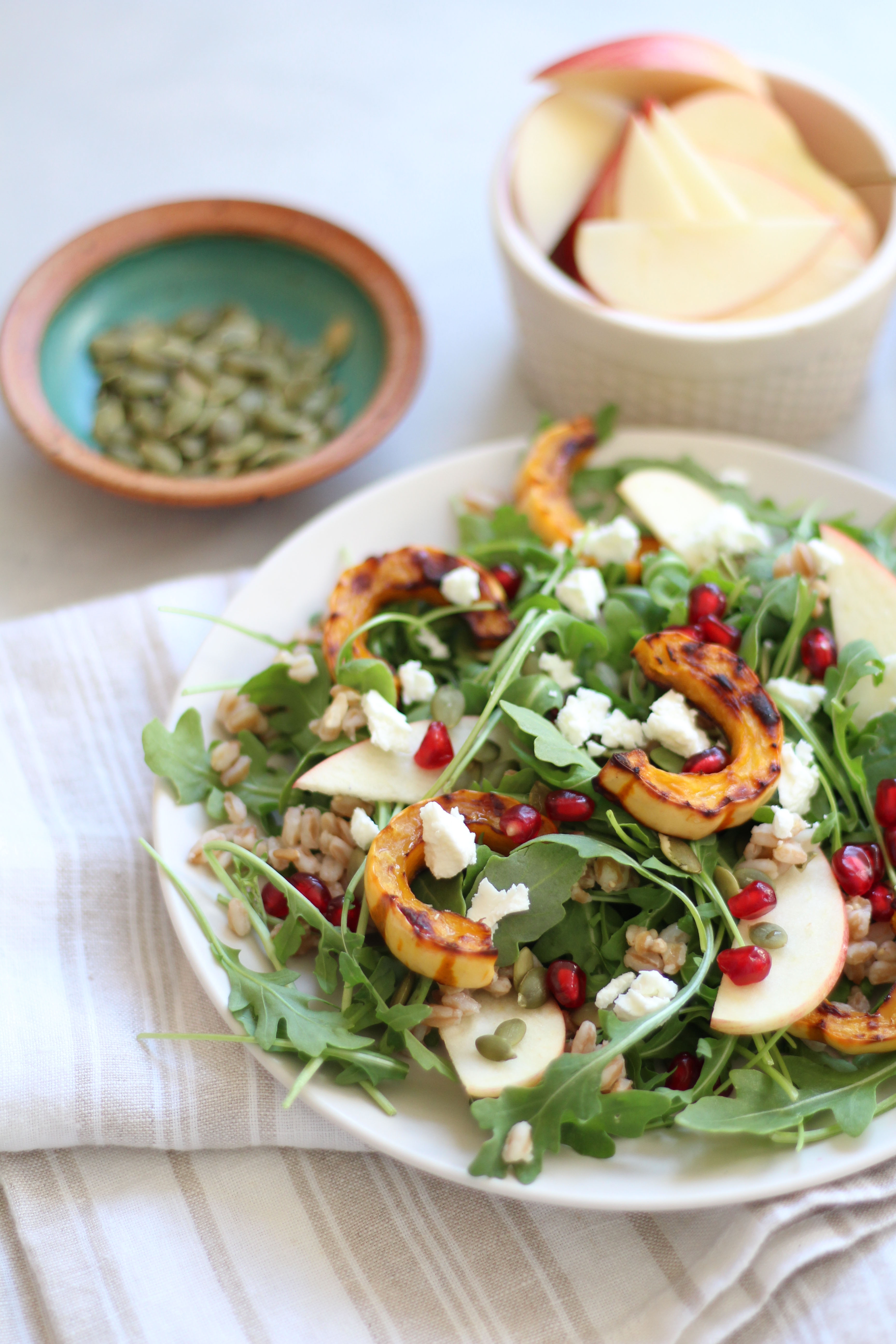 Roasted Delicata Squash, Farro, and Arugula Salad
This colorful salad is a great side for the holidays and can be made into a main dish with grilled chicken on top. Toss the salad with the dressing immediately before serving.
Ingredients
Salad
½ cup uncooked farro, rinsed and drained
1 medium delicata squash
½ - 1 tablespoon olive oil
salt
5 ounces arugula
1 small apple, thinly sliced
¼ cup pepitas
¼ cup pomegranate seeds*
2-3 ounces goat cheese, crumbled
Dressing
3 tablespoons extra virgin olive oil
1½ tablespoons apple cider vinegar
2 teaspoons lemon juice
1 teaspoon honey
1 teaspoon dijon mustard
salt and fresh ground pepper, to taste
Instructions
Preheat oven to 425 degrees F. Meanwhile, scrub the squash, washing away any dirt and scrape off any hard spots with a knife. Cut in half length-wise and scoop out seeds. Cut each half into ½-inch half rounds. Arrange squash on a baking sheet and drizzle with olive oil. Toss well and sprinkle with salt. Roast for 25-30 minutes, keeping an eye on them to make sure they don't burn and flipping halfway through. Let cool.
Combine the farro with 1½ cups water in a small saucepan and cook according to package instructions. Let cool completely.
In a small bowl or jar, combine the ingredients for the dressing and whisk or shake well. Taste and adjust as needed.
In a large bowl, toss the arugula and farro with as much dressing as desired. Arrange on plates and add toppings (apple, pepitas, pomegranate seeds, and goat cheese), dividing evenly between plates. Drizzle with additional dressing if desired. Serve immediately.
Notes
*If you can find pomegranates, dried cranberries make a great substitute!