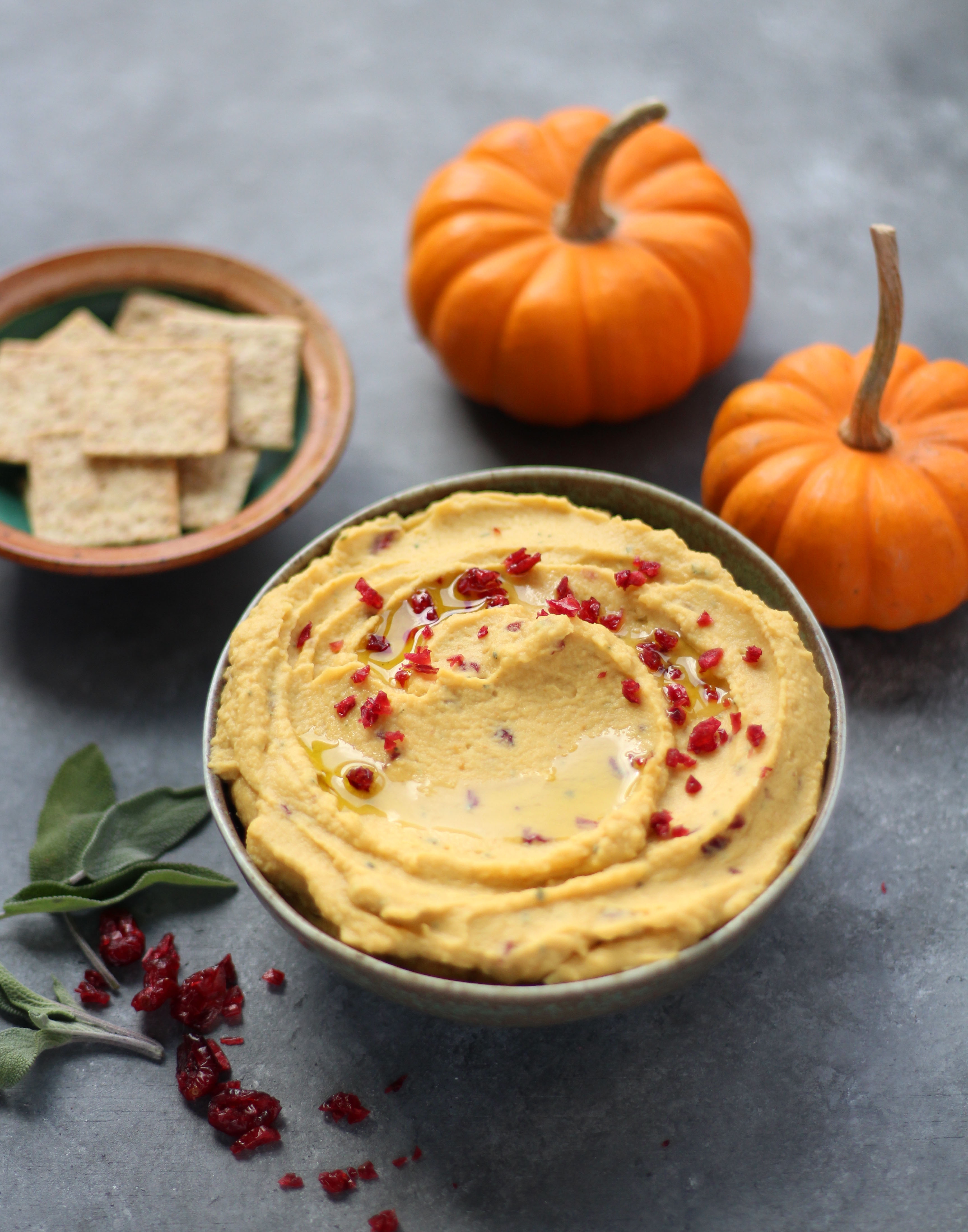 Can you believe it's November already? October flew by. November for me is all about family. Obviously with Thanksgiving upon us, it's a time to gather and feast with family and friends, but this holiday is special to me nowadays because it's not as often that we're able to gather, being spread out across the country/world. Thanksgiving in my family is normally a time to gather with family and friends from near and far and feast on a Lebanese/Syrian-influenced meal.
It's the essence of a typical Middle Eastern gathering – sitting around a huge table, packed together side by side, passing around dishes, eating until we can't bare to anymore yet still being forced into seconds or thirds, and drinking and cheers-ing to togetherness. I love it.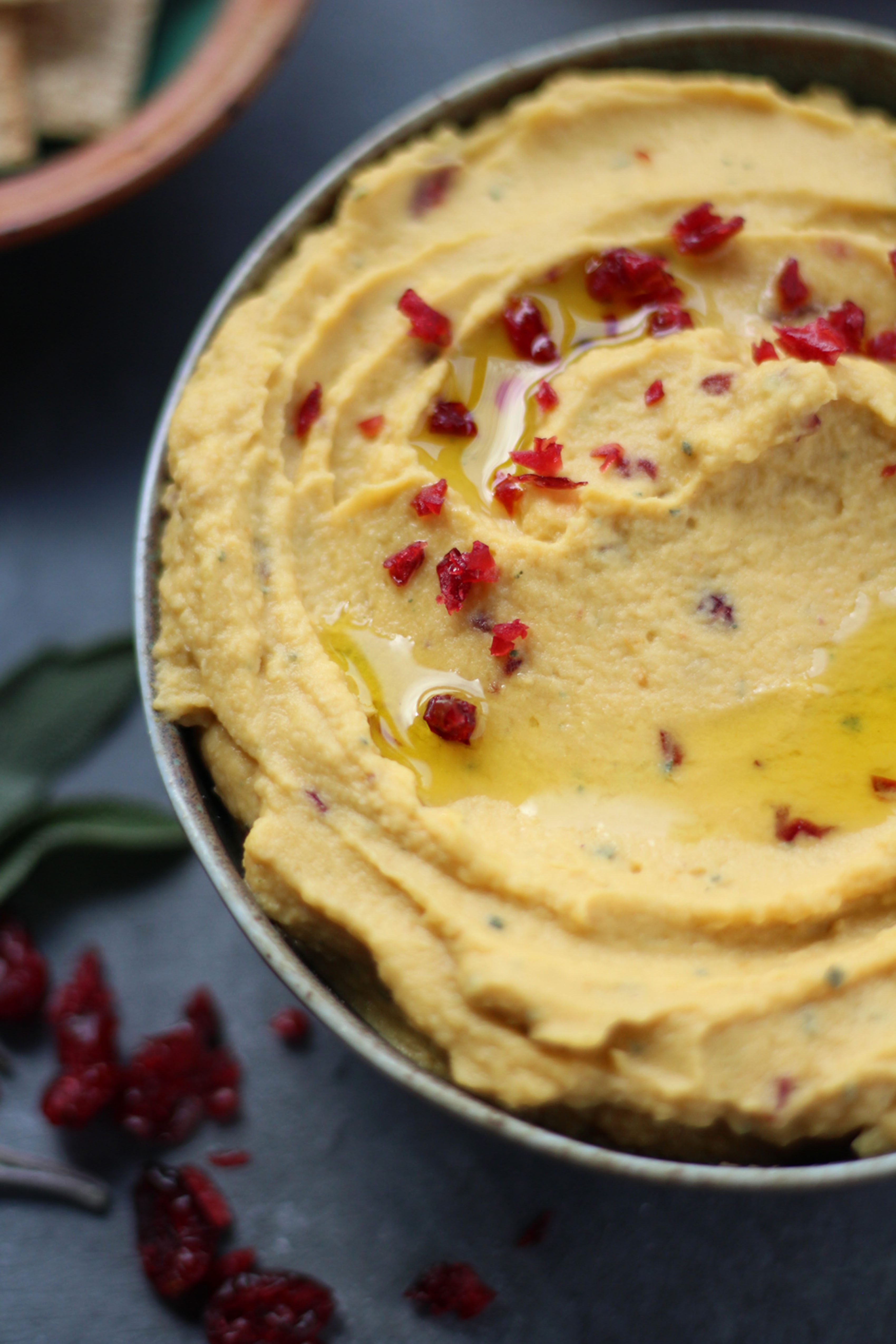 This hummus is a tribute to my Thanksgiving – a fusion of Lebanese/Syrian and American traditions. All the familiar flavors of Thanksgiving packed into a hummus: roasted garlic, sage, and pumpkin and a subtle sweetness from a smidge of pure maple syrup and dried cranberries.
It's creamy, smooth, savory and sweet, and the perfect appetizer that I can't wait to make this Thanksgiving and at every friendsgiving. I first made this back in September, and as soon as Evan declared it his "favorite hummus of all time," I couldn't wait to share it. I can't even describe to you the amazing flavors going on in this hummus. Just promise me you'll make it.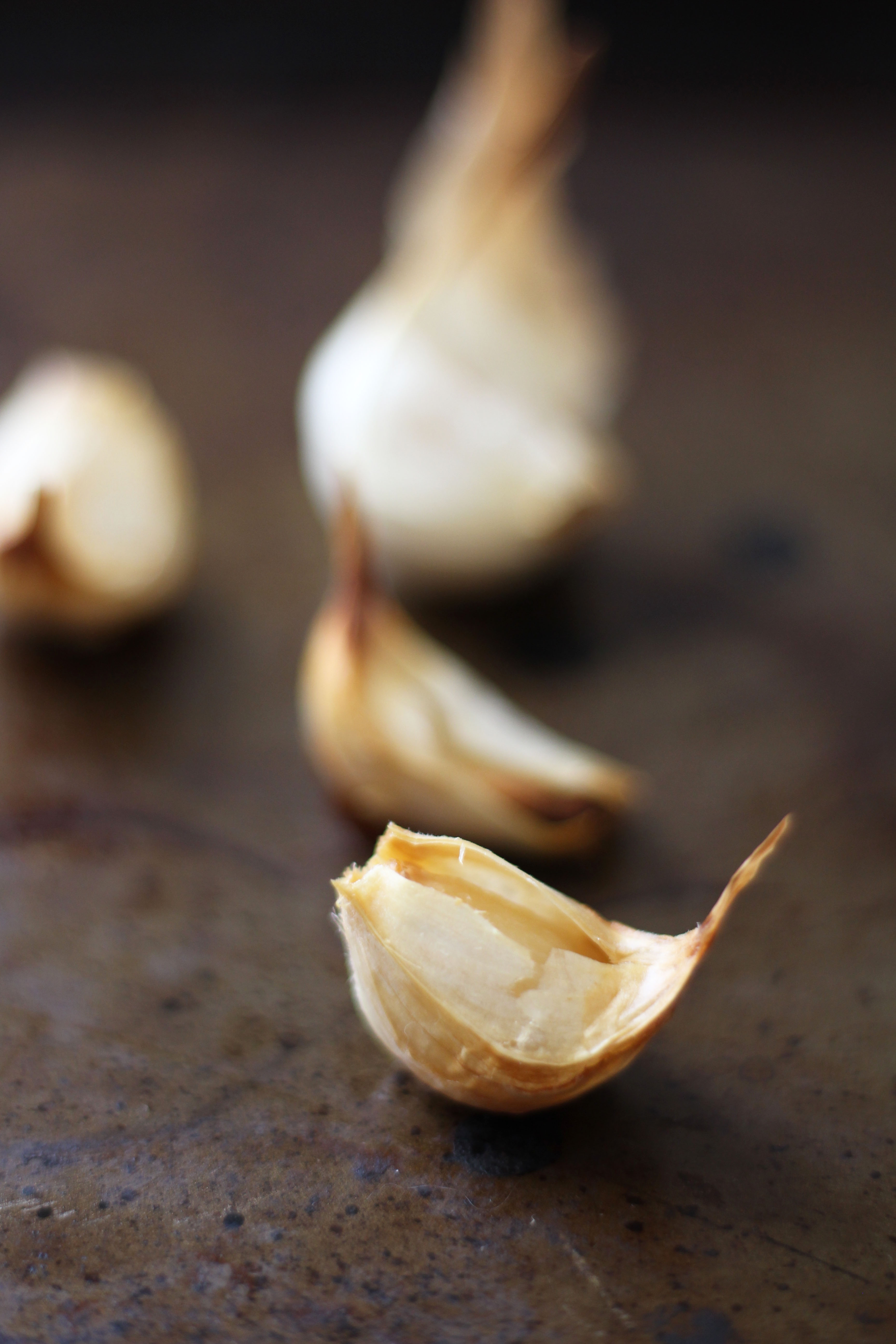 As a side note, thanks to this hummus, I learned the simplest and quickest way to roast garlic – you separate the cloves from the bulb, spread them on a baking sheet, drizzle with a little olive oil, and bake at 375 for 15-20 minutes, then pop them out of the skin once they've slightly cooled. Easy peasy and it's so dreamy in this hummus.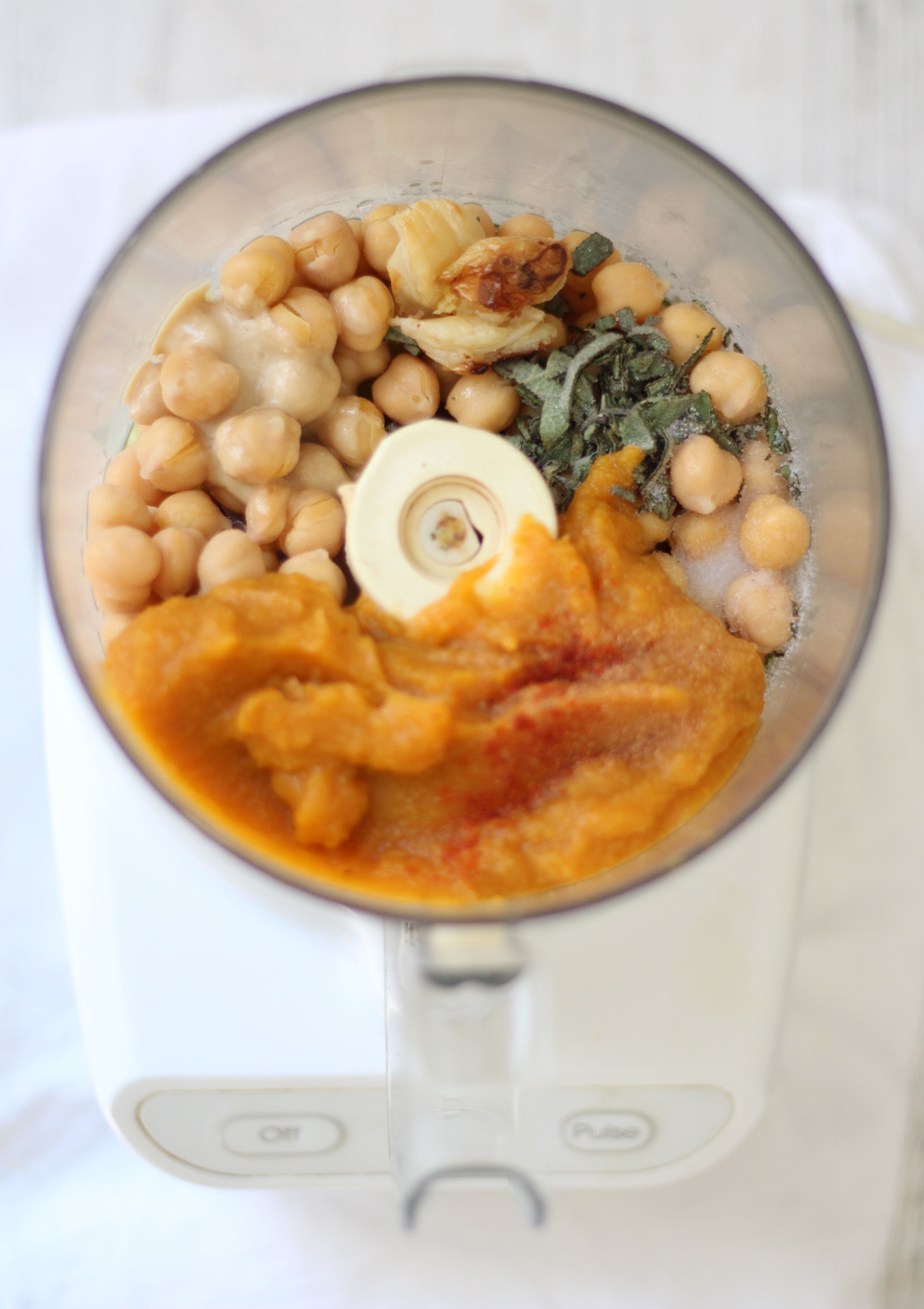 I love this one with warm pita, pita chips, and crackers. I've got to say I think it might be the most addicting hummus I've made yet.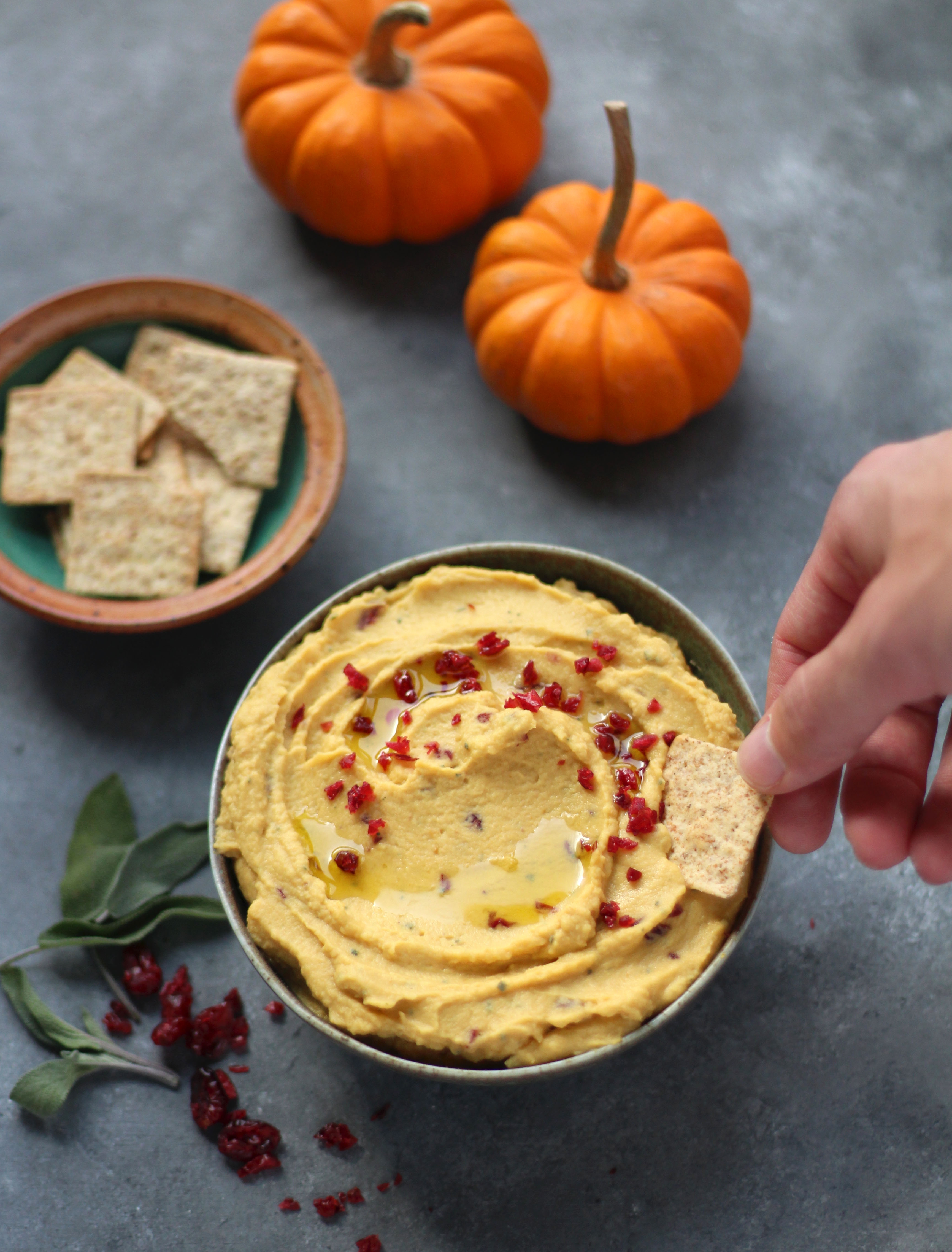 Speaking of friendsgiving, this recipe is also part of a friendsgiving recipe roundup  with a bloggers' group I'm a part of, so keep scrolling down to check out others' friendsgiving-themed recipes!

Roasted Garlic and Sage Pumpkin Hummus
Thanksgiving in a hummus. Sweet and savory and a perfect festive appetizer! Enjoy it with warm pita, pita chips, and/or crackers!
Ingredients
3 cloves garlic, unpeeled
1½ cups chickpeas or 1 (15.5 ounce) can chickpeas, rinsed and drained
½ cup pumpkin puree
2 tablespoons lemon juice
1 tablespoon tahini
1 tablespoon extra virgin olive oil, plus extra for the garlic
1½ teaspoons chopped fresh sage
½ teaspoon pure maple syrup
salt to taste (~1/4 - ½ teaspoon)
sprinkle of nutmeg
2 tablespoons finely chopped dried cranberries
Instructions
Preheat the oven to 375 degrees. Put the garlic cloves on a baking sheet and drizzle with a little olive oil. Bake until softened ~15 minutes. Let cool slightly and squeeze out of the skins.
Combine all ingredients except the dried cranberries in a food processor or high speed blender until smooth. (You should still see bits of sage).
Stop the food processor and add the cranberries and pulse a few times, just until combined. Note: Do not put full dried cranberries in and pulse rather than blend, or just stir in - otherwise, the blades will fling the cranberries everywhere!
Spoon into a bowl and add toppings as desired. I usually add a little extra olive oil on top. Serve with warm pita, pita chips, crackers, toast, roasted veggies, and more!
Like it? Pin it!