Recently, Evan and I hosted a brunch for friends, and it took me a while to brainstorm something eggy that I could make that could feed a crowd yet not be super stressful in the moment (have you ever tried making a bunch of sunny side up eggs at once? SO stressful). I came up with this strata, featuring one of my favorite combos, spinach and feta, and I am in love.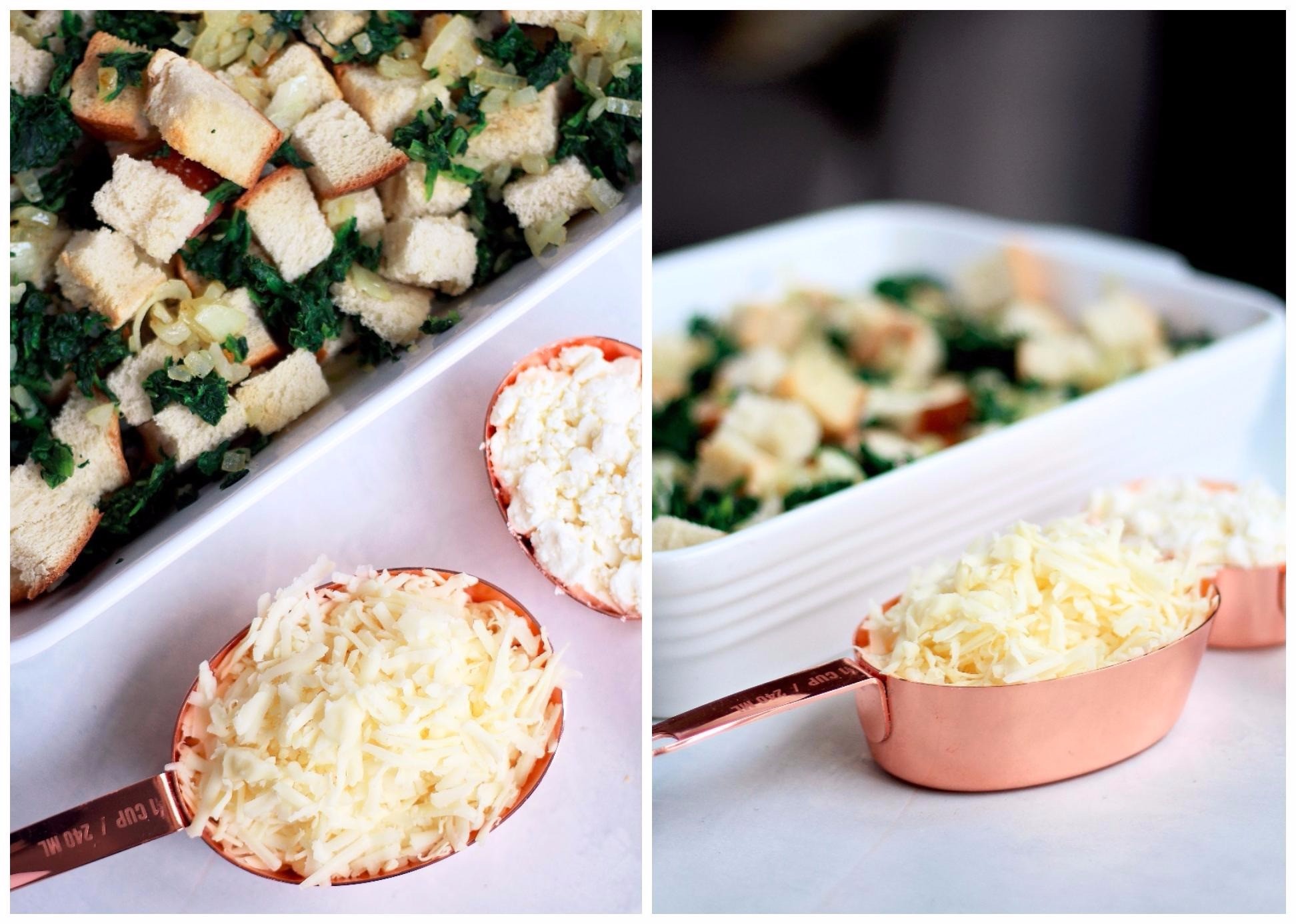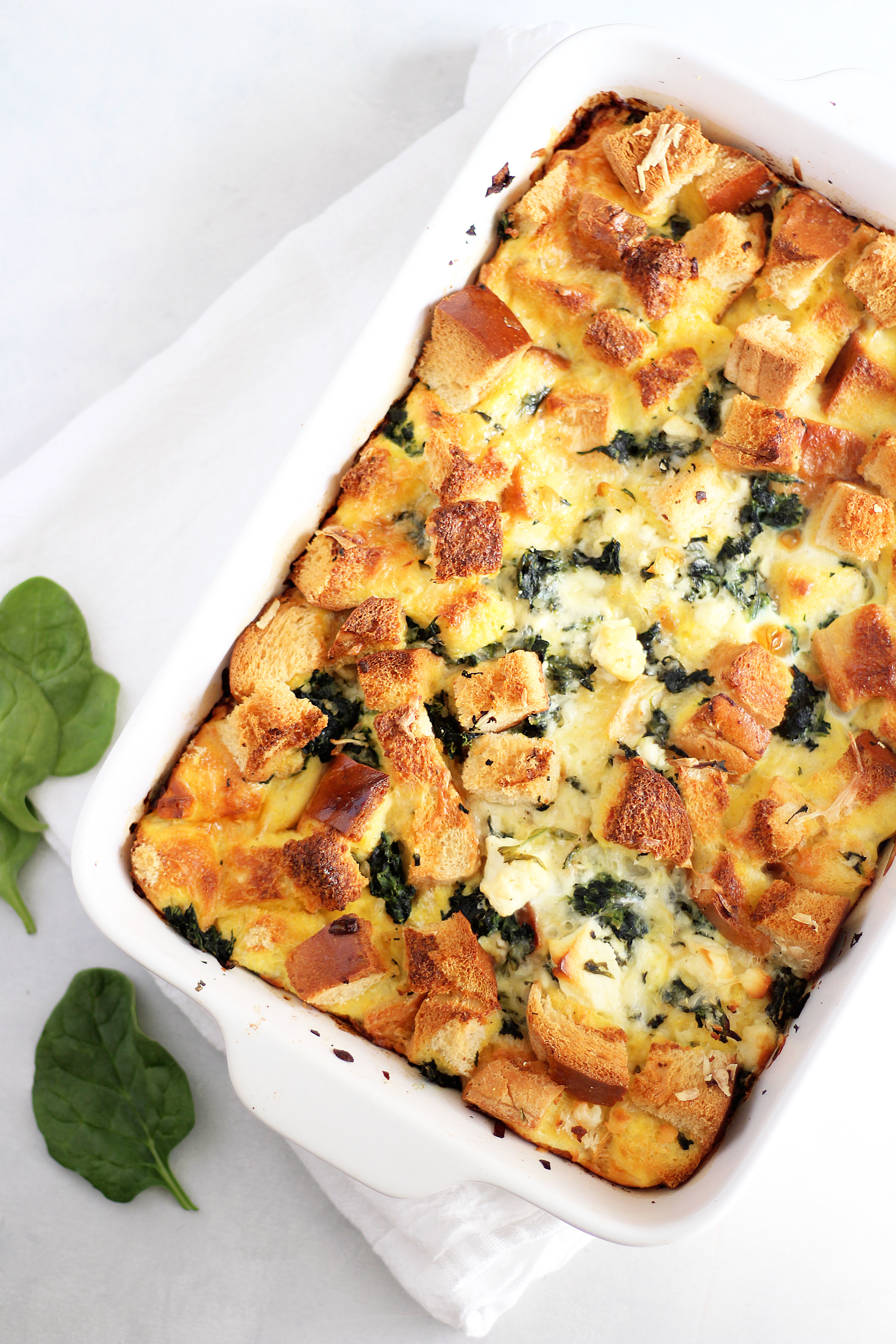 I've since made it a couple more times and decided it would be the perfect recipe to share leading up to Easter. We're having a quiet Easter this year, just the two of us, but I am still planning a feast. As you probably know by now, slow weekend breakfasts are kind of my thing. Add Easter to the mix? You better believe I'll be going all out. Eggs of some sort (perhaps this strata?), bacon, fresh juice, and fruits. Did I mention Sunday is supposed to be sunny and in the 70s? So Sunday's plans are feasting and enjoying the sunshine outside – two of my favorite things to do. And I can't wait.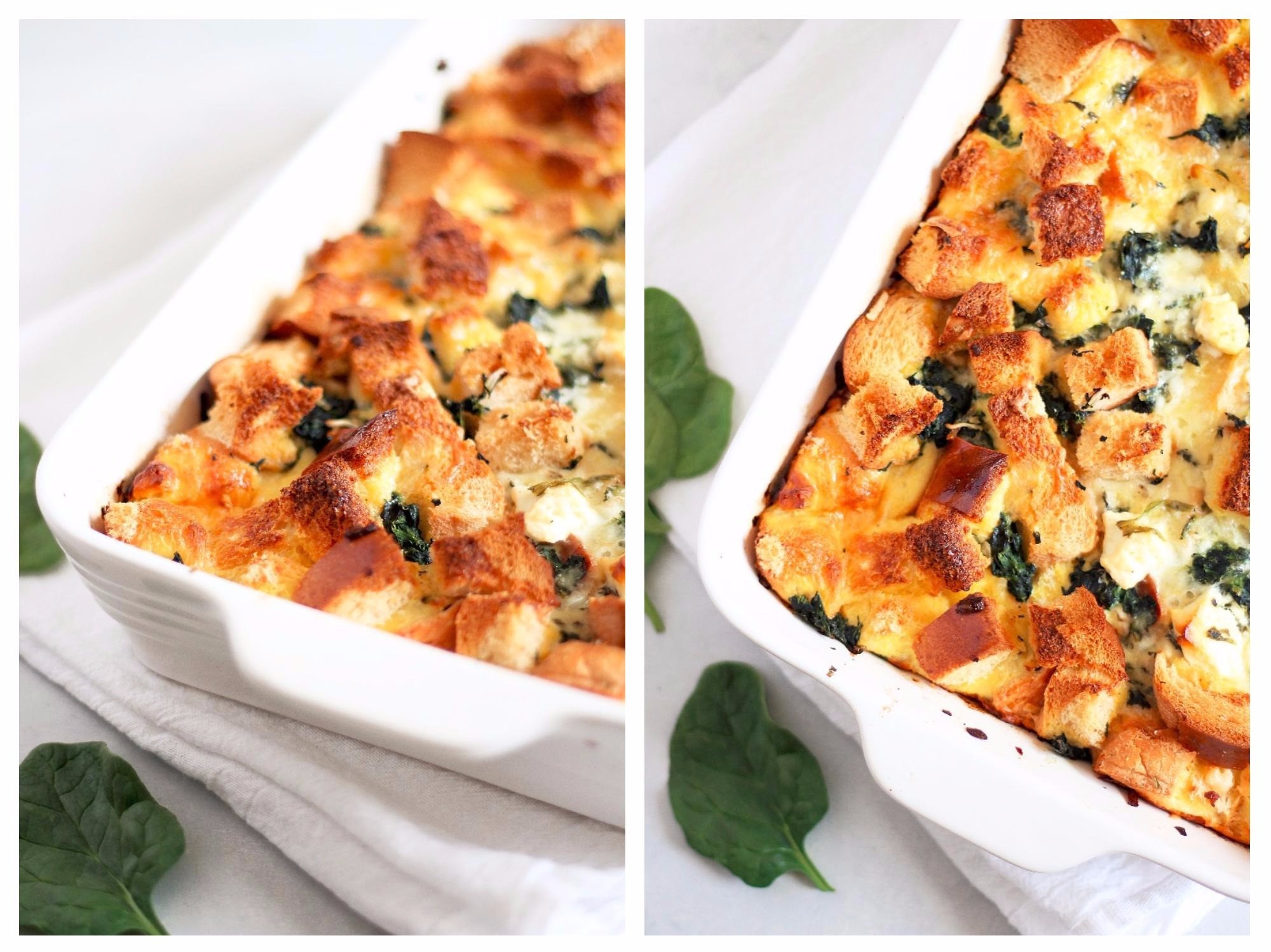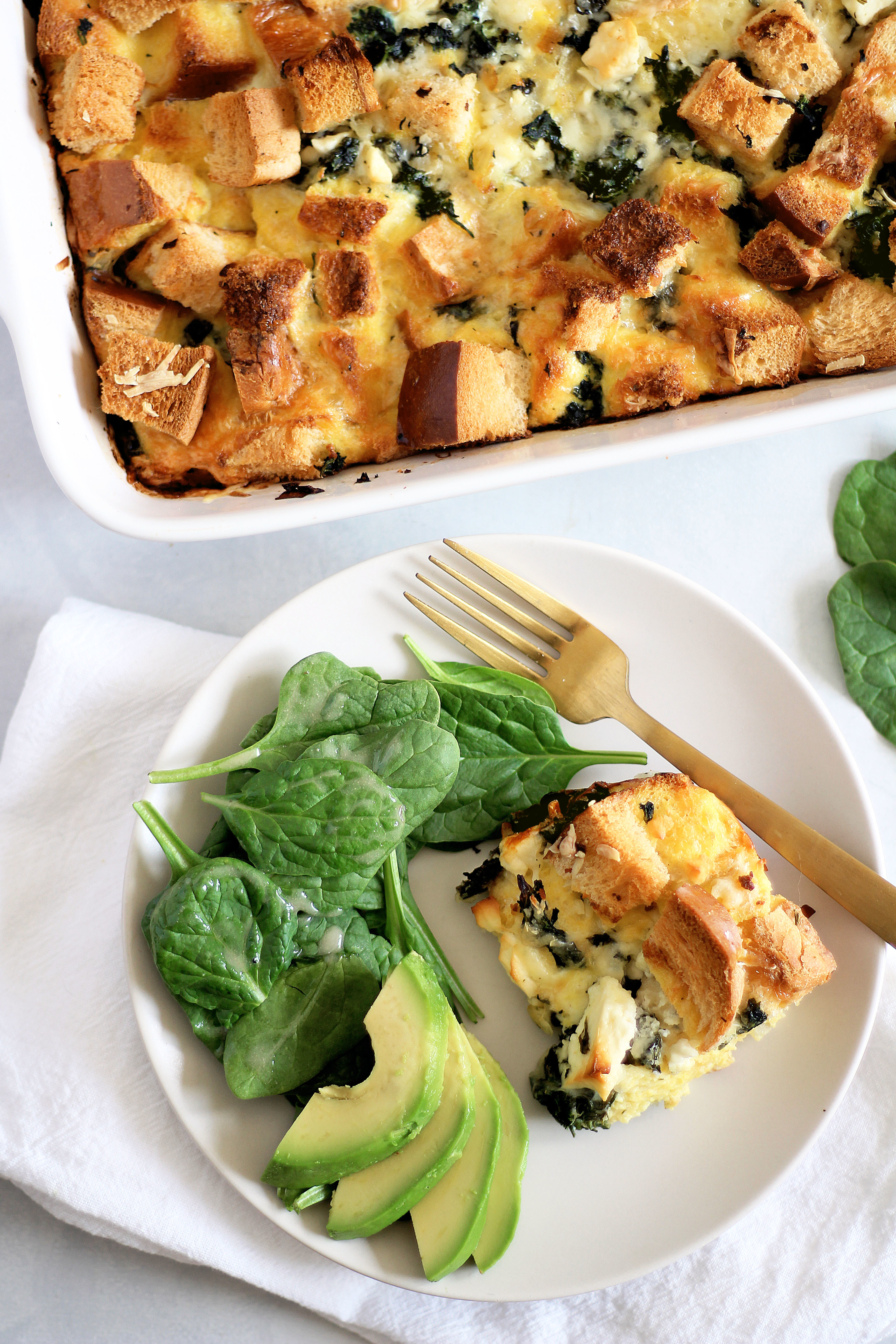 Anyway, back to the strata. This is THE perfect brunch addition when you're hosting friends/family, no matter the occasion. Not only is it a crowd-pleaser, but it's easy to put together and can be prepped the night before and baked in the morning.

Spinach and Feta Strata
A breakfast crowd-pleaser that you can prepare the night before and bake in the morning!
Serves:
6-8, possibly more if you're serving it alongside other dishes
Ingredients
7 heaping cups white country bread cut into 1-inch cubes, toasted until dry*
1 tablespoon olive oil
1 small yellow onion, chopped
10 ounces frozen chopped spinach, thawed and squeezed dry
½ cup crumbled feta
1 slightly heaping cup shredded monterey jack cheese
8 large eggs
1½ cups whole or 2% milk
salt and pepper, to taste (I usually do ¼ - ½ teaspoon salt in total)
Instructions
Add the bread to a greased 9x13-inch baking dish.
Heat the olive oil in a sauté pan over medium heat. Add the onion and continue to cook, stirring occasionally, for about 5 minutes. Let cool.
Meanwhile, whisk together the milk and eggs. Season with salt and pepper.
Evenly distribute the spinach, onions, and cheese in the baking dish, lightly tossing together. Pour the egg mixture over the bread mixture. Cover and refrigerate for at least two hours, or overnight.
Preheat the oven to 350 degrees F. Cover the baking dish with foil and bake for 25 minutes on the middle rack. Remove the foil and continue cooking uncovered for 40-45 minutes until cooked through. If the top begins to brown too much, cover with foil until finished cooking.
Notes
*To toast the bread, I usually put it in the oven at 250-275 degrees F until dry (but not browned).

This is best served day-of to maintain the firm, crispy top, however, I actually still love eating from it the next day after heating it in the microwave. Store in the fridge.