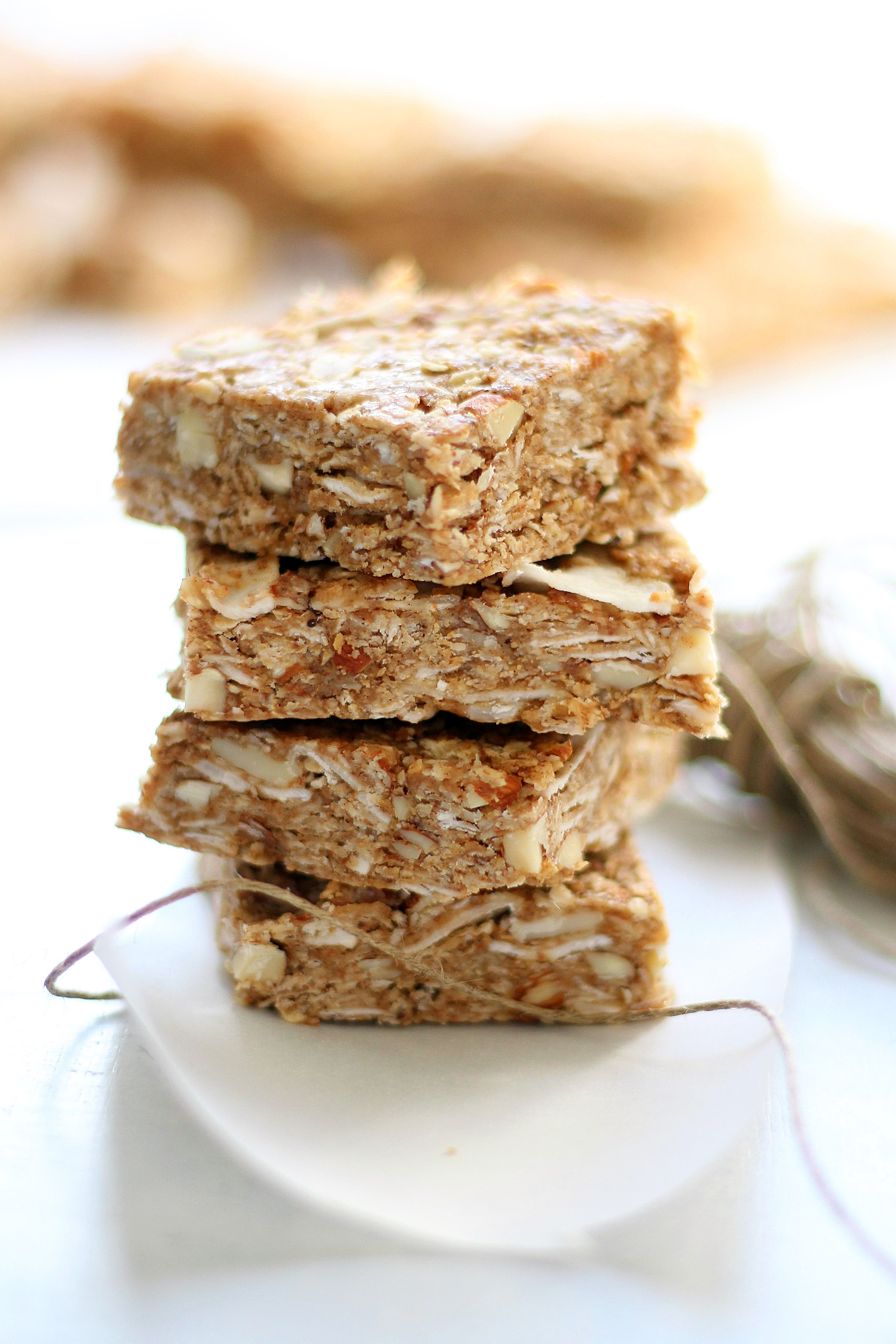 I don't know what it is about this month, but it's been a real doozy. I mean I can't complain, but it's just been SO busy. And I usually hate saying I'm busy. I (along with many others) believe that busy isn't something to be proud of. It can become a crutch, an excuse for why we can't make time for the things that make us healthier and happier – i.e. exercise, sleep, meeting up with friends, etc. Not only that, our culture and more specifically, many work cultures too often value busy. You're being productive, you're getting shit done, you're ahead of the game – only at the cost of your sanity. I totally fall victim to this mindset every now and then, and I often have to take a step back to evaluate what's important and what's not, what needs to get done urgently and what can wait.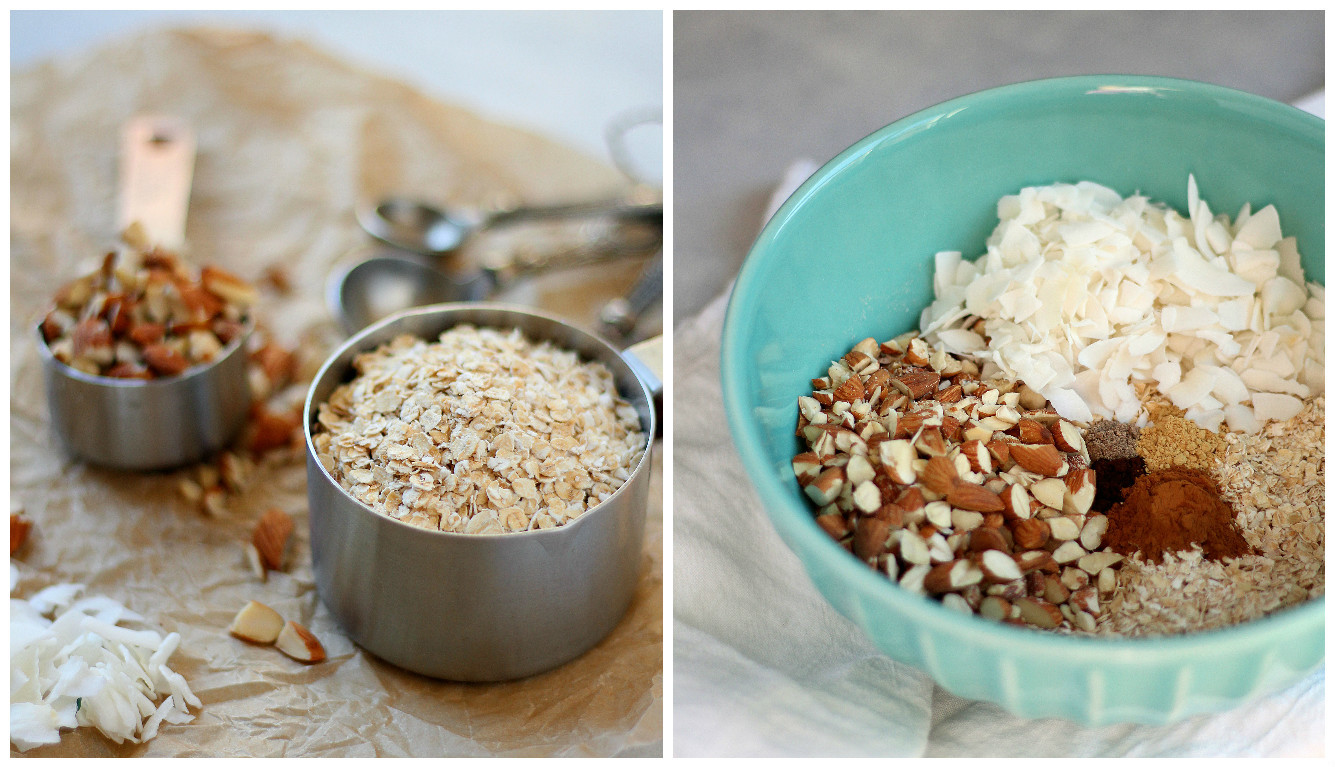 In that vein, I'm still going strong with meal prepping in an effort to maximize my time for the things that make me feel good and to help me work toward my intentions for the year. I am a hardcore snacker, and pretty much anyone who spends a day with me would know that. I usually eat (at least) 5 times per day. Breakfast, snack, lunch, snack, and dinner (and often dessert..), in that order. I fall victim to hanger, and I'll be the first to admit it. When hunger strikes, it hits me hard. I always carry almonds and/or a granola bar in my bag.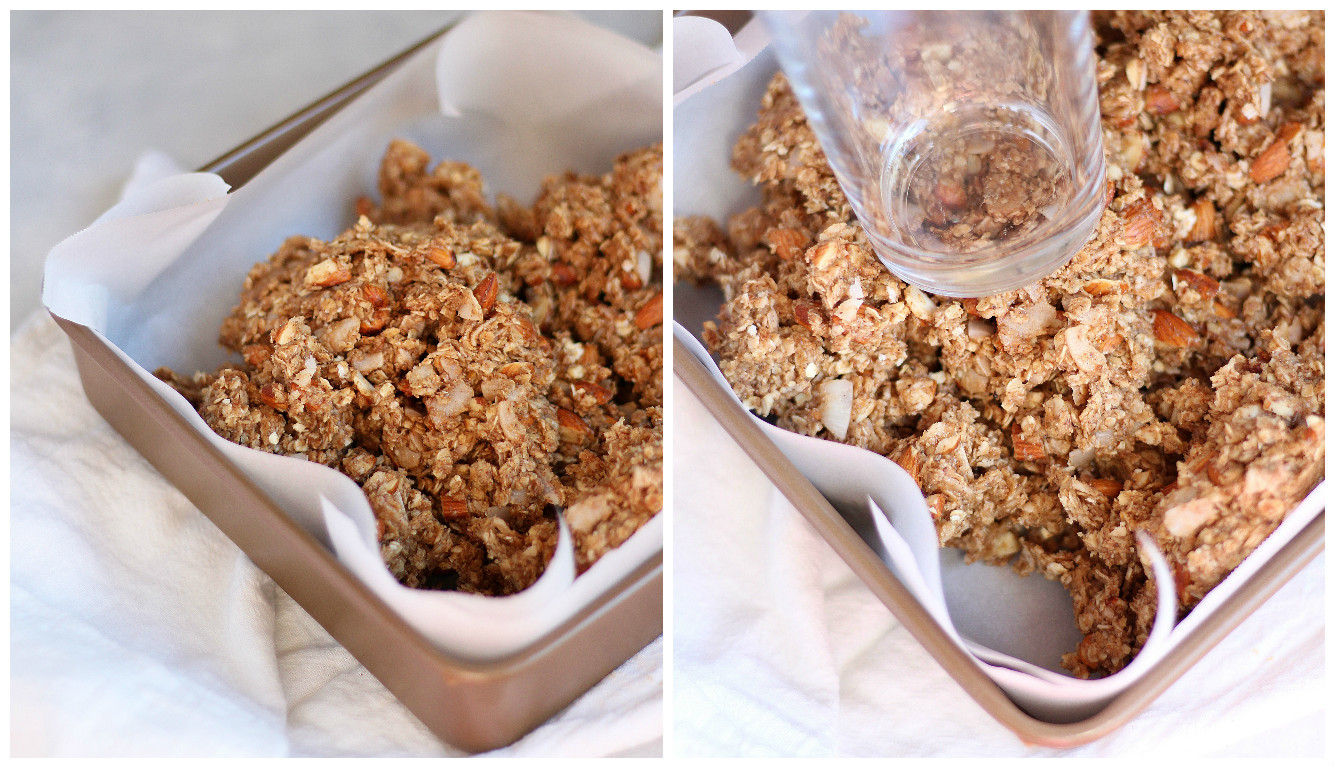 I haven't found any granola bars that I actually love, so I obviously decided that needed to be remedied. Usually they have too much sugar or are too date heavy or too much junk in them or the texture is just not quite right. So I made these. And I can confidently say they are THE BEST granola bars I have ever eaten.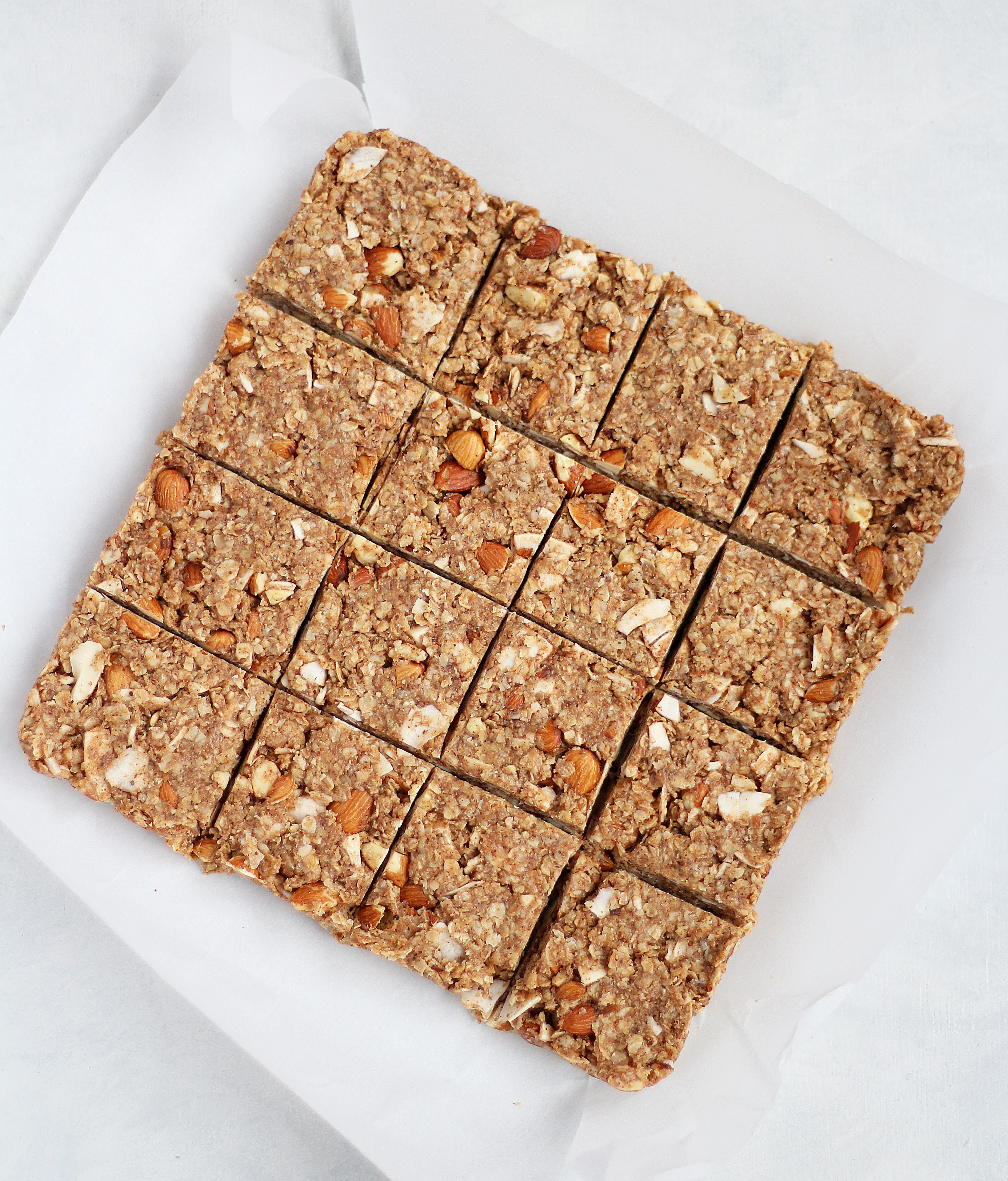 What's so great about them? They are no bake and easy to make. They also only use a few simple and real ingredients and are spiced with my favorite flavors – cinnamon, ginger, cardamom, and cloves AKA chai spices. SWOON.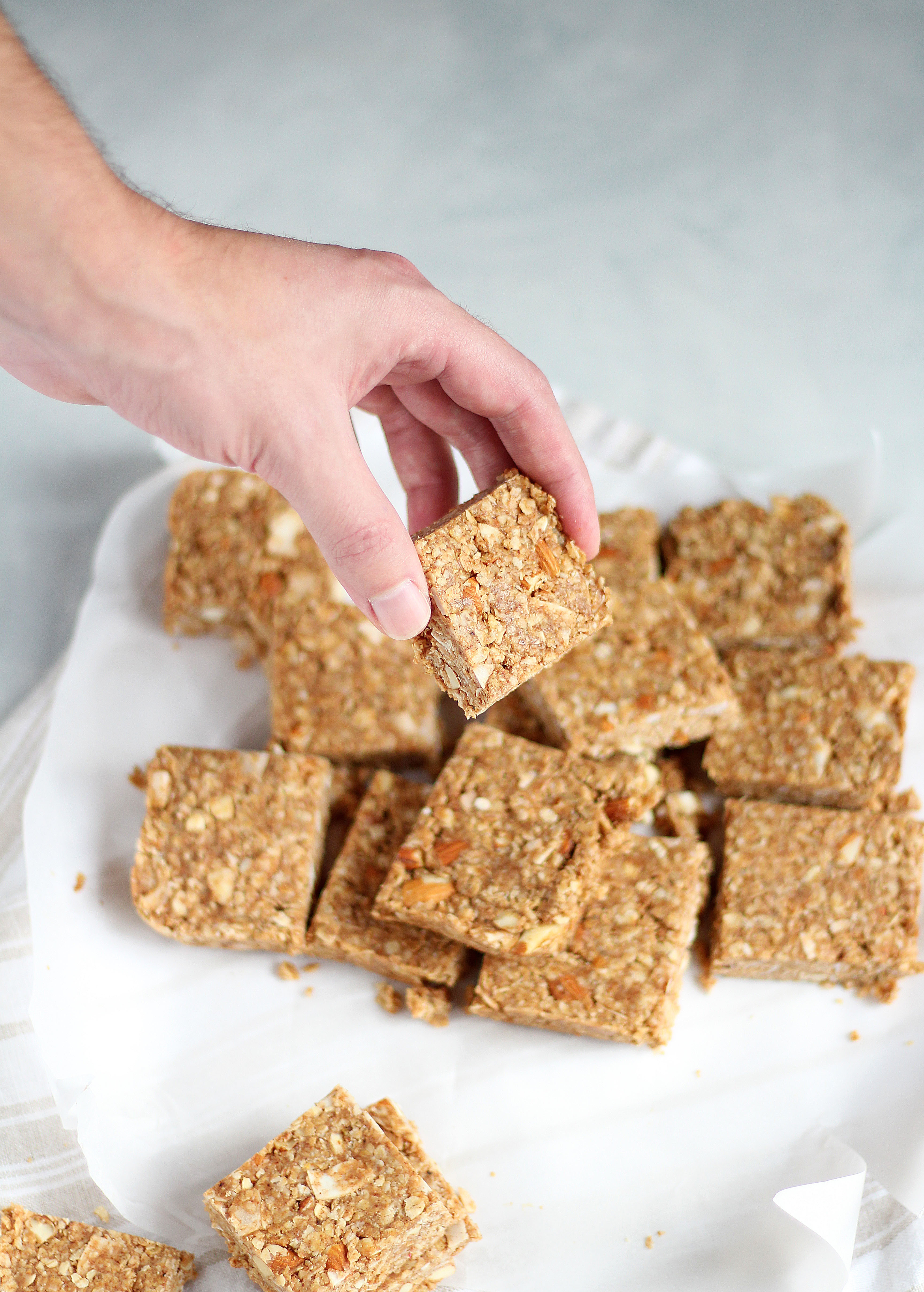 Also, did I mention the texture? Oh, are they perfect! They're chewy and crunchy thanks to the chopped almonds. If you're a snacker like me, promise me you'll make these. Just do it.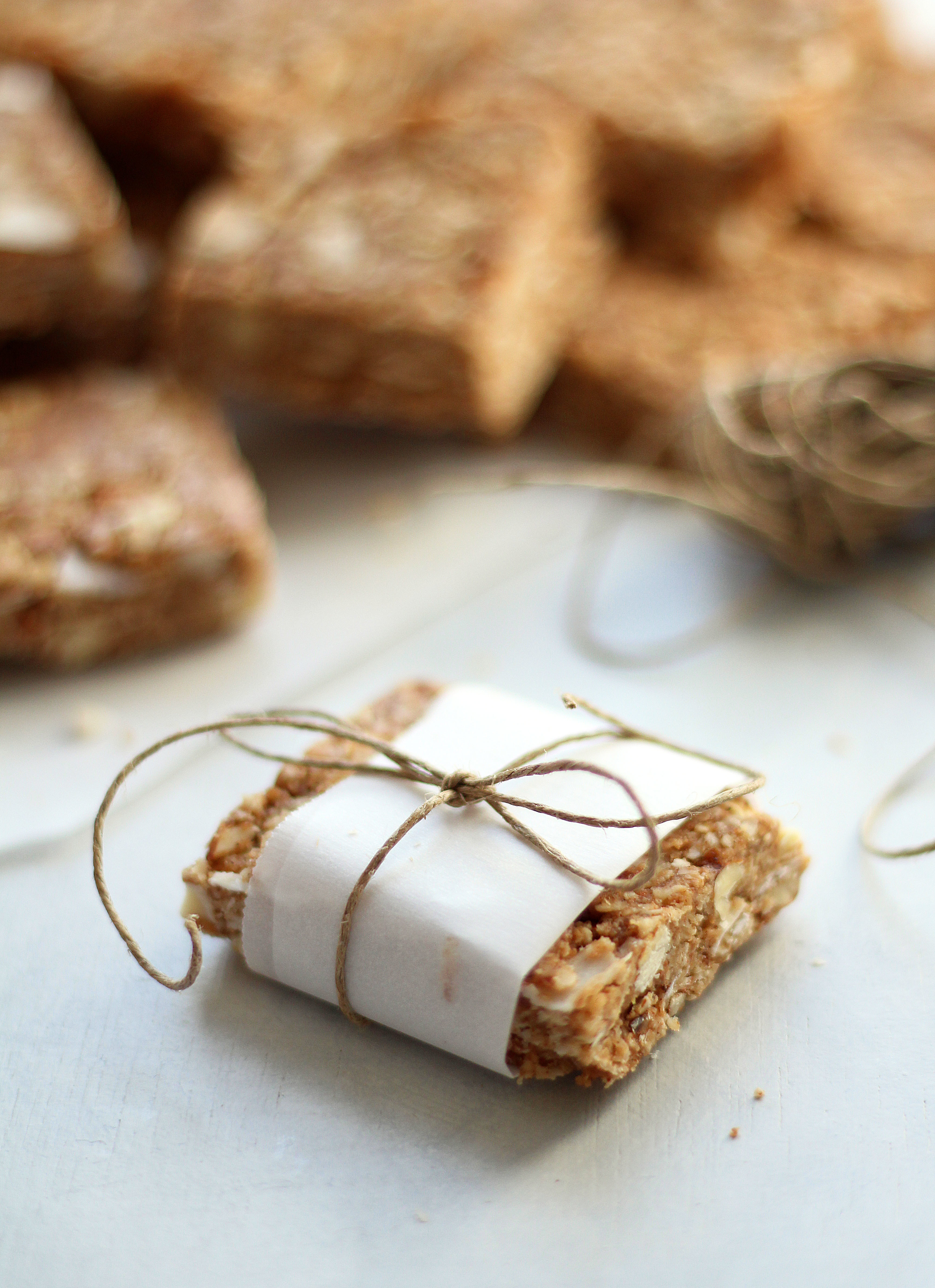 Chai Spiced Almond Granola Bars
Quick and easy no bake chai spiced almond granola bars. The perfect grab and go snack!
Ingredients
1¾ cups quick cooking oats
¾ cup chopped raw almonds
¾ cup unsweetened coconut flakes
¾ teaspoon ground cinnamon
½ teaspoon ground ginger
¼ teaspoon ground cardamom
¼ teaspoon ground cloves
¼ teaspoon salt
¾ cup creamy unsalted (and unsweetened) almond butter
⅓ cup + 1 tablespoon honey
1 teaspoon vanilla extract
Instructions
Line a 8-inch square baking pan with parchment paper - you can do two strips each way, just so you are able to easily remove the granola bars later.
In a large mixing bowl, combine the oats, almonds, coconut flakes, spices, and salt.
In a smaller, microwave-safe bowl, combine the almond butter, honey, and vanilla extract. Heat it in the microwave for ~30 seconds, or until warm and liquid-y (this step isn't necessary, but it makes it a lot easier to stir the mixtures into the oats!).
Whisk the almond butter mixture well and add it to the oat mixture, stirring until fully incorporated. If you feel like it's too wet, you can add a bit more oats, or if it's too dry, a bit more almond butter, but I found these proportions worked well.
Add the mixture to the parchment-lined pan. Using the base of a cup, press the mixture down firmly into an even layer. You want to pack it as tightly as possible.
Cover and let it set in the refrigerator for at least 1-2 hours, or overnight. Remove from the pan and cut into 16 even squares.
Store in an air-tight container in the fridge. Bars will keep at room temperature for the day if you want to throw one in your bag for later, but I recommend storing them in the fridge until you're ready to do so.
Notes
If you find the mixture is too dry after mixing the almond butter and oats, you can add more almond butter and if you find it's too wet, add more oats.
Did you make New Year's resolutions/intentions? If so, how are you doing with them?