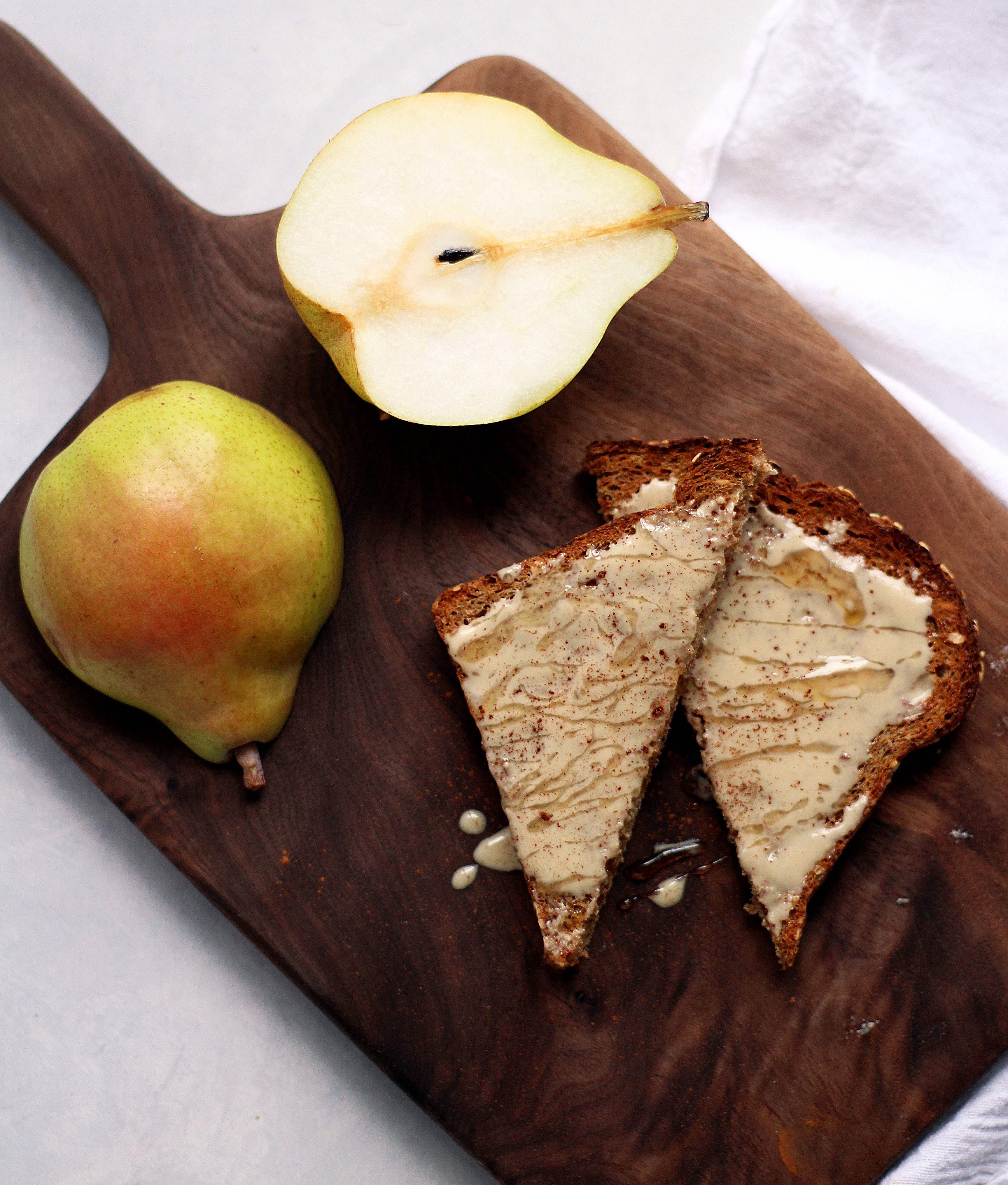 I'm trying something new here and if you're reading this, I'd LOVE to get your thoughts. thyme & toast is primarily a recipe site, featuring my modern takes (and some traditional) on Middle Eastern dishes I grew up eating. That being said, I often want to share more every now and then, sometimes without a recipe. I'm thinking some recipes outside of thyme & toast that I've been loving and just a little more of life. Personally, as a consumer of blogs for years, the ones I've loved most include a little bit outside of just recipes once in a while.
thyme & toast, for as far as I can see, will be primarily a food blog. So if this isn't your jam, feel free to move on and stay tuned for a new recipe next Tuesday…
Otherwise, I'm planning to share a once-monthly blog post called "lately" (like this) with some favorites and what I've been up to – with a heavy focus on food because, well, I love food.
eating & drinking
Toast with tahini, honey, and cinnamon (see above). Seriously my new favorite toast topping of all time.
These chai-spiced (no bake) almond granola bars. We can't get enough of them, and every time I make them, it seems like they're gone in just a few days (Evan is a huge fan). That and my original hummus (sometimes with olives in it) are the two recipes I've been making weekly this month.
Honey nut squash. I found these little squash at the farmers market and love stuffing them with yogurt and nuts or granola and honey for breakfast.
This ramen from minimalist baker. Ramen is one of my ultimate comfort foods, and with January in full swing, I've been craving it like crazy.
I'm not paleo, but I have been LOVING this cauliflower fried rice from spices in my dna. This has quickly become a part of our rotation of easy weeknight recipes.
loving
My new copper measuring spoons and cups from Williams Sonoma
This hilarious meditation video for my friends who say meditating isn't for them (and let's be real, for me too some days). Warning: explicit language, in case that bothers you…
My air plant! I am terrible with plants, and the cat (Zoey) loves to eat every plant I've ever gotten, including cacti, so having a little plant protected in a glass sphere has been pretty ideal. Not to mention, it's pretty low maintenance.
doing
Traveling this month! Up and down the east coast to see family and friends!
Drinking at least 64 ounces of water ever day (I go in and out of doing this, so really, I'm just recommitting) and water + apple cider vinegar in the morning to boost digestion and increase energy.
Trying to find a way to escape the cold and go somewhere tropical. Seriously, I need a vacation and warm weather to get me through the rest of this winter.
Finding ways to be a better advocate.
Ok, and one more peak at that toast I'm obsessing over…