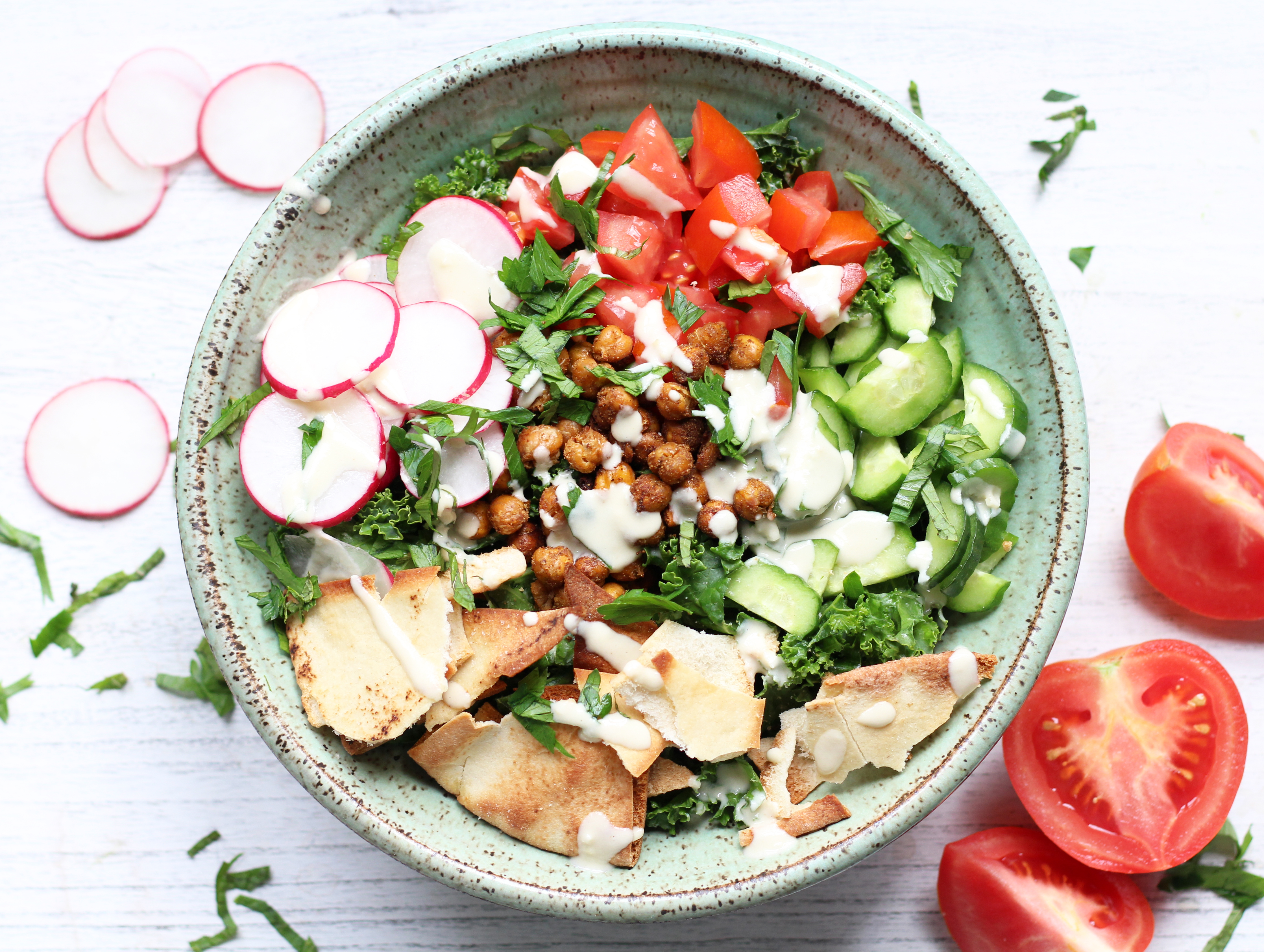 Although fall is quickly approaching, I'm clinging on to every last sweet moment of summer. It's always been my favorite season and warm weather is in my blood. Growing up, my parents would take me and my siblings to their home countries of Lebanon and Syria every summer. Fresh, locally grown fruits and vegetables are plentiful there - whether it's on the side of the road or in a small market, you're likely to find the sweetest fruit and most flavorful vegetables of your life. Those summers are what taught me to appreciate seasonal produce. It's truly impossible to match the flavor, vibrancy, and joy of eating in season. When in season, fruits and vegetables are as they're meant to be - the right size, texture, flavor. Not to mention, buying in-season produce is more budget-friendly. Lastly, there's the joy of visiting farmers markets and buying locally, from meeting the farmer who grew my vegetables to backwards planning meals based on whatever exciting produce is featured at the market.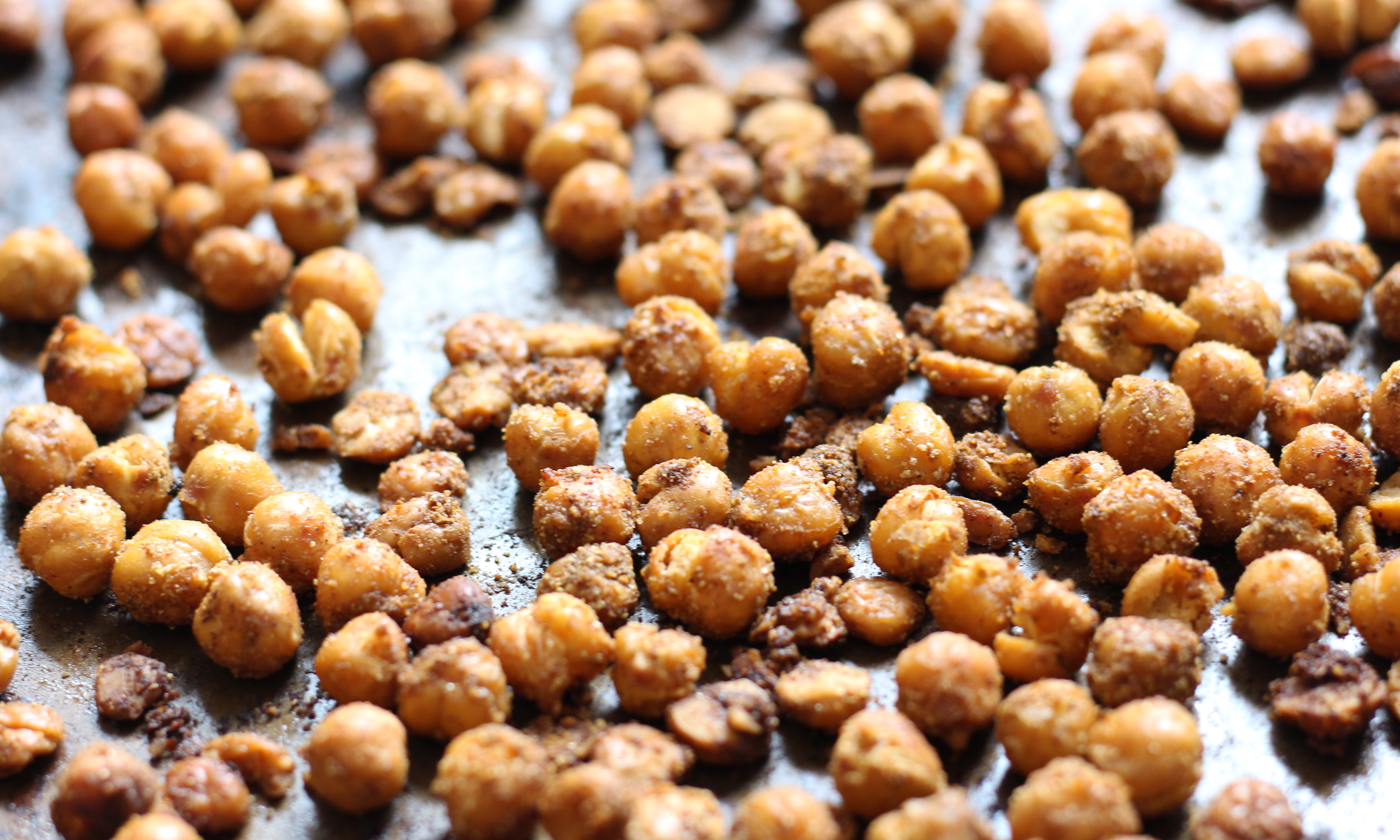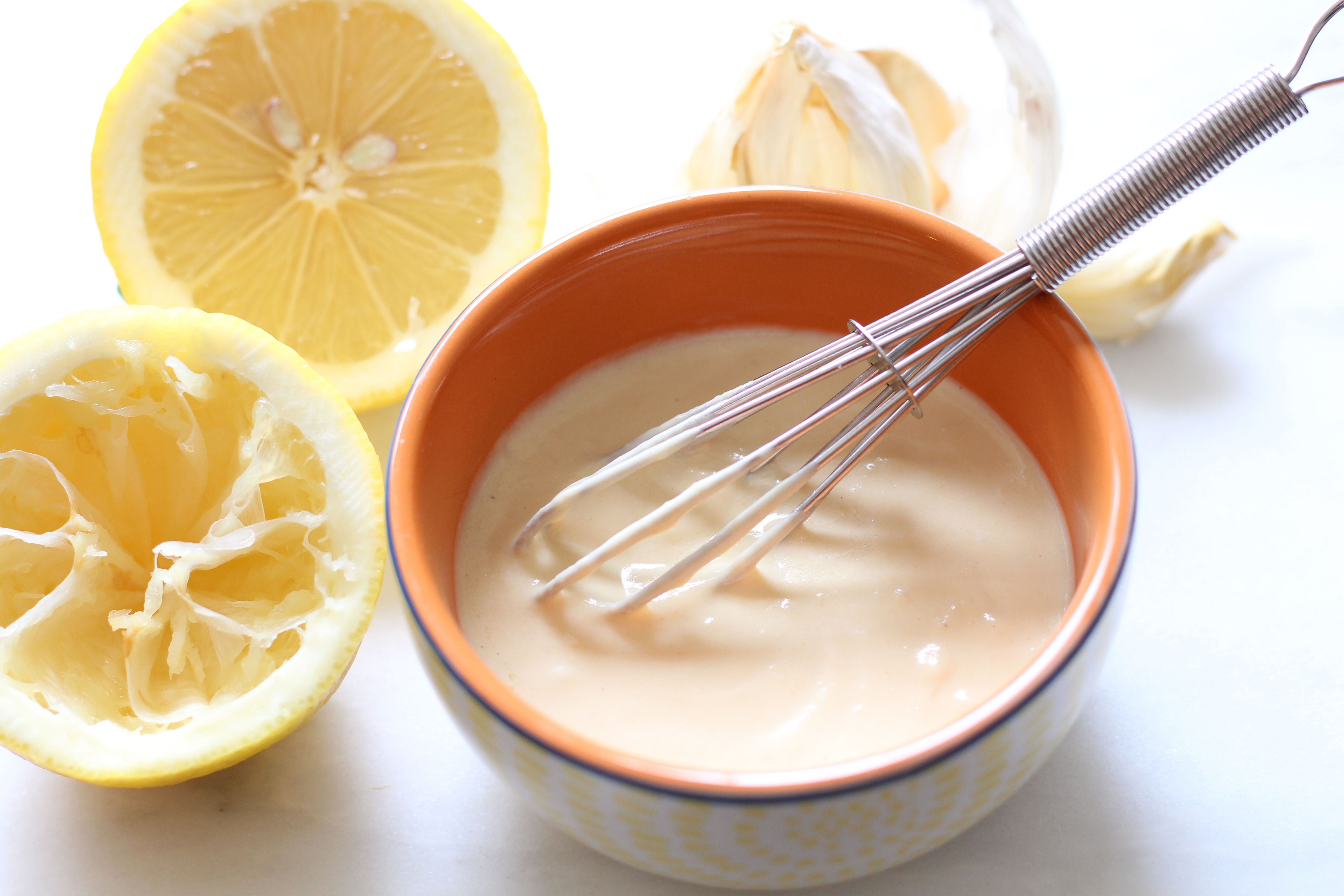 While I can't always find certain vegetables, spices, or dishes here that I grew up eating and loving in the Middle East, I do my best to create recipes that replicate flavors that feel familiar and stir fond memories of traditional foods found there. This kale salad is one of my modern takes on a traditional Middle Eastern meal: falafel. It has the familiar spices, vegetables, and crunch, with a couple additions and tweaks. The seasonal highlights of this recipe are radishes, cucumbers, and tomatoes (and kale!). They all come together in a salad with chickpeas with homemade falafel seasoning roasted until crispy, pita chips, mint and parsley, and a lemon tahini dressing. I make this salad often and alternate between using romaine and using kale - whichever I have on hand or am in the mood for.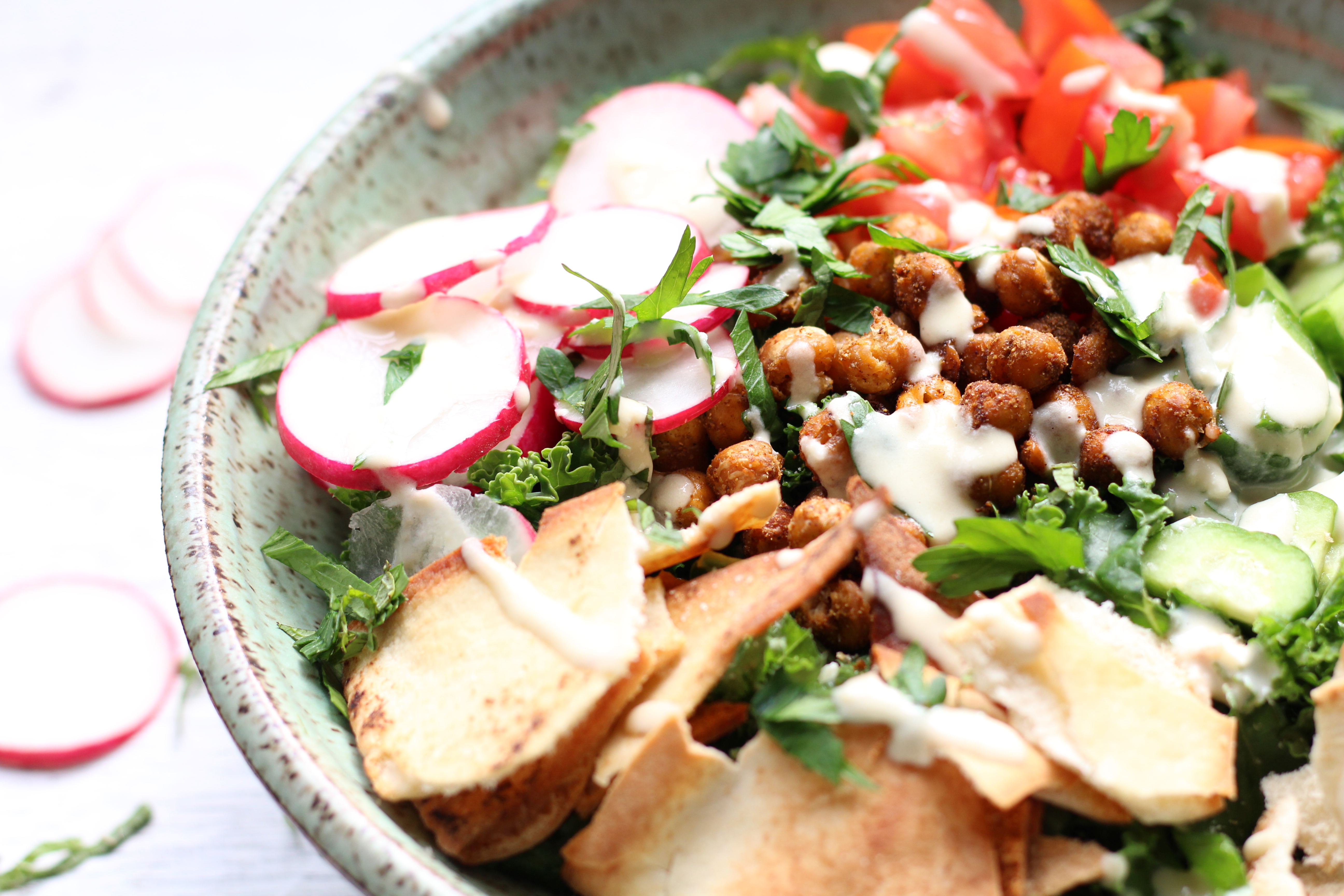 This recipe is featured as part of
Vidya Living
's Seasonal Recipe Share. Claire is one of my closest friends from college and is a talented yogi, knowledgeable wellness coach, and passionate chef and recipe creator, often focusing on seasonal, plant-based, and Ayurvedic principles.
Falafel-Inspired Kale Salad
A modern take on a traditional Middle Eastern wrap: falafel-inspired kale salad with crispy roasted chickpeas, fresh vegetables, and all the familiar spices of a traditional falafel wrap.
Ingredients
Roasted Chickpeas
1½ cups chickpeas or 1 15.5-ounce can of chickpeas, rinsed, drained and dried very well*
1 tablespoon extra virgin olive oil
1 teaspoon cumin
¾ teaspoon coriander
¼ teaspoon paprika
¼ teaspoon salt
⅛ teaspoon onion powder
optional: a pinch of allspice and pepper
Lemon Tahini Dressing
3 tablespoons tahini
2 tablespoons lemon juice
1 tablespoon extra virgin olive oil
1 clove garlic, finely minced
¼ teaspoon salt
warm water to thin (2-4 tablespoons)
Salad
10 ounces (~5 cups) or one bunch kale, chopped
3 radishes, thinly sliced
2 persian cucumbers, halved length-wise and sliced
1 medium tomato, chopped
¼ cup finely chopped flat leaf parsley
1 tablespoon finely chopped fresh mint
Pita chips (store-bought or homemade)**
Instructions
Preheat oven to 400 F. Create the spice mix by combining the cumin, coriander, paprika, salt, onion powder, allspice, and pepper.
Add chickpeas to a baking sheet (without any spices or oil) and roast for 10 minutes on the middle rack.
After 10 minutes, remove the pan and toss the chickpeas with olive oil and spice mix. Put the chickpeas back in the oven for 15-25 minutes or until browned and crispy, checking on them every 10 minutes to ensure they aren't burning. Remove from oven and set aside.
To prepare the dressing, combine all ingredients, adding water until it reaches desired consistency and is pourable.
In a mixing bowl, massage kale with 1-2 teaspoons of olive oil and 1-2 teaspoons of lemon juice. Add desired amount of dressing and toss well. To serve, divide kale and toppings (chickpeas, cucumbers, radishes, tomato, and pita chips) among dishes, drizzle with more dressing, and sprinkle with mint and parsley.
Notes
*To ensure the chickpeas will get crispy in the oven, make sure the they are dried really well. I'll normally put them on a towel and lightly press and roll with another towel until thoroughly dry.

**To make homemade pita chips, slice pita into triangles and brush each side with olive oil. Bake in oven at 400 F for 3-5 minutes on each side, or until crispy.