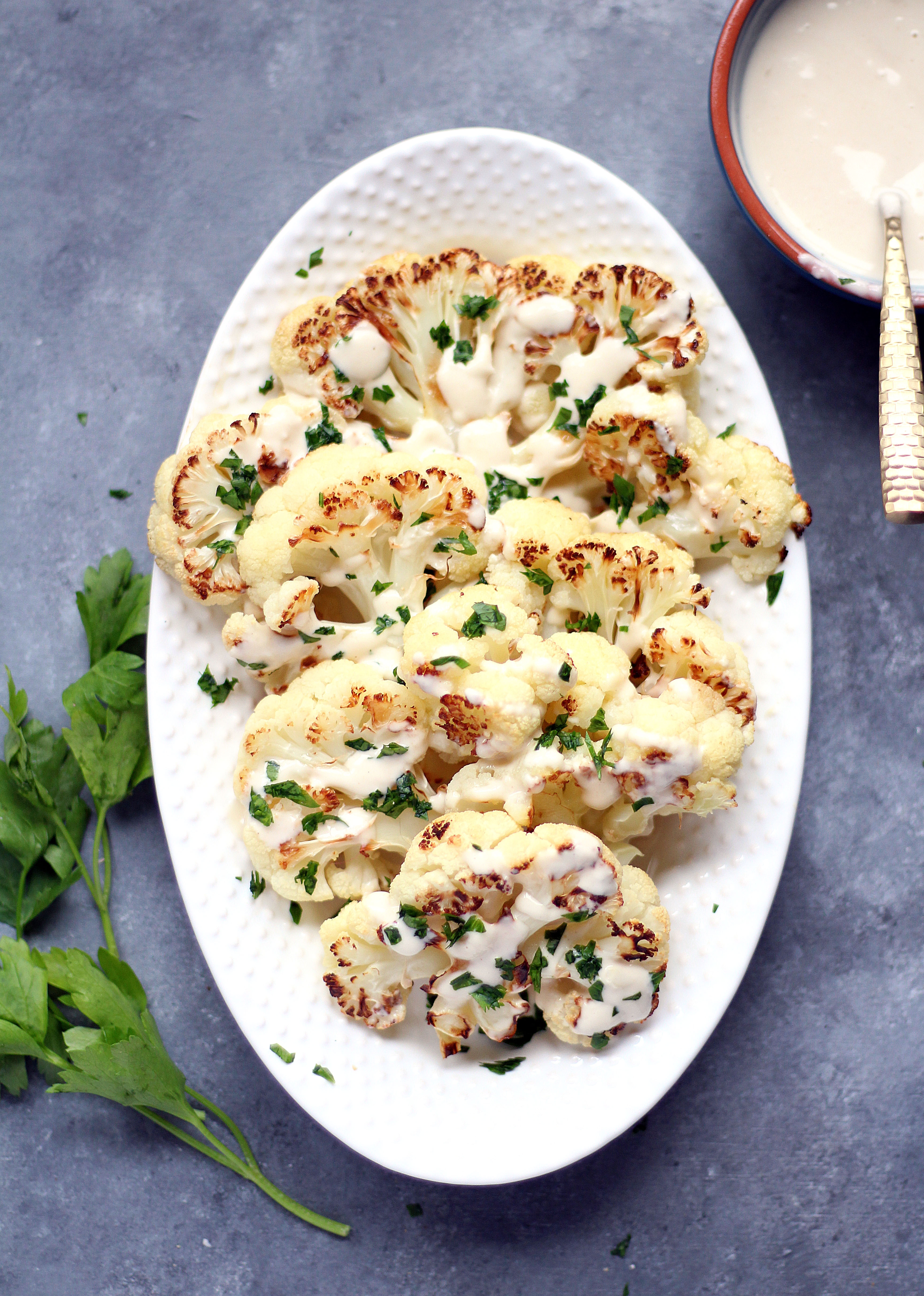 My mom was in town visiting this past weekend, which was a total treat. We ate our way through the city and hit up some of my favorite restaurants, including Flour Bakery and Tatte for breakfasts, the Butcher Shop and Coppa for dinner and drinks. Every time my mom visits me or my siblings, we eat out most of the time, but she taps into her Lebanese mama role and insists on cooking us a meal – to which I happily oblige, always. This time she cooked kibbeh, and I watched and tried to take notes as she expertly tossed it together without measuring. It totally re-inspired my mission to document those Lebanese comfort food recipes so everyone can make and enjoy them.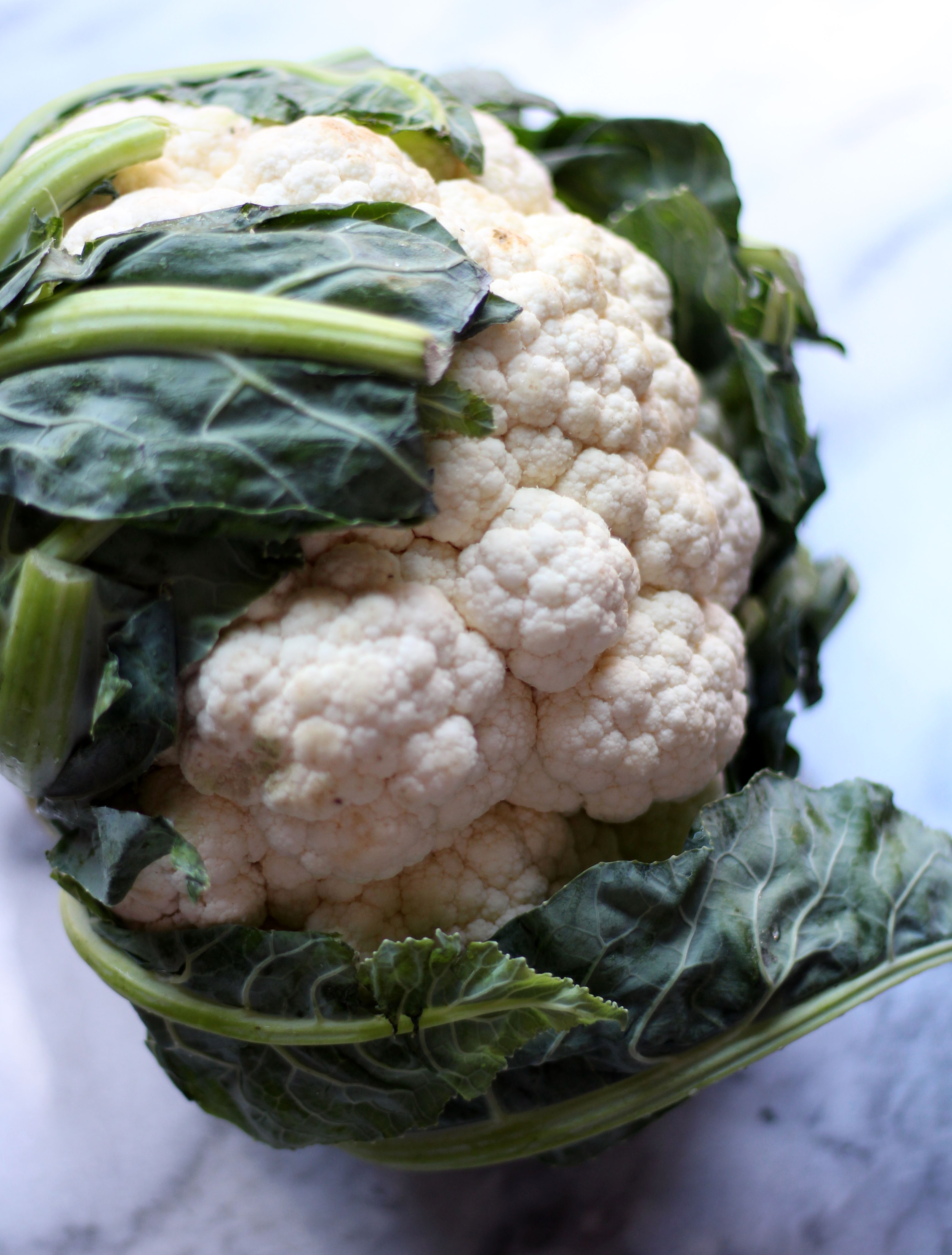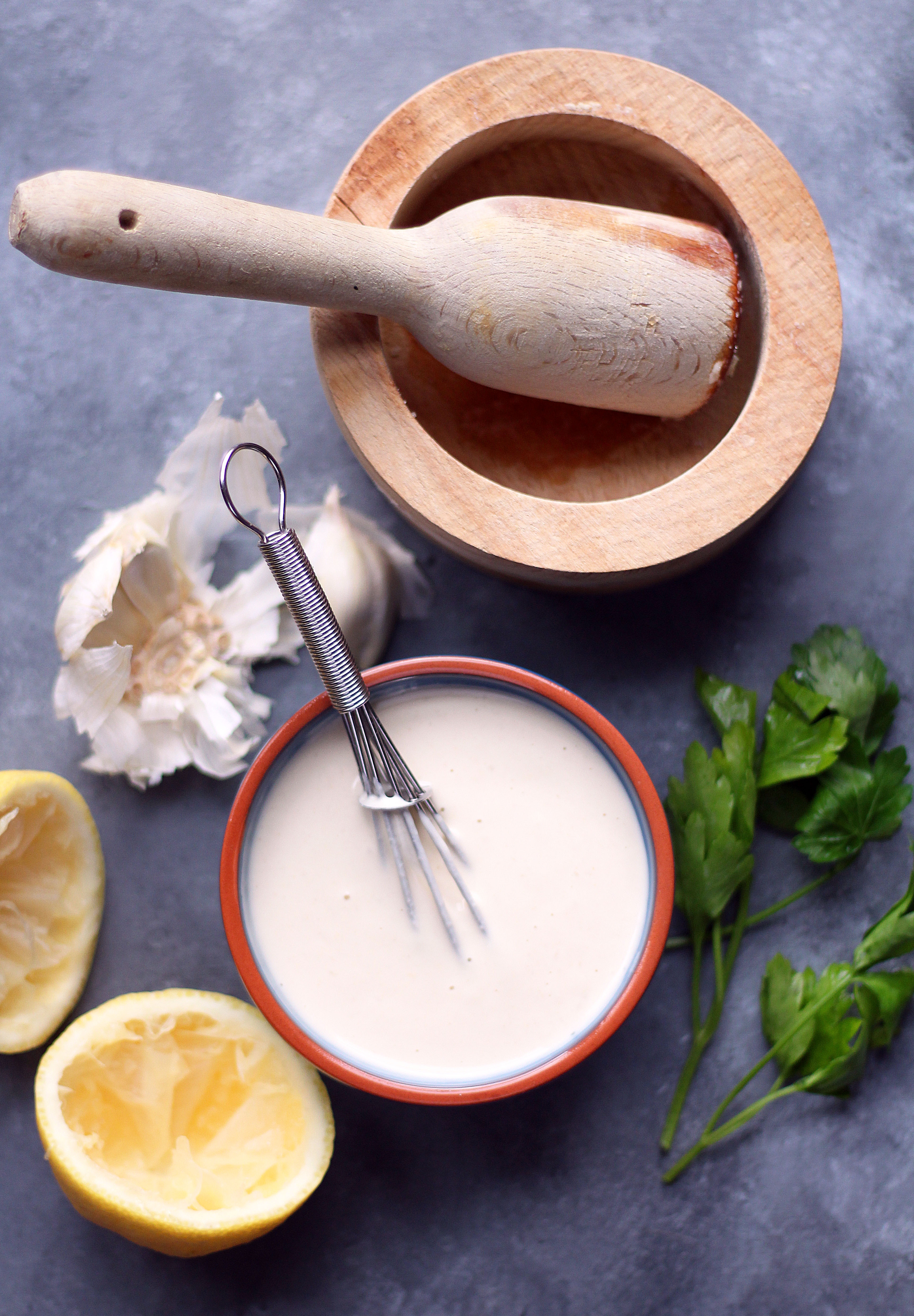 This recipe is one of those side dishes that my mom has adapted over the years. Traditionally, in Lebanon, the cauliflower is fried, but 1. frying anything is a pain. I tried making my own traditional falafel once, and it was a nightmare. Let's just say I ended up with oil everywhere and a couple minor burns. and 2. fried food obviously isn't the healthiest option as an everyday side. So, I grew up primarily eating this dish with the cauliflower roasted, and to be honest, I kind of prefer it that way.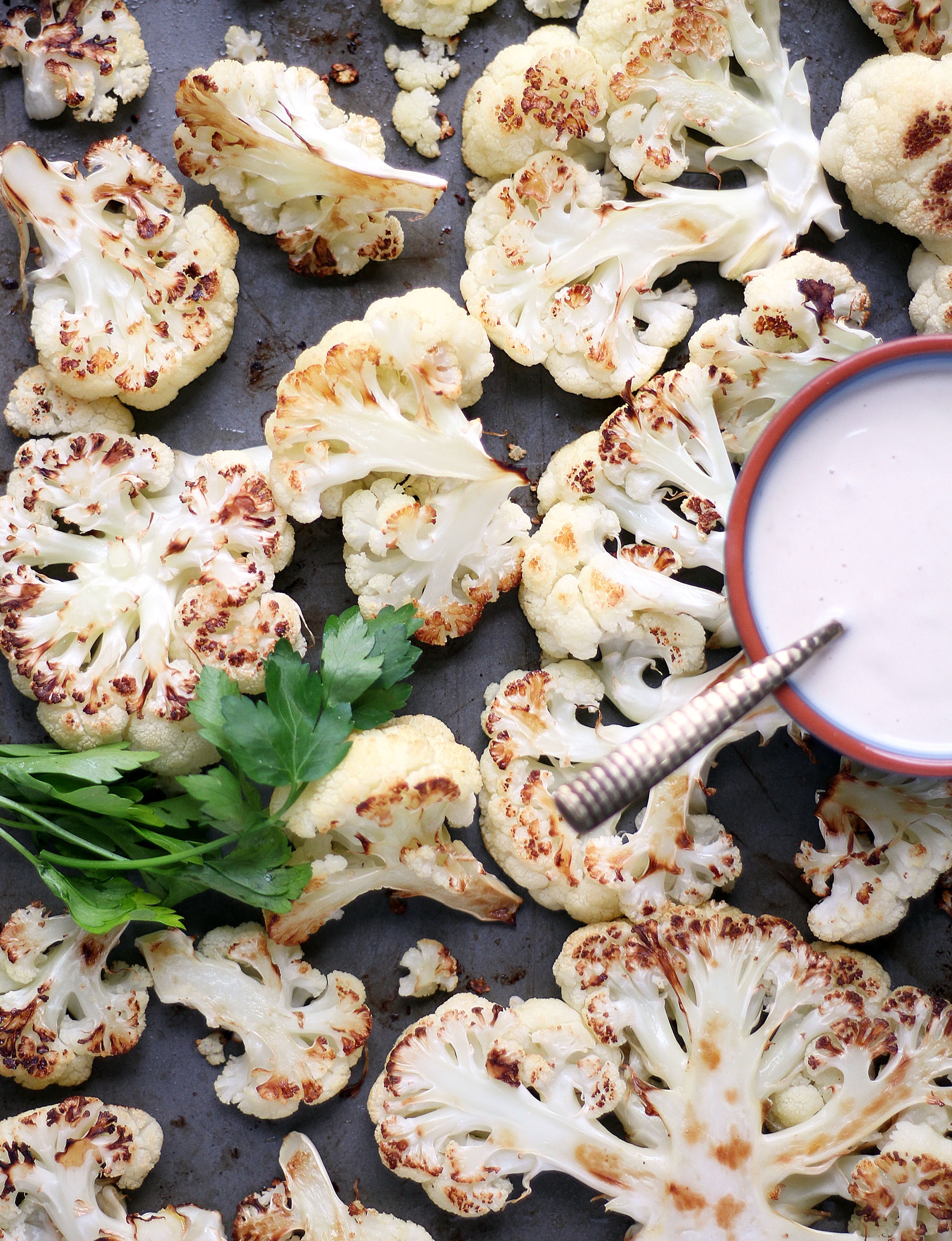 I pretty much drown the cauliflower in this tahini sauce. And it goes great on other things. You'll have some leftover tahini sauce so here are a couple of other ideas for ways to use it: on roasted veggies (like sweet potatoes!) throughout the week, as a dressing on a buddha bowl (aka a bowl with grains, roasted veggies, chickpeas, etc) or salad, the list goes on.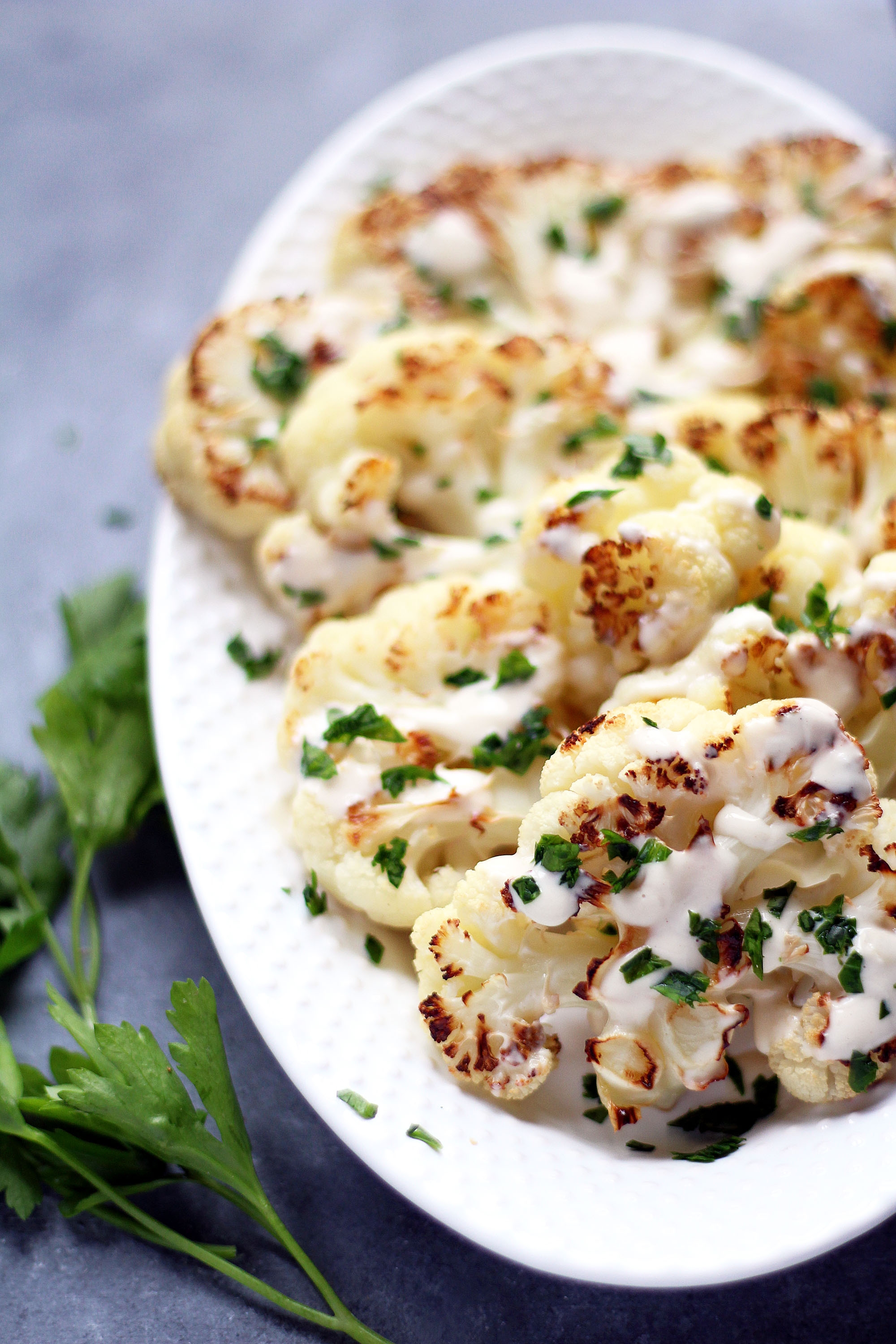 So, if you feel like adding a little Mediterranean flair to your Thanksgiving spread, this cauliflower side dish fits the bill!
Roasted Cauliflower with Lemon Garlic Tahini Sauce
This cauliflower dish with a creamy tahini sauce is the perfect side dish. You can cut the cauliflower into "steaks" or simply split into into pieces before roasting.
Ingredients
Cauliflower
1 large head cauliflower, cored and cut into florets OR cut into steaks (see notes)*
1 tablespoon extra virgin olive oil
salt and pepper
Optional: parsley
Tahini Sauce
½ cup tahini
½ cup water
⅓ cup lemon juice
1 garlic clove
½ teaspoon salt
Instructions
Preheat the oven to 425 degrees F. Add the cauliflower to a lightly oiled baking sheet. Toss the cauliflower with the olive oil, evenly distributing it (if you're doing cauliflower steaks, drizzle one side and gently flip to drizzle on the other). Season with salt and pepper.
Bake for 10-15 minutes until they're beginning to brown. Remove the cauliflower from the oven, flip them and cook for another 10 minutes, or until tender and lightly browned.
While the cauliflower is cooking, mash the garlic with ½ teaspoon of salt with a mortar and pestle. Add the tahini and garlic to a small bowl. Slowly whisk in the water - it will seem watery at first, but will whisk together to thicken. Add the lemon juice and continue whisking until the mixture resembles a thick cream. Taste and adjust seasonings, such as adding more salt or lemon juice. You can add parsley to garnish, if desired - I love it and it adds a great color!
Serve the tahini sauce with the cauliflower.
Notes
*Sometimes I like to make cauliflower steaks. If you prefer to make the cauliflower into cauliflower steaks, keep the core of the cauliflower intact when trimming the end. Using a sharp, long knife, cut the cauliflower from the top to the base in ¾-inch slices. Regardless, I like to cut the cauliflower so it lays flat on the baking sheet (and roasts better).