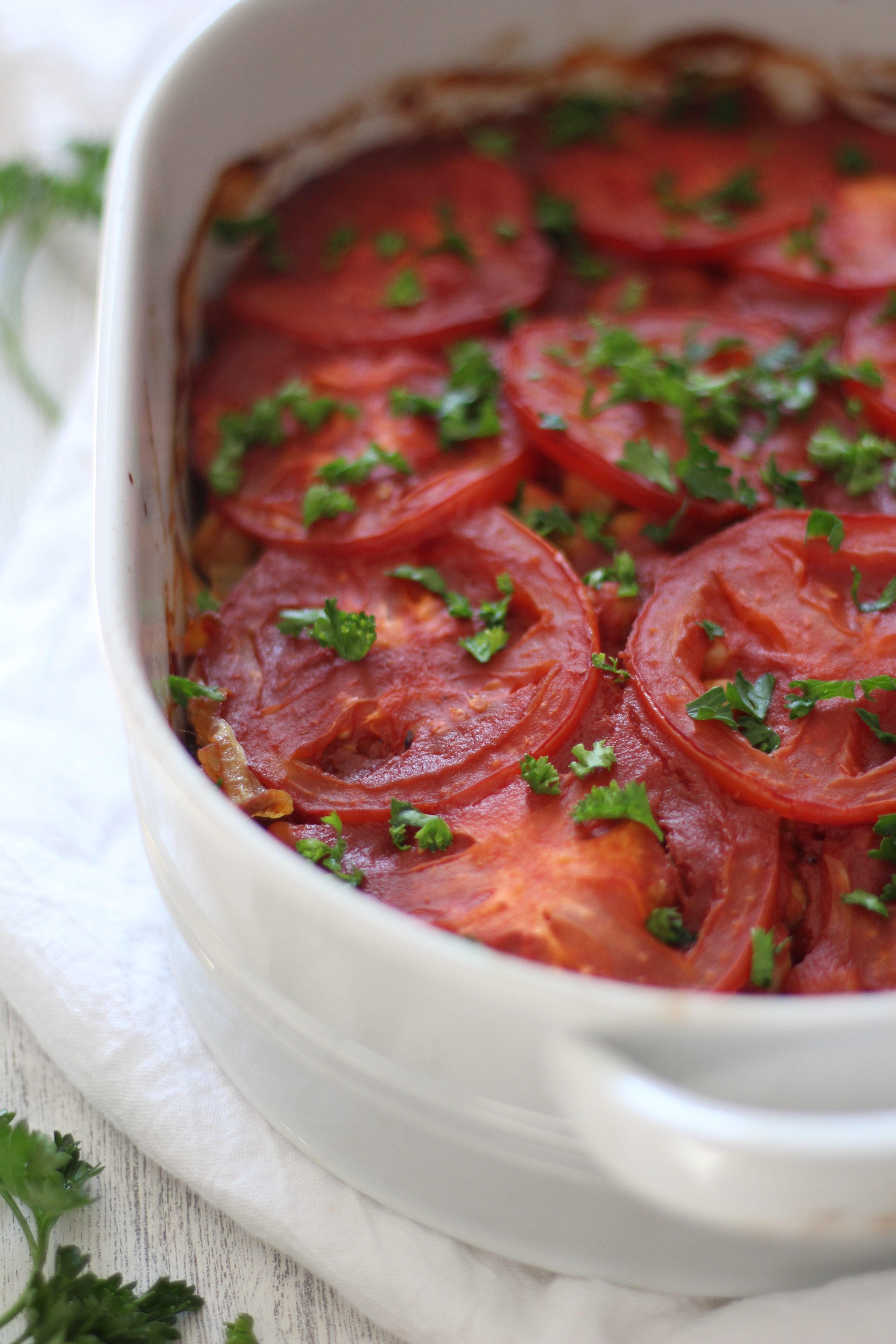 Growing up, chickpeas were eaten in some way, shape, or form, almost daily in my household. In hummus, vegetarian grape leaves, salads, and one of my favorite side dishes: this eggplant, chickpea, and tomato casserole. I still eat chickpeas almost every day – in both traditional and what some may consider slightly unconventional ways (see chocolate hummus).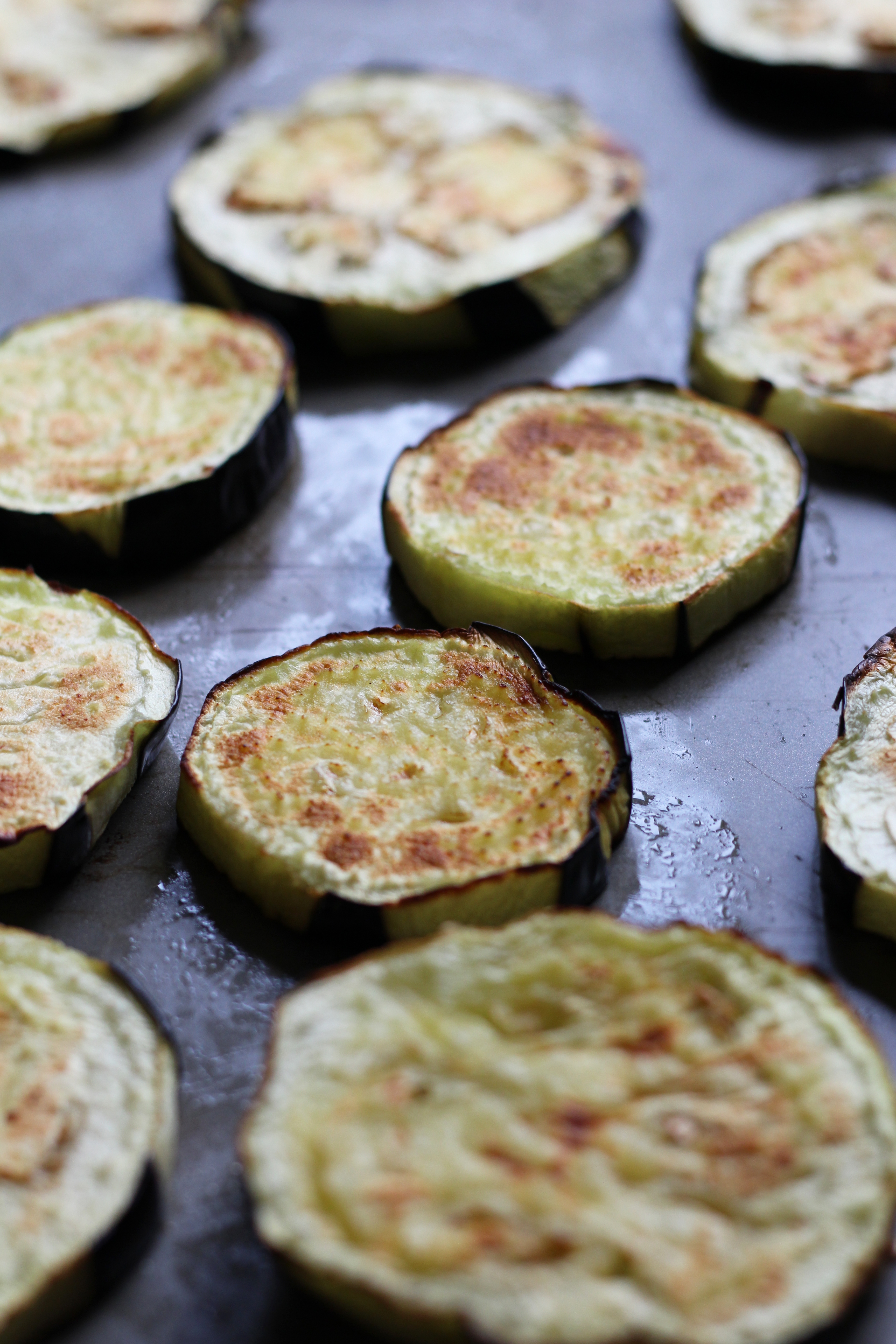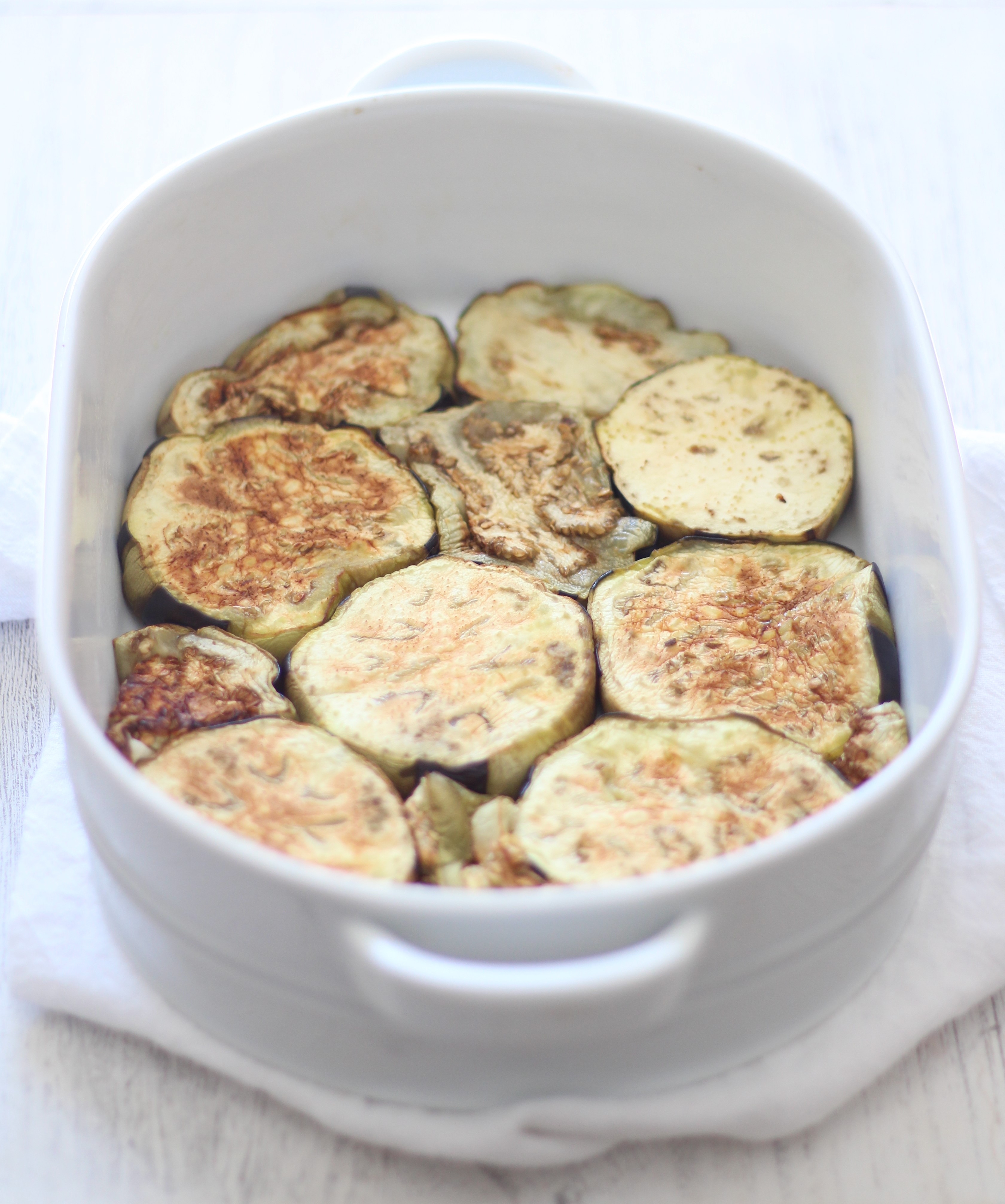 This casserole is not a new recipe. In fact, it's been in my family for decades. It's one of the first things that I learned how to cook when I moved out of my childhood home. It's simple, yet comforting and healthy, thanks to the combination of chickpeas, tomatoes, eggplant, and olive oil (and onions!). It is wildly easy to put together, and everyone who tries it always LOVES it.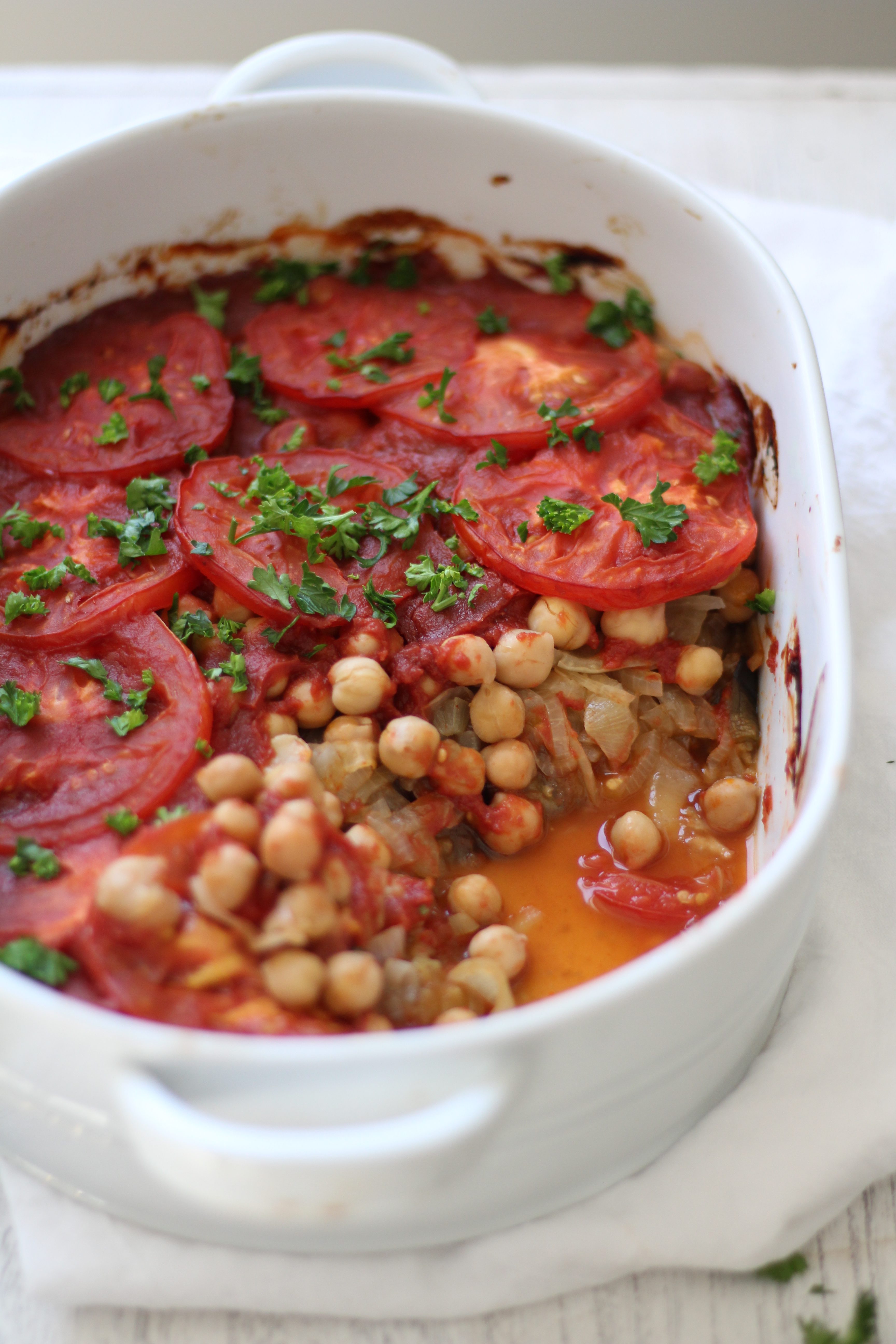 I begin craving warm dishes and casseroles around this same time every year – when the weather starts cooling down, I always turn to warm and comforting meals. I had my first bowl of soup in MONTHS this past weekend… and we also made curry this week, which I also really only make once it's cold out (an adaptation of this curry from Cookie and Kate, using zucchini, spinach, and broccoli and added tofu). Despite the fact that this casserole is warm and cozy in the cooler months, every bite of this dish takes me back to summers sitting outside for dinner on the deck at our lake house. Often served with a side of hummus, grilled kabobs, and corn on the cob. Surrounded by family. Cozy in more ways than one.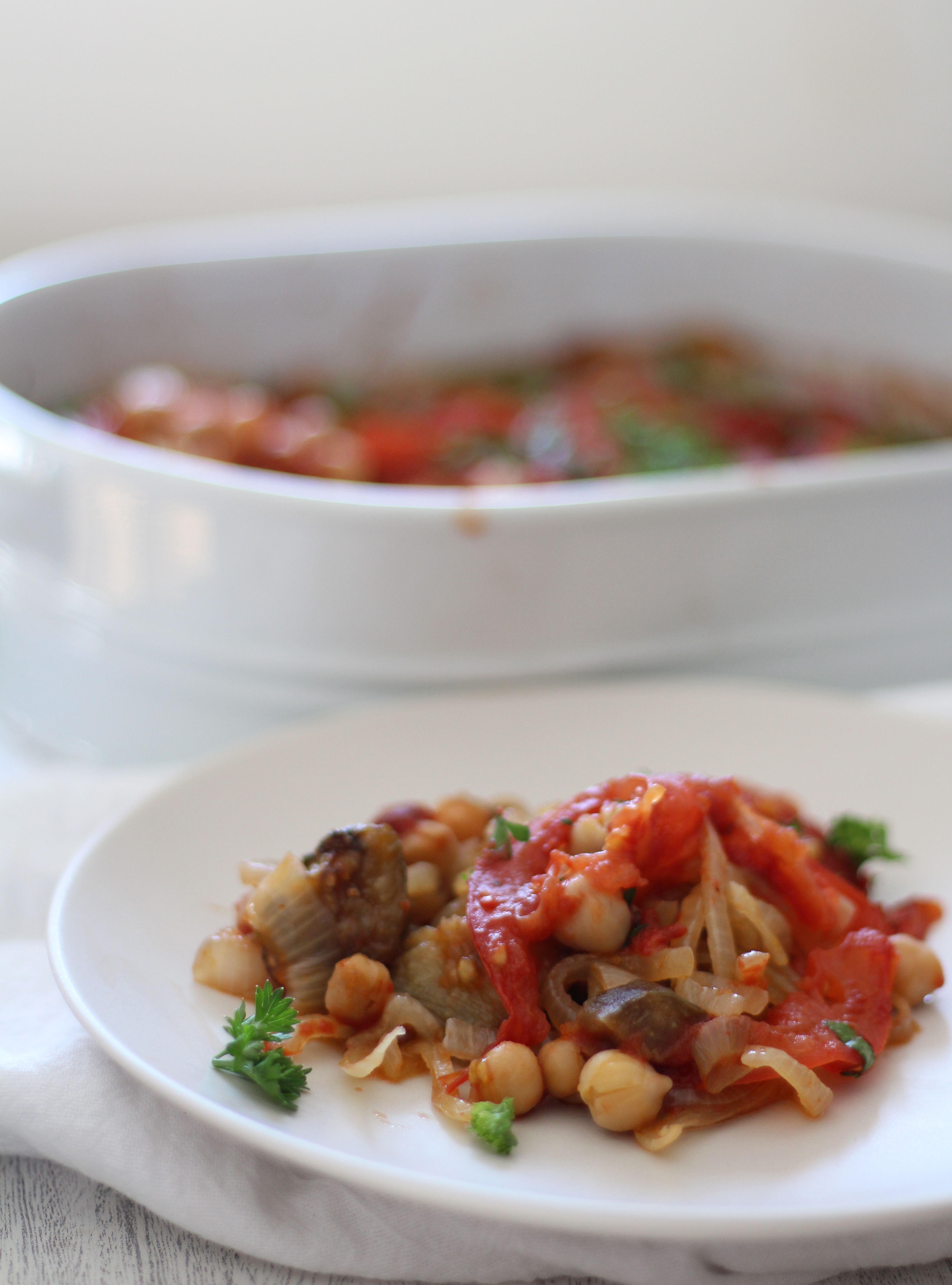 Layers on Layers: Eggplant, Chickpea, and Tomato Casserole
This dish is great as a side and can be eaten with a fork or pita. You can eat it warm, at room temperature, or cool, depending on how you prefer it!
Ingredients
1 medium eggplant, peeled or scored and sliced into ½ inch rounds
1 tablespoon extra virgin olive oil + extra for eggplant
2 tomatoes, sliced into ~1/8 inch rounds
1 onion, cut in half and sliced into thin half-rounds
1 15-oz can of chickpeas, drained and rinsed
1 8-oz can tomato sauce
Instructions
Brush (or spray) the eggplant slices on both sides with olive oil. Place on a baking sheet and broil on high for 3-5 minutes on each side, or until lightly browned. Once done, remove from oven and reduce heat to 350 degrees F.
Meanwhile, sauté onions with 1 tablespoon of olive oil until translucent.
Lightly oil a 9x9 casserole dish. First, layer the eggplant, squeezing together, and slicing, if need be, to create a flat layer of eggplant (see picture). Next, add the onions in an even layer and then the chickpeas. Layer the sliced tomatoes on top.*
Whisk together tomato sauce and 2 tablespoons of water and pour over the layered eggplant casserole.
Bake at 350 degrees F for 45 minutes, or until bubbling and fully cooked. Remove from the heat and let cool. Serve warm or at room temperature.
Notes
You can add salt, to taste, between each layer. If your tomato sauce is salted (not sodium free), you likely won't need much (if any!) salt.
Store in the fridge, covered, for up to 3-5 days.