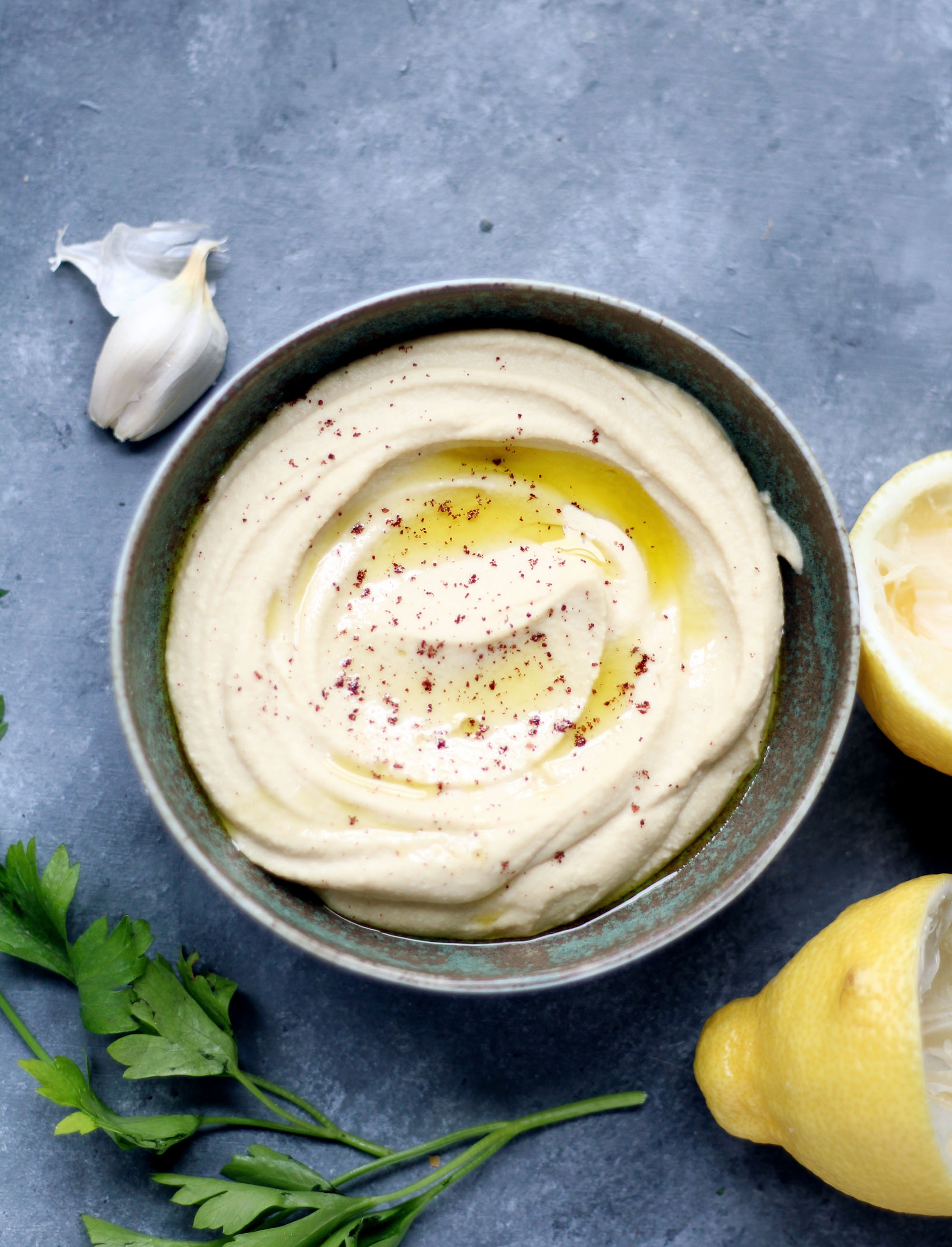 Coming from a Middle Eastern household, I've grown up eating hummus. When I was younger, my mom would send me to school with hummus and pita wraps, although I always longed for the peanut butter and jelly sandwiches my friends had. Over the years, I've grown to adore this delicious spread. You will rarely find me buying hummus at the store – nothing compares to homemade. The beauty of it is this: all you need is a high speed blender or good food processor, 5 ingredients, and a little patience.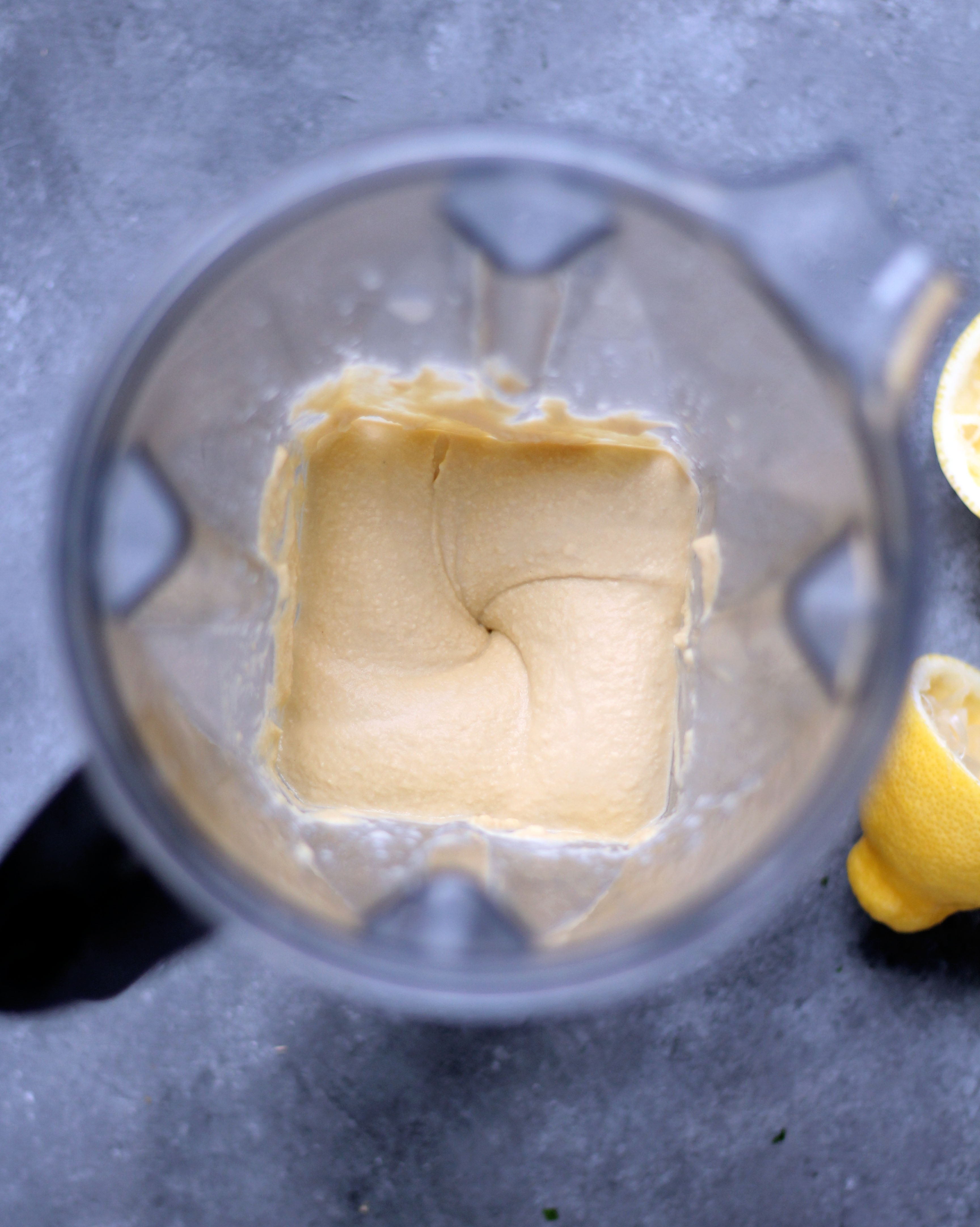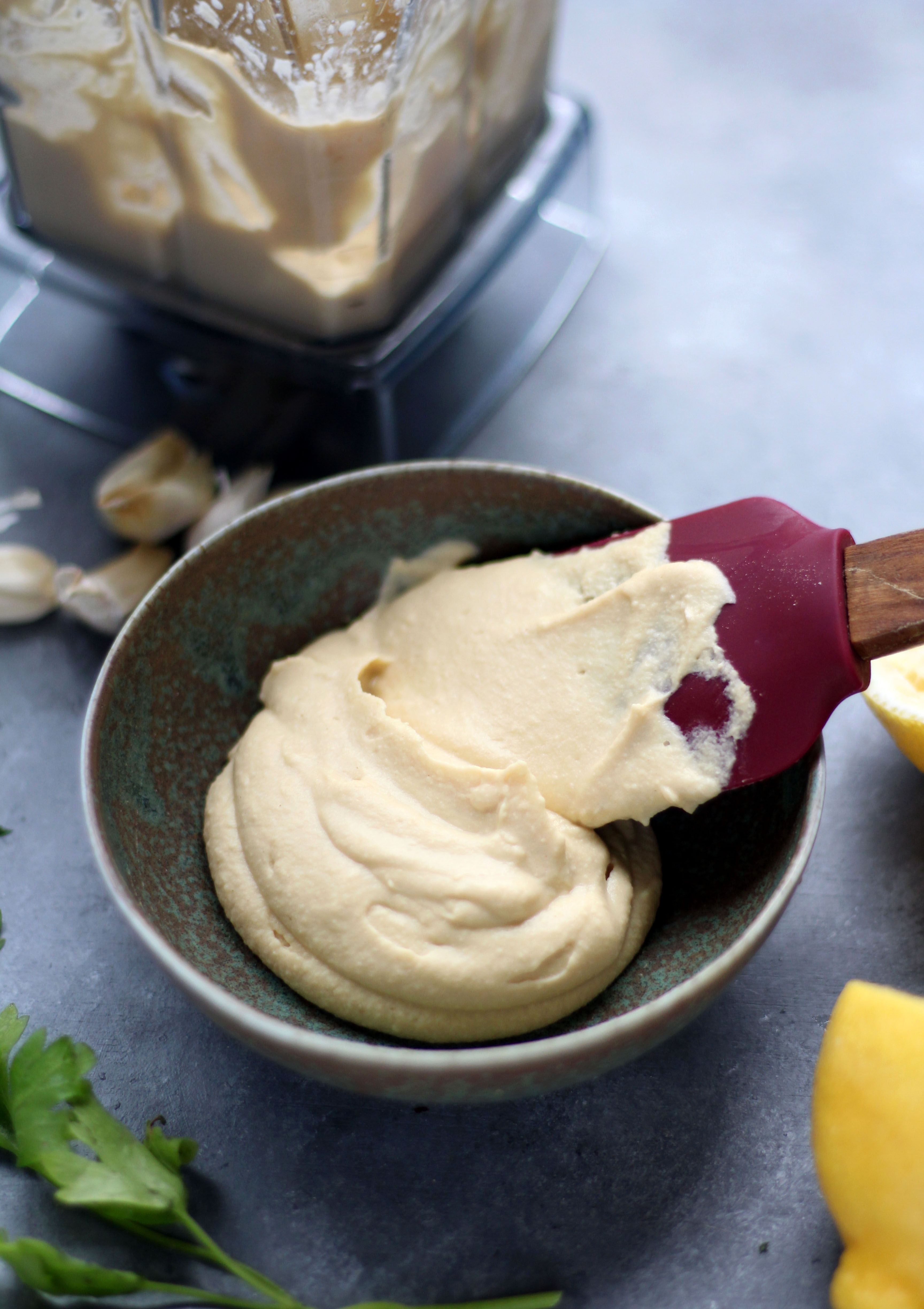 Before we get to the recipe, I have a couple tips to help you make the best hummus, ever…
 Fresh chickpeas are best, but if you're in a time crunch, canned can work too.
If you have the patience, get a bag of dried chickpeas, soak them overnight, and then cook them until they're a little over-cooked and soft – this makes it easier to blend them into a creamy paste. Vigorously stir them before draining and removing from the pot and skim and discard the skins that come off. Normally, a bag of chickpeas will leave me with about 6 cups cooked, which is enough to make 4 batches of hummus. I'll put the rest (in 1 1/2 cup portions) into 3 freezer bags, flatten them, and then defrost one in the fridge the day before when I'm ready to make another batch of hummus.
Canned chickpeas aren't all the same. I've tried many brands and have had the most luck/made the smoothest hummus with Westbrae Natural, Goya, and Whole Foods brand. (NOTE: Trader Joe's chickpeas haven't worked well for me – they're much firmer and don't blend very well.) Even when I use canned chickpeas, I usually rinse and drain them, then add them to a pot with water to cover them, bring it to a boil, and cook for ~10 minutes to soften them. Then, like above, you can vigorously stir the pot to loosen the chickpea skins to skim off the top, drain the water (discarding any additional skins that come off), and bring the chickpeas to room temperature before blending. *I NEVER skip this step if I'm using canned chickpeas – it requires minimal effort, but makes the hummus so much smoother.
Use room-temperature water or aquafaba.
If you're cooking fresh chickpeas, you can save some of the water you cooked the chickpeas in to help your hummus blend into a smooth and creamy dip. Alternatively, you can just use water. "Aquafaba" is the cooking liquid leftover after cooking the chickpeas. Water or aquafaba gives hummus that lighter/fluffier texture. Not to mention, your hummus will thicken up in the fridge, so adding water/aquafaba not only helps it blend, but will prevent it from turning solid in the fridge.
Side note – room temperature everything (chickpeas, tahini, etc) works best when blending!
Use a good, smooth tahini.
Make sure you get a good tahini and stir it really well. The more liquidy and smoother, the better. I have had some trouble with some tahini brands in the past that just get rock solid and the oil sits on top and as much as I try to stir it, nothing happens. I like Lebanese brands like Al Wadi, Whole Foods brand, and Trader Joe's to name a few.
Lastly, I don't bother skinning the chickpeas individually, but after cooking but before draining and removing them from the pot, I'll stir the chickpeas vigorously to loosen the skins and skim the skins that come off on their own, which is usually a decent amount. I'll also toss whatever comes off when draining the chickpeas. I just don't have the patience to pop the skins off of each one, but if you feel compelled to, skinning the chickpeas will make the hummus slightly smoother (but not enough to make me want to skin each one..).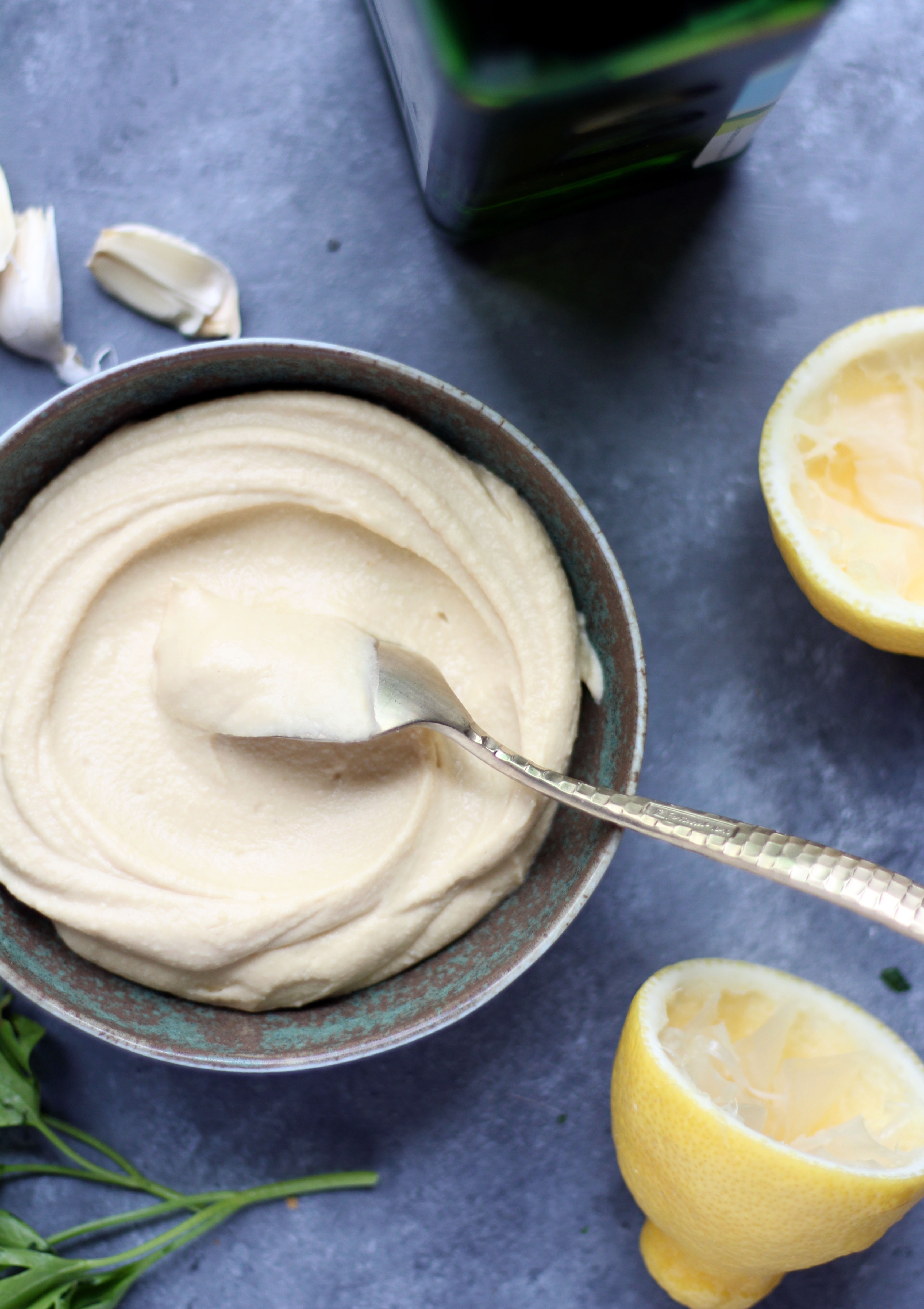 You can make hummus in a good food processor or a high speed blender. I recently got a Vitamix, and it's worked great for me (that was how I tested whether or not it was worth it – seriously. I call it the "hummus test.")! It just takes a little patience – don't expect it to do all the work. You'll have to use your tamper periodically to help the hummus blend.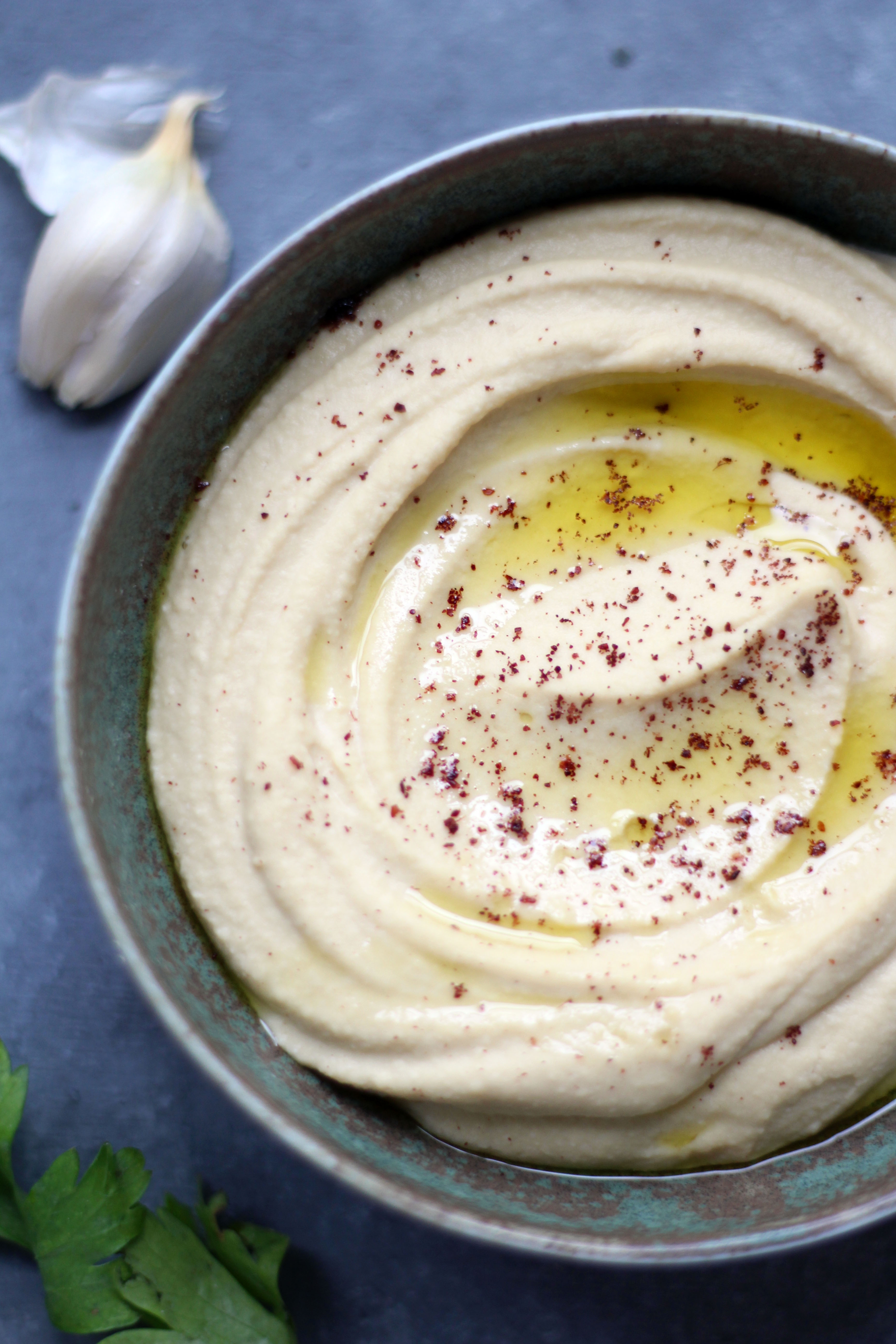 Ok, so now that you have all those tips to help you make the best hummus ever, go for it! Here is the recipe in all its glory:
An Ode to Hummus: The Original
There are many ways to eat hummus and tons of variations of it, but there's something about classic hummus with warm pita or pita chips. This is my tried and true recipe and as close as I could get it to match my mom's (who doesn't write a single recipe down). Fresh chickpeas really make a world of a difference that you wouldn't believe, but you can use canned in a pinch.
Ingredients
1½ cups cooked chickpeas or 1 (15-ounce) canned chickpeas, drained and rinsed*
3 tablespoons tahini
3 tablespoons lemon juice
1 garlic clove, mashed
¼ teaspoon salt, or more to taste
Approximately 2-4 tablespoons room-temperature water or aquafaba, or more if needed
Optional garnishes: extra virgin olive oil, sumac or paprika, finely chopped parsley or other herbs, whole chickpeas
Instructions
In a food processor or high speed blender, add the lemon and tahini. Pulse/blend to combine. (**I like to add 1-2 tablespoons of room temperature water or aquafaba at this point.) Then, layer the chickpeas, garlic, and salt, and blend until pureed and smooth, stopping to scrape the sides down as needed (if in the blender, on low speed first, then slowly working up to low-medium speed, using the tamper as needed).
With the machine running, slowly add additional room temperature water or aquafaba, one tablespoon at a time, until hummus is light, creamy, and smooth. I usually add another 2-3 tablespoons, but you may add more or less, and blend for several minutes.
Taste and adjust seasonings, such as adding more salt or lemon.
Spoon the hummus into a bowl and serve with olive oil and any desired toppings.
Notes
*See tips above if you're using canned chickpeas!
Use your judgment to blend to your desired consistency and add water/aquafaba as desired. You want the hummus to have a light, almost fluffy texture, yet still hold it's shape when you run a spoon through it!